Estimated read time: 4-5 minutes
This archived news story is available only for your personal, non-commercial use. Information in the story may be outdated or superseded by additional information. Reading or replaying the story in its archived form does not constitute a republication of the story.
SALT LAKE CITY — Fall produce includes lots of vegetable staples in the general American diet. I often think of broccoli, cauliflower, carrots and celery as being staples, and they are all fall crops. You probably have simple ways that you always prepare them — maybe some you love, and others that you just do because it's easy.
Lots of my nutrition clients lament about how hard it is to eat vegetables, and I get it. There are lots of them and, unfortunately, many of my clients have had bad experiences eating certain vegetables (Overcooked, steamed veggies, I'm looking at you!). Instead of feeling like you have to force yourself or your family to eat more, try preparing them in different ways.
There are lots of great vegetable recipes that are quick, simple, include easy-to-find ingredients, and are definitely good enough to crave. In this fall produce list, I'll share 12 recipes to turn some seasonal produce into delicious meals or side dishes. Lots of foods can be delicious, it just takes some cooking experimentation.
Apples
Turkey Apple Burgers via registered dietitian Sarah Schlichter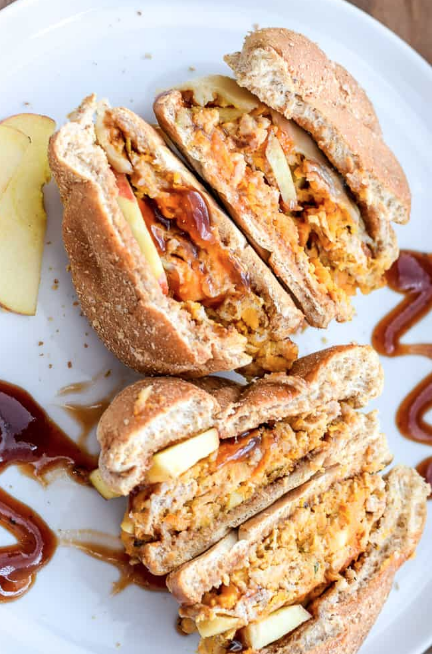 If you're an apple lover like me, try these turkey sweet potato burgers with grated apple in them. The sweet potatoes and apple add a great sweetness to these burgers, while the cheddar cheese and barbecue sauce compliment the sweetness with tartness.
Pan Fried Pork Chops with Apples
This easy one-pan pork chop dish takes just 15-20 minutes to make. The sweet, slightly crunchy apples are a delicious accompaniment to pan-fried pork chops. It's the best of fall flavors in one pan.
Pecan Chicken Salad with Apples via registered dietitian Colleen Christensen
All you need is 5 minutes to throw together this super easy chicken salad. Christensen includes instructions to quickly shred the chicken with a hand mixer, and it'll be a game-changer!
Beets
Homemade Beet Dressing via registered dietitian Chrissy Carroll
Beets are a controversial vegetable for some. If you're on the fence, try them in this gorgeous fuchsia salad dressing. Check out the recipe for a list of salads to try this dressing on.
Vegan Mediterranean Salad with Fruit Dressing via registered dietitian Amy Gorin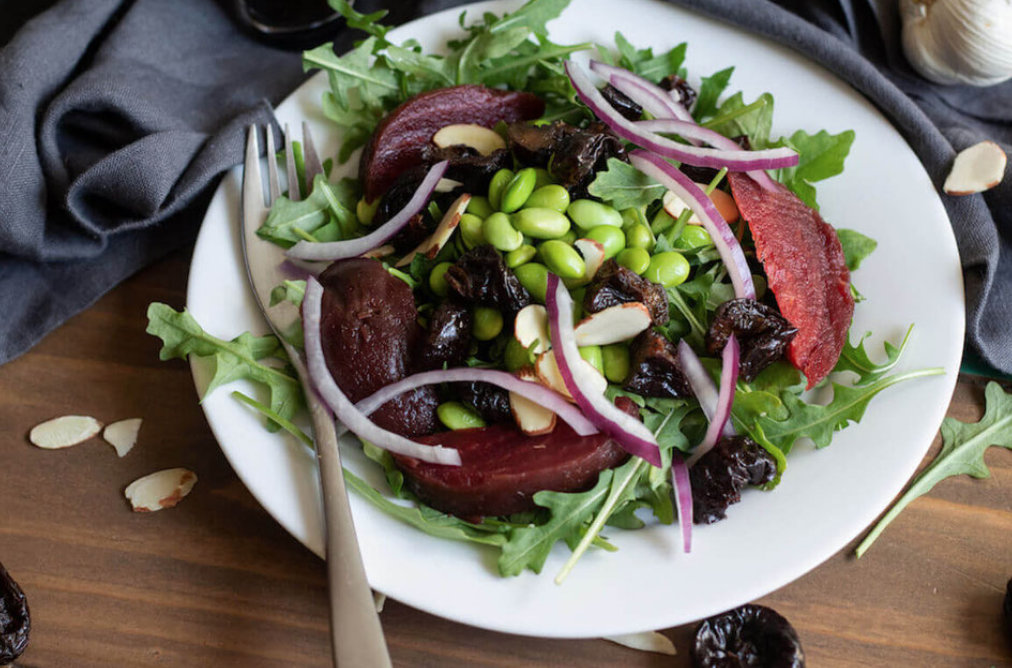 This simple vegan salad takes just 15 minutes to prepare. It's got lots of different flavors and textures, which makes for a delicious homemade salad that's as exciting as one you'd get at a restaurant.
Roasted Beet and Walnut Salad via registered dietitian Erin Cooper
Nuts and tangy cheese are my favorite ingredients to pair with roasted beets. The cheese in this recipe adds some creamy tanginess and the nuts add a fatty flavor that goes so well with earthy beet flavor. Make the vegan feta cheese in this recipe or use store-bought feta cheese if you'd like. Either works!
Cauliflower
Spiced Tomato Cauliflower via registered dietitian Judy Barbe
For this recipe, steam a whole head of cauliflower or use pre-chopped florets if that's what you have. This cauliflower is seasoned with ingredients you probably already have on hand and it's packed with delicious flavor.
Turmeric Baked Cauliflower via registered dietitian Sarah Schlichter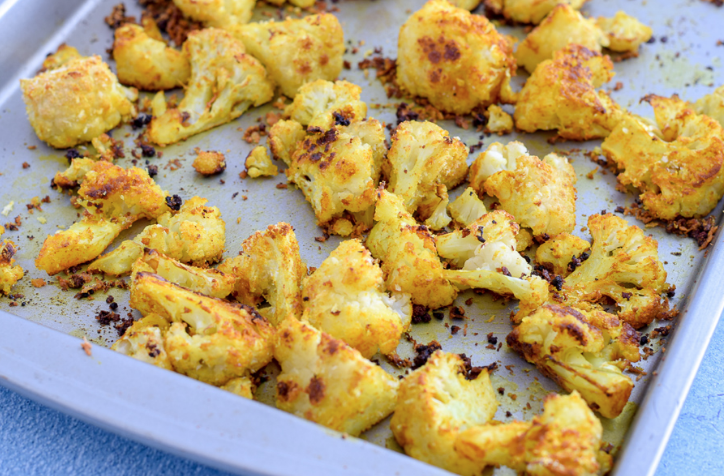 This is essentially roasted cauliflower with turmeric, parmesan cheese and panko. You'll get bold flavor from the turmeric, saltiness from the cheese, and a great crunch from the panko and roasted florets. Roasted vegetables are great because you just have to add in your flavors and let the oven do all the work.
Tandoori Cauliflower Tacos with Cashew Marinade via registered dietitian Shahzadi Devje
These vegan tacos are made in just 30 minutes and pack in a lot of flavor. Cauliflower tacos are a fun way to get some veggies in, and these will make you wish you'd doubled the cauliflower recipe!
Brussels Sprouts
Maple BBQ Mini Meatloaves with Brussels Sprouts via registered dietitian Shannon Garcia
This easy one-pan dinner is done in 35 minutes. If you're new to trying Brussels sprouts, I highly recommend dressing them in maple syrup. Brussels sprouts tend to have a bitter taste for some, and the sweetness and bold maple flavor brings down that bitterness in this recipe. Use regular barbecue sauce and breadcrumbs if that's what you have.
Honey Miso Roasted Brussles Sprouts via registered dietitian Anne Mauney
Hands down the best way to cook Brussels sprouts is to roast them. They just take a few minutes to prepare, and you can let your oven do all the work of bringing out the natural sweetness and crispiness in the Brussels sprouts. Plus, the honey miso dressing makes these roasted vegetables even sweeter, tangier and more savory!
Maple Mustard Salmon with Brussels Sprouts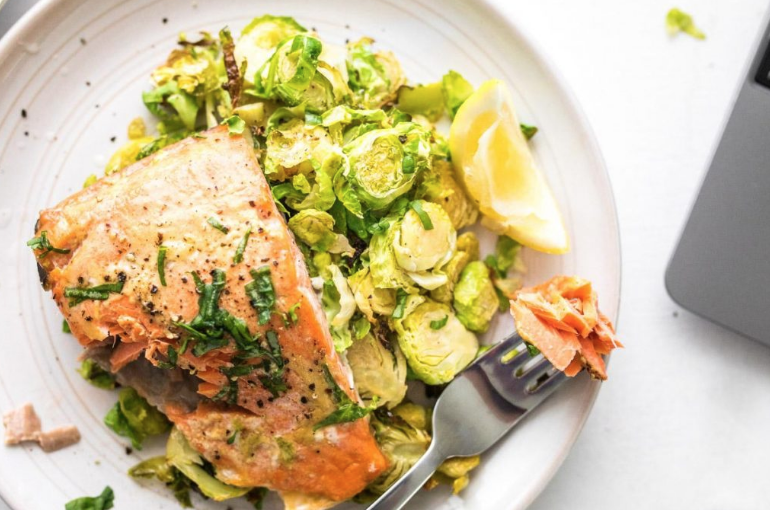 This is another quick one-pan meal. The salmon and veggies are dressed in a super easy three-ingredient maple mustard sauce that brings a tanginess and sweetness to the salmon and Brussels sprouts. It's one of my favorite quick dinner recipes.
Now go and grab your favorite fall produce and mix up your dinners with these delicious recipes. You'll definitely get out of a dinner rut with these tasty and produce-rich recipes.
---
---
Editor's Note: Anything in this article is for informational purposes only. The content is not intended, nor should it be interpreted, to be a substitute for professional medical advice, diagnosis, or treatment. Always seek the advice of your physician or other qualified health provider with any questions you may have regarding a medical condition; Any opinions, statements, services, offers, or other information or content expressed or made available are those of the respective author(s) or distributor(s) and not of KSL. KSL does not endorse nor is it responsible for the accuracy or reliability of any opinion, information, or statement made in this article. KSL expressly disclaims all liability in respect to actions taken or not taken based on the content of this article.
×
Photos
Related stories
Most recent Lifestyle stories