SANDY — Utah Royals FC's first home match of the NWSL fall series featured the debut goal of a French international star, a stunning glancing header, the debut of the Royals' third goalkeeper, and four world-class goals.
And that was just the first 30 minutes.
Aminata Diallo and Tziarra King each scored a goal to help Utah to a 2-2 draw with OL Reign in front of an announced limited-capacity crowd of 1,302 fans Saturday at Rio Tinto Stadium.
Bethany Balcer and Rosie White each scored a goal for the Reign (0-0-1, 1 point).
Diallo opened her scoring account for the Royals, and King added the second goal of her rookie season in Utah, which improved to 0-0-1 in two matches of the four-game exhibition season against the Tacoma, Washington-based Reign and Portland Thorns.
"I think we're all kind of disappointed in how we went up two, and then they tied it back up," said King, who has scored both of her career NWSL goals with her head. "But it's a learning opportunity. We're going to watch it and dissect this up.
"That's all we can do."
The match was the first professional women's soccer match in the Salt Lake area since the Houston Dash won the NWSL Challenge Cup at Rio Tinto Stadium on July 26.
Ratcliffe ➡️ King and @UtahRoyalsFC take a 2-0 lead! pic.twitter.com/zPmbWETRvF

— CBS Sports Soccer (@CBSSportsSoccer) September 26, 2020
Because neither the Fall Series nor the Challenge Cup included a normal regular season, King's two goals won't "count" on her official league resume. That doesn't matter to her, though.
"It doesn't bother me. At the end of the day, my intention is to put out my best performance," she said. "For me, these goals show that I'm working hard and continuing to get better.
"Even if they don't count, I'm still using them as personal markers for myself."
Just 9 minutes into the match, midfielder Diallo — the French international acquired by the Royals shortly before the pandemic closed borders across the world — found a pocket of space on the left side before rifling a shot that glanced off Reign goalkeeper Casey Murphy in the ninth minute.
"It was a beautiful goal," said Royals interim manager Amy LePeilbet, who took over during head coach Craig Harrington's second-straight match on administrative leave. "When we were looking at Diallo, we knew she was capable of scoring goals like that. For us, it was exciting to see she could make it happen and get one today."
King doubled the advantage in the 22nd minute with a glancing header and a cross from Brittany Ratcliffe to give Utah a 2-0 advantage.
Just over a minute later, reigning NWSL rookie of the year Balcer pulled one back, finishing off a pass from Stephanie Cox and a dummy from Sofia Huerta to open the scoring for the Washington-based side.
Aminata Diallo 👑

1-0 | #UTAvRGN

Tune in now on @CBSAllAccess and @Twitch. #NWSLFallSeries | #VerizonCommunityShieldpic.twitter.com/E1bc3kRZ6W

— NWSL (@NWSL) September 26, 2020
White equalized in the 29th minute, finishing off a strong spell of passing to reset the game for the visiting Reign, which was out-shot 14-10 the rest of the way and held without a shot on goal.
Despite the two goals, the Reign scarcely threatened again, helping third-string goalkeeper Melissa Lowder to a draw in her NWSL debut.
"It was definitely nerve-wracking at first," said Lowder, who finished with two allowed goals on 10 shots faced. "But the goalkeeper position is about instincts, and I just tried to fall back on that — to trust myself and trust that I was ready for the position."
Murphy made five saves to keep Utah at bay, including a punch save in stoppage time to keep Lo'eau LaBonta's potential match-winner from scorching the back of the net.
"I think we can take a lot of positives from this game," LePeilbet said. "It definitely feels a little bit like a loss .... But when we really break down what went on in the game, it was mostly positive. Their two goals were a lapse of concentration, nothing major. And our two goals were really well taken … For us, we take this, and we're excited about it. We build from this."
As important as 90 minutes of soccer during a four-match exhibition series can be for growth and development, the match took on another level of meaning during the pregame ceremonies.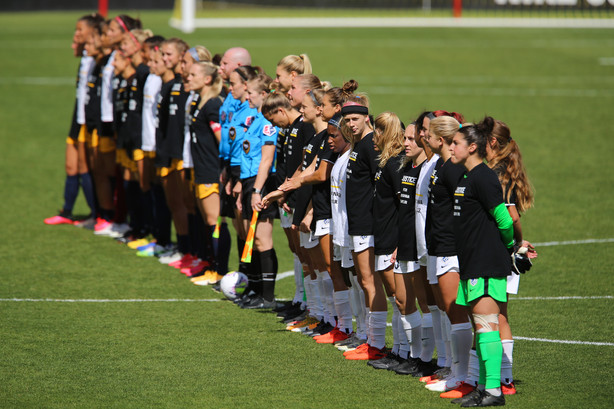 The two teams came together prior to the match in a show of solidarity, some wearing T-shirts that read, "I am Breonna Taylor" and others wearing T-shirts that read, "Justice for Breonna Taylor" — both in honor of the Louisville EMT who was killed in her apartment in March while police officers initially executed a search warrant in relation to a drug trafficking investigation.
Three officers faced a grand jury in the fatal police raid, and one was indicted on charges of endangering Taylor's neighbors. One officer was injured in a reported exchange of gunfire, according to case documents.
In Utah, several Reign players approached King and a few other Royals about showing unity in a pre-match demonstration, which included shirts, a group photo and statement of unity, and a 20-second moment of silence in which players knelt with the match officials prior to kickoff
"It's important to remember that life is so much bigger than soccer," said King, who called the verdict "unacceptable."
"It's difficult, but we're just trying to honor her and remember her and stand up for Black lives," King added.
Following the moment of silence, the two teams released a joint statement.
Say her name #blacklivesmatterpic.twitter.com/WjgLIiQNAk

— Utah Royals FC (@UtahRoyalsFC) September 26, 2020
"On March 13, 2020, Breonna Taylor's story ended when she was fatally shot while she slept in her home," reads the statement, which was shared online during a 20-second moment of silence condemning racism. "We are disheartened that she will not receive the justice she deserves following a grand jury's ruling on Sept. 23. However, in the true spirit of the Black Lives Matter movement, we will not stop telling her story until her life is justly honored. We will continue highlighting injustices and fighting for actionable change in our community.
"We understand that systemic racism has been foundational in our country's history, but it is not enough to simply know that there is a problem. We must all choose how our actions will create real change, and we choose to unequivocally fight for true racial justice."
×
Photos
Related Links