SANDY — About five years ago, Amy LePeilbet's life changed forever.
Following the 2015 season, the seasoned U.S. women's national team defender retired from playing in the National Women's Soccer League and moved to Utah at the request of family.
A native of Spokane, Washington, who grew up in Illinois and attended college at Arizona State, LePeilbet had little reason to move to Utah. But she had some experience coaching, namely in college and during a semiprofessional stint with the Arizona Heatwave, and so she found a club soccer program that needed a hand.
Two years later, her former club FC Kansas City moved its roster to Salt Lake and became Utah Royals FC. After the club owned by the Real Salt Lake organization hired Laura Harvey as its first head coach, LePeilbet was one of the first hires made as an assistant on staff.
The rest, as they say, is history.
"I was coaching club (soccer), and that worked out really well for about two years," LePeilbet said. "And then the Royals came to town, and it seemed incredibly meant to be.
"Laura gave me an opportunity, and I'm so grateful and happy to be here."
The 38-year-old former U.S. center back will be on the sidelines for her first home match as interim head coach of the Royals on Saturday, when Utah hosts Tacoma, Washington-based OL Reign in the NWSL Fall Series at Rio Tinto Stadium (1:30 p.m. MDT, CBS All Access). It's a different vantage point than LePeilbet has had in that venue, when she usually takes a seat near the press box or in a booth during Royals' games, an eye-in-the-sky viewpoint under previous coach Harvey.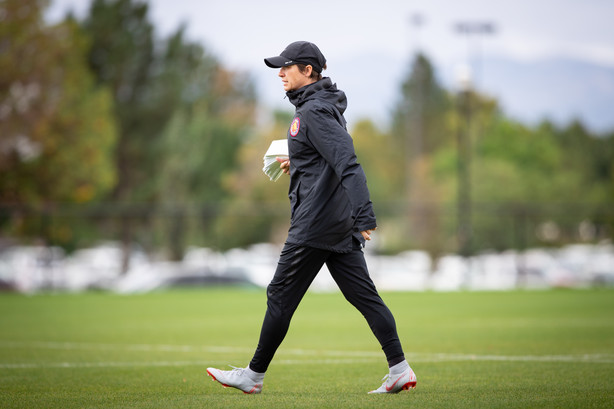 But when Harvey left to take a job with the U.S. Soccer Federation and Craig Harrington was brought in as head coach, LePeilbet moved to the bench for every match played during the NWSL Challenge Cup at Zions Bank Stadium in Herriman. After Harrington was put on administrative leave along with assistant coach Louis Lancaster, LePeilbet was promoted to interim head coach of the Royals, and she'll continue in that role after making her debut in Utah's 3-0 road loss to Portland a week ago.
But a job title is one of the few things changing in LePeilbet's life.
"It's a little different now; the weight of decisions are still on my shoulders," LePeilbet said. "But hopefully we've prepared the players because they're the ones who make decisions on the field. At the end of the day, it's a players' game.
"We're trying to help them the best that we can, but they're the ones doing the best they can."
Described as a players' coach by most of her team, LePeilbet inherits the Royals during a moment of stress, both inside and outside the organization. The coronavirus pandemic has pushed most of the world to the edge, a spark toward racial justice and civil rights has enveloped the country (and the league), and Utah Soccer Holdings — which owns RSL, the Royals and the second-division Real Monarchs — is currently up for sale.
But through it all, LePeilbet will guide the Royals through the four-game NWSL Fall Series — or at least for as much of it as she's needed.
"She is always a leader, someone who has always been someone good to go to for film," Utah midfielder Lo'eau LaBonta said of LePeilbet. "She was someone we all looked to and strived to be as a player, and she brings a lot of experience of what to look to.
"We all respect her so much. She's been so strong in keeping her head high and trying to bring us all together."
LePeilbet insists she won't try to "put her stamp" on the Royals, change their playing style in significant ways, and force her will on the squad. She will lead them, guide them, and work with each player in reviewing film and getting better from game-to-game.
But as far as screaming at each player to play a certain way, or make a certain adjustment? That just isn't her style.
"Amy is definitely not a yeller. She doesn't just talk to talk," LaBonta said. "So when she brings up something, I think the girls latch on and buy into it. When she was up in the box, she was observant of everything.
"We trust what she says because what comes out and speaks is really good information. It's a switch-up for the team, and it's very informational at times."
Respect isn't just a word the Royals use around LePeilbet, who led the Utah Royals FC Reserves to a runner-up finish in their inaugural season in the semi-professional WPSL a year ago. It's something she's earned.
"Personally, it's an honor to be coached by Amy," midfielder Vero Boquete said. "Obviously, these circumstances are not the best. But I have so much respect for her.
"She was a fantastic player, but I also respect her because I know the potential she has as a coach. She's here to make us improve in the month that we have, or the days, or the weeks — whatever. She's with us every day in training, and I can only speak highly of her because this is a hard situation to be a professional coach. We are happy to have her on board."
It's a respect LePeilbet was quick to put on the team, too; she mentioned several times how lucky she feels to be part of the squad — not just the organization, but the locker room.
That locker room has shown immeasurable character in 2020, a year that has brought a global pandemic, a hiatus, one unique schedule after another, striving for racial justice and societal change, and now a club sale and the frustrations of a league investigation into allegations of improper conduct by the club's owner and executive staff.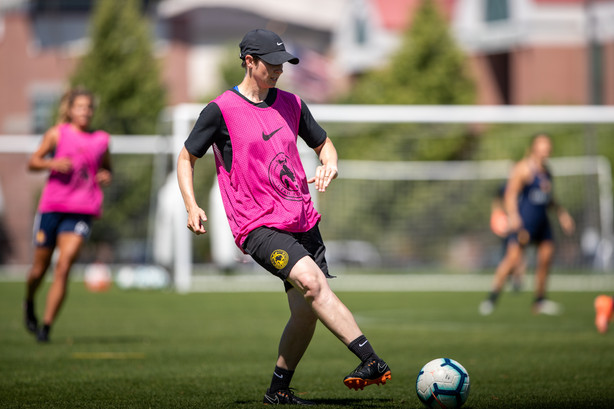 Through winding, ever-changing 2020 season, the club has stuck together. The players in the locker room are as united as ever.
"Being with this group, I didn't know that a team could be so close with so much crazy stuff going on," said center back Elizabeth Ball, who joined the club from Portland in the offseason. "I can tell you that every one of us is standing by each other.
"I think we're so strong as a group. With everything going on outside, you would never expect. But this group is so special, and I'm proud to be in a group that can get through these struggles together."
Her new coach is a little extra special for Ball, who plays the same position as LePeilbet did in 84 appearances with the national team and a six-year professional career that spanned two leagues and took her from Boston to Chicago to Kansas City as one of the NWSL's first allocated players by the federation.
"She brings so much knowledge; if you have a question for her, she can answer it so quickly," Ball said.
"Seeing her in the head coach role, it's amazing to see the way she can help attackers, defenders and anybody else. She's been amazing for the group, and everybody has bought into her (coaching)."
Whatever happens in a week, or three games, or maybe even less, LePeilbet is grateful for the chance to coach at the highest level of women's soccer in the United States.
"It's an honor to be coaching these players," LePeilbet said. "I do not take it lightly, by any means. It's an extreme honor."
NWSL Fall Series
OL Reign (0-0-0) at Utah Royals FC (0-1-0)
Date: Saturday, Sept. 25
Kickoff: 1:30 p.m. MDT
Streaming: CBS All Access
×
Photos
Related Links