SANDY — Utah's top women's soccer franchise has a new manager, at least temporarily.
Craig Harrington, the first-year head coach of Utah Royals FC, was placed on administrative leave from all team-related activities prior to the club's first match in the NWSL Fall Series. Assistant coach Louis Lancaster was also placed on leave.
It is unknown if Harrington's leave of absence is related to the club's sale or related news. One report from The Athletic indicated that Harrington's leave is connected to the investigation launched by both MLS and NWSL into the reports, but Lancaster's temporary dismissal is not.
"It has been an honor to watch the Utah Royals players raising their voices for racial and gender equality," Harrington tweeted on Sept. 3. "I commended their bravery in moving our society to become more just and equitable. There is no place for racism or sexism in sports or in society. Whether on the field or off, as their coach and ally, I am proud to support them in this fight."
Assistant coach Amy LePeilbet was named interim manager for the Royals. The 38-year-old former U.S. international was joined on the bench by fellow assistant Caitlin Young, a longtime Utah youth soccer coach who joined Harrington's staff after a storied career most recently with Utah Celtic.
All of that occurred in the background as the Royals lost to Portland Thorns FC in the first match for both clubs of the four-game, regionally based NWSL Fall Series.
Lindsey Horan had a goal and an assistant for Portland in a 3-0 win over the Royals.
Horan set up Simone Charley's opening goal in the 35th minute for the Thorns, who out-shot Utah 21-15 and held the Royals to just three shots on goal.
Sophia Smith, the No. 1 overall draft pick by the Thorns in January, scored in her NWSL debut — a glancing header in the 72nd minute that gave the hosts a 2-0 lead. Horan finished off the scoring in the 81st minute of a dominant display.
Smith, a rising star with the U.S. women's national team, was just 3 minutes into her NWSL career, as a second-half sub. She becomes the second-youngest American player to score in NWSL history at 20 years, six weeks.
"I was excited to see her debut in this league," said Rodriguez, Utah's team captain who said she was told not to comment on the administrative leave of the two coaches. "I know as a young forward what it's like to go against big defenses, and she scored a phenomenal goal for them."
The one thing Rodriguez mentioned about the change in head coach was brief, and more of a quip than a comment, before speaking more of soccer terms.
"We looked a little different today, for sure," she said, eventually turning to a humbling shutout loss that moved the Royals to 1-3-3 all-time against the Thorns. "We have a lot of improvements and tweaks to make, which we will do.
"Credit to the Thorns for putting out a really good side … and making the most of their opportunities. I'm really excited to continue with the club in the next few weeks."
Despite the tough result, Utah midfielder Vero Boquete said it was good to be able to focus on a competitive match.
"Obviously, it's not the perfect situation to prepare for a game," the Spanish creative midfielder said. "But at the same time, we just wanted the game. That is what we are here for.
"When it's game day, it looks like the problems are gone and you can focus on something. We needed this game and needed to keep going."
LePeilbet made her head coaching debut, even with an "interim" tag, after having been with the club since its inception three years ago, including serving as the inaugural head coach of Utah Royals FC Reserves and leading the semipro side to the championship game of the Women's Professional Soccer League a year ago. The Arizona State product was recently promoted to director of professional development for the organization, while also continuing on as head coach of the Reserves, whose season was canceled by the WPSL due to the coronavirus pandemic.
When the moment to step into the lead managerial role came, LePeilbet said it happened "pretty fast," declining to elaborate on the timeline of the changeover from Harrington.
"Going into it, we just stayed the course, stayed with the game plan," LePeilbet said. "I just chose to put in my absolute best effort for the team. The players are No. 1 in my book.
"Things didn't turn out the way we wanted them to, but this weekend is another opportunity."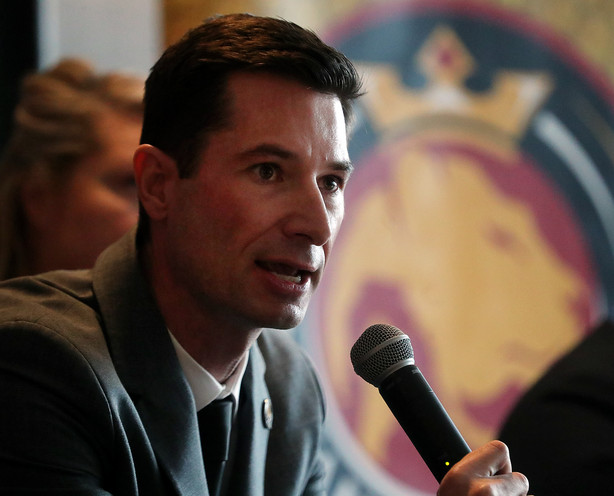 Harrington, 37, is in his first season as head coach of Utah Royals FC, his first head coaching position in the NWSL. Prior to Utah, he spent two seasons as an assistant coach with the Chicago Red Stars, in addition to time as the head coach and technical director of the Turks and Caicos men's national team.
Prior to Sunday's match, every Royals player released a statement on inequality, which was eventually shared by the club's official channels.
"We've had enough," the statement reads. "Enough of racist systems excluding black and brown people. Enough of sexist stereotypes infiltrating conversations about our talents and achievements as athletes. Enough of a work environment that is not open and inclusive for all.
"We acknowledge the past wrongdoings of this organization and choose to move forward in a new direction. It's important for us not to sweep these things under the rug, but to bring them to light, in order to hold ourselves and the people around us to a much higher standard. As a team, we're setting the standard with a new beginning. One that is open, welcoming, community driven, and elite. One that continues the work of iconic trailblazers like Justice Ruth Bader Ginsburg, to demand equality and respect for all. We expect everyone associated with us to join in upholding these standards. Anything less will impede our progress as a club, as players, and as people. We refuse to settle."
The statement is signed collectively by "Utah Royals FC players," with a post-script quote from the late Ruth Bader Ginsburg, the Supreme Court Justice who died Friday night after a battle with cancer.
"Fight for the things that you care about, but do it in a way that will lead others to join you," Ginsburg said.
"I think as a unit, we wanted to make sure that our voice was unified and heard," Rodriguez said by way of explanation. "We had been discussing putting out a statement over the last few weeks, with a lot of changes happening as a club. We felt it was important to state our values.
"It was something that was very high on our minds. I'm really proud of this team for doing so."
Her teammate Boquete said the lengthy prepared statement — which was shared across Facebook, Twitter and Instagram by each player before being re-published on the team's official channels — was something they had been working on for a while, since social and front-office troubles within the organization began to be revealed through the media and other sources.
"Obviously, it's been a difficult few weeks for all the organization and the team," Boquete said. "We took our time … we needed our time to say what we really feel.
"I think the statement is clear. We are all together on that."
The Royals and Utah Soccer Holdings, which owns Real Salt Lake and Real Monarchs, are currently up for sale following a pattern of reported inappropriate comments by club owner Dell Loy Hansen, chief business officer Andy Carroll, and others in the organization. Hansen is alleged by multiple former players and employees to have repeated several disparaging and racist comments during his time in charge of the club, and Carroll was reported to have led a "toxic" culture inside the club that included sexist and misogynistic language geared toward Royals players and former female staff members.
It is unknown if Harrington's leave of absence is related to the club's sale or related news. One report from The Athletic indicated that Harrington's leave is connected to the investigation launched by both MLS and NWSL into the reports, but Lancaster's temporary dismissal is not.
"It has been an honor to watch the Utah Royals players raising their voices for racial and gender equality," Harrington tweeted on Sept. 3. "I commended their bravery in moving our society to become more just and equitable. There is no place for racism or sexism in sports or in society. Whether on the field or off, as their coach and ally, I am proud to support them in this fight."
×
Related Links