HERRIMAN — Tziarra King's first game in a Utah Royals FC shirt was always going to be memorable.
She was, after all, fulfilling her dream of becoming a professional soccer player, and Utah Royals FC head coach Craig Harrington had already said she'd see playing time in the NWSL Challenge Cup opener Tuesday morning — it was just a question of how much.
But to score a match-changing goal in the process?
Unbelievable.
Veronica Boquete had a goal and an assist, and the rookie King scored a dramatic equalizer with 2 minutes left in regulation of her professional debut to help Utah secure a 3-3 draw Tuesday in the team's first match under first-year head coach Harrington.
"Obviously, this whole day was special for me," King said while beaming on the Zions Bank Stadium sideline after the match. "Without a doubt, I've been getting a lot of messages. A lot of people are showing their support. I'm so grateful for that.
"It means so much to me, genuinely."
Trailing 3-2 in the final minutes of regulation, the North Carolina State product got the final touch on a chaotic run of events in the box, finishing off a long free kick from Boquete that helped the Royals earn a result against a disappointed Dash side in both team's first competitive match since the coronavirus pandemic shuttered professional sports across the United States and Canada.
"It just felt good to be out there," said Utah midfielder Diana Matheson, who scored the club's first goal. "We've all been waiting a long time for this. I got to play some games with Canada, and then everything hit and we've been sidelined."
Matheson gave the tournament hosts a 1-0 lead in the 35th minute, ripping a ball into the back of the net with just one touch after a sublime cross from Amy Rodriguez near the corner of the penalty box.
The Canadian international who missed the 2019 season with a foot injury scored her first goal since June 2, 2018, a quick-twitch strike after Lo'eau LaBonta's through-ball into traffic sprung both attack-minded players with the opportunity.
"A great ball from Amy to hit me in the box," Matheson quipped. "Like what Amy just said, there were some big positives today. Three goals … and just the grit and heart to come back there."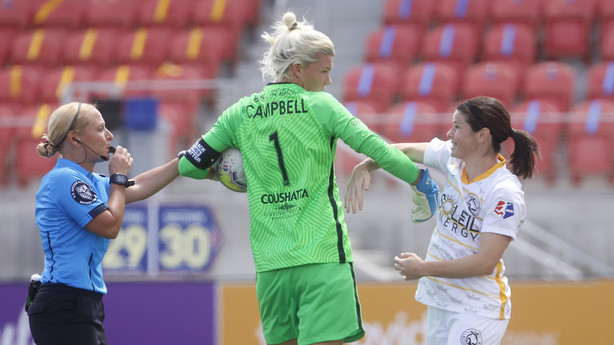 Much of the negatives surrounded one player: Dash forward and England international Rachel Daly, who scored another brace against the Royals.
Daly pulled one back for Houston on the outset of first-half stoppage time, taking a pass from Veronica Latsko in the penalty area and sliding it past Utah goalkeeper Abby Smith for the equalizer. She then finished off a corner kick barely a minute after halftime from Kristie Mewis, and the Dash were off and running.
Daly nearly had a hat trick, too, but a goal she scored off a goalkeeper restart was called offside.
"They said they're going to review it," Daly said after scoffing when asked about the call. "I'm very disappointed, to be honest, but I'll be interested to see what comes back. That's tournament football, to be honest, and we just have to move on."
Shea Groom added another strike inside the far post in the 67th minute, taking a pass from former Utah forward Katie Stengel to post up a 3-1 advantage.
But the Royals didn't leave empty-handed.
Boquete converted a free kick from just outside the penalty area with about 8 minutes to play, but it was too little, too late for Utah. That left plenty of time for King, who entered as a second-half sub and finished off her debut with the splendid equalizer moments before 6 minutes of stoppage time.
"In any tournament situation, you have to get better with each game," Groom said. "We just have to get better for the next game.
"It's different if we get that goal back, but also if we just clean up some things."
Prior to the start of the match, every Royals player and coach joined the starting XI on the field for the national anthem. A new league policy gave players the option of remaining in the locker room for the playing of the hymn before games, but no starter took advantage of the legislation.
Instead, the Royals joined with most of Houston's players — as well as three of the four officials for Tuesday morning's match — in taking a knee in protest of police brutality and racial inequality spurred by the recent death of George Floyd while under the watch of Minneapolis police officers.
OL Reign 0, Sky Blue FC 0
At Herriman, Sky Blue goalkeeper Kailen Sheridan made four saves to help the New Jersey side hold off Washington's Reign for a scoreless draw.
After the first round of games, North Carolina and the Washington Spirit lead the table with three points, followed by Utah, Houston, Reign and Sky Blue with a point each via draw.
Chicago and Portland trail after both lost their openers to Washington and North Carolina, respectively.
Tournament play continues Wednesday with Portland-Chicago at 10:30 a.m. MT, followed by Washington-North Carolina in the 8 p.m. nightcap.
×
Related Stories