Estimated read time: 4-5 minutes
This archived news story is available only for your personal, non-commercial use. Information in the story may be outdated or superseded by additional information. Reading or replaying the story in its archived form does not constitute a republication of the story.
SALT LAKE CITY — Happy first day of fall!
Tuesday morning marked the autumn equinox, which signaled the official start of the season of Halloween, pumpkin spice everything, and sweater weather. But Utahns who have spent any time in many of the state's canyons the past few weeks might have sworn it was already fall, based on the colors.
The season is popular for many reasons, and fall colors are one of them. With that in mind, here's what's forecasted this year.
Utah's peak times
Smokymountains.com provides one the best tools when it comes to tracking fall colors nationwide. The website publishes an interactive map every year, not just for the southeast U.S. region — where the Smoky Mountains lend picturesque vistas of colors every autumn — but where fall colors are currently at and expected to peak.
While it is an inexact science, it's usually pretty close to what's happening. The map is updated every week based on historic data and seasonal forecasts.
As of Monday, which was the final day of summer, it listed the northeast corner of the state as reaching peak. The Wasatch Back and surrounding areas were listed as "near peak" — with splendid colors nonetheless. Most of the state west of that, excluding a chunk of southern Utah, was listed as "partial" change. Southern Utah areas like Washington County to the west and San Juan County to the east were listed as "minimal."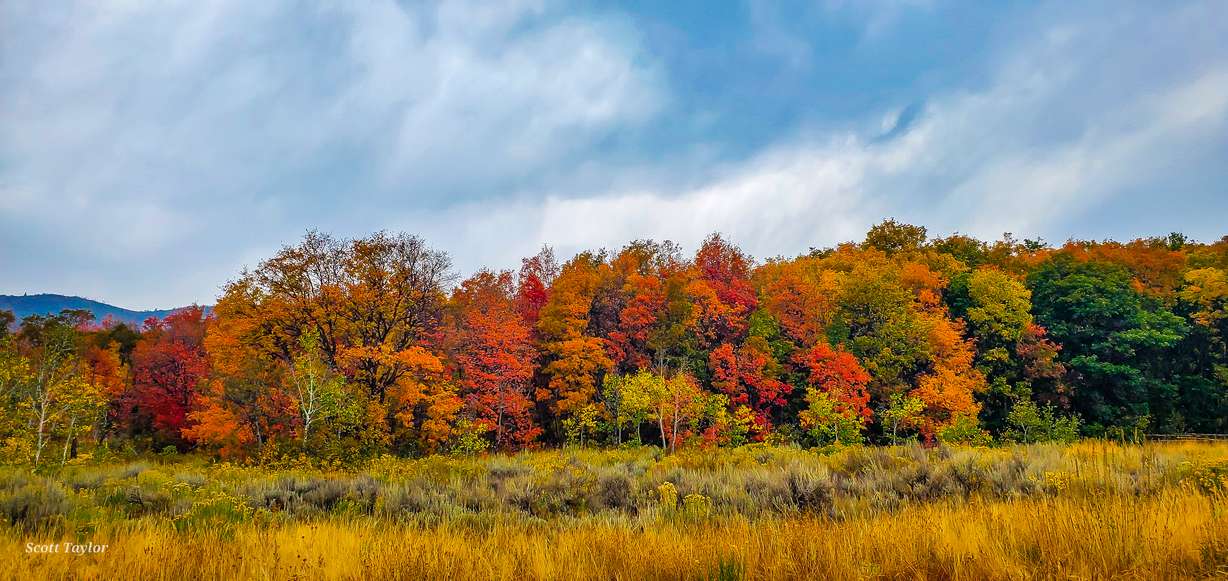 Dr. Mike Kuhns, Utah State University Extension forester, said the reports he's received from colleagues across the state indicate that there's still time for leaves to peak in many places across the state.
The Smokymountains.com foliage forecast projected the conditions to advance one step by the end of the month. That means the areas in peak will move toward "past peak," the areas "near peak" are expected to reach peak and "partial" areas are expected to reach "near peak."
By the first full week of October, most of the state is expected to be at peak with the eastern portion reaching "past peak," according to the website's forecast. Peak conditions are expected in southern Utah by mid-October.
The website expected to reach "past peak" by the latter half of the month. The same is projected for the majority of the Intermountain West by that time.
How weather conditions factor in peak times and quality
You may remember some of the science of why leaves change colors from elementary school. It's caused when photosynthesis declines around fall and the production of chlorophyll — a product of the process that masks a tree's "true colors" — comes to a halt. This allows people to see leaves with yellow, orange, red or reddish-purple hues.
Weather factors into the process. As Kuhns explained, the process typically begins when there are warm days followed by cool evenings. In some areas where fall color change hasn't happened yet, it's possible there haven't been cool enough evenings to slow down chlorophyll production. This has happened in areas where colors already started to turn.
It's a delicate process too. For example, if it gets too cold at night, leaves may freeze and turn brown while still on the tree, Kuhns added.
Conditions throughout spring and summer can factor in quality. Kuhns said Utah's hotter and drier conditions this year may have resulted in more leaf scorch, which is when leaves start to dry out at the edges before they would normally peak. Some leaves turn brown before the process to change colors begins.
"If you have leaf scorch, then part of the leaf will turn brown. If — let's say 70% of the leaf area turns brown — then when you walk up to the tree, you'll see some nice color but from afar; it's not going to make much of a statement," he said.
The areas with the least leaf scorch will likely have brighter and more vivid colors this year. From the reports from his colleagues, Kuhns said the best current conditions appeared to be in the canyons around the Cache Valley where his colleagues reported — at least from their opinion — above-average color quality.
His colleagues in some other Utah locations reported below-average or average conditions as of Tuesday. While he didn't specify exact locations, he said some of those reports were in areas where leaves had turned but it was believed drought conditions were too severe for good quality. Other colleagues reported to him that they believed they could get good fall colors this year but haven't experienced cooler evenings for trees to turn yet.
USU Extension has a webpage devoted to identifying Utah's wild trees for anyone who is interested in learning more about the tree species. It's one way you can learn more about Utah's nature while getting outside and exploring it.
×
Most recent Outdoors stories