AROUND THE SHIELD — The Saints will be seeing a lot of Taysom Hill this year.
After a breakthrough 2019 that preceded the former BYU quarterback's contract extension that included $16 million in guarantees, Hill won't just get a chance to play quarterback in New Orleans this fall.
He'll be the backup.
The Saints released their first depth chart of the 2020 season Monday evening, and Hill sits just behind incumbent starter Drew Brees — and just ahead of third-string signal caller Jameis Winston, the former No. 1 overall pick who signed with New Orleans to fill the spot left by now-Carolina starter Teddy Bridgewater.
It's a spot that 30-year-old Hill mentioned he'd prefer to take back when he signed his two-year contract back in April, too.
"Drew has been a great friend and a great mentor," Hill said at the time. "I will not be part of the reason why he retires. That's not right. I will not ever put any pressure on him that way. He and I genuinely hope that he plays for as long as he can, and as long as he wants to."
Hill, who caught 19 passes for 234 yards and six touchdowns, ran for 156 yards and a score, will also see time on special teams. He added seven punt returns and a kick return in 2019, and in addition to being named the team's backup kick returner (behind Deonte Harris), Hill is also listed as the team's backup holder.
The Pocatello product isn't the only local included on New Orleans' two-deep.
Former Judge Memorial quarterback Kaden Elliss, the son of former Utah star Luther Elliss, is the Saints' starting SAM linebacker for Week 1 of the season. Elliss was a seventh-round pick out of Idaho, but spent the 2019 season on injured reserve. He was also put on the team's reserve/COVID-19 list in August, but was immediately activated on the roster a day later.
More importantly, Elliss became a first-time father during the offseason.
"Everybody always tells you you're not going to be able to know until it happens, and man, is that true. It's such a blessing to become a dad," Elliss told Saints media last Friday. "I love him. His name's Day and just getting to hold him for the first time and already seeing him grow up so much these last six months has been such a joy and such a blessing. I'm so thankful."
Marcus Williams is unsurprisingly listed as the team's starting free safety, but fellow Utah alum Chase Hansen is the backup to Demario Davis at WILL linebacker. The Lone Peak product spent the 2019 season on the reserve/non-football injury list with a back injury.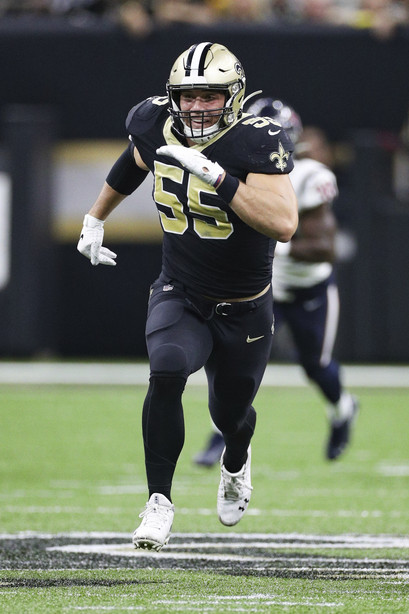 Perhaps one of the biggest surprises among the 50 locals on active rosters is the emergence of former Utah defensive back Jaylon Johnson. The 6-foot, 195-pound cornerback was a second-round pick by Chicago at No. 50 overall, and emerged from training camp as a Bears first-string cornerback.
The two-time All-Pac-12 defensive back had 10 pass breakups in 2019 as a junior before opting to forego his senior season with the Utes in favor of the NFL Draft.
Movin' on out — and up
Two players were claimed off the waiver wire and added to a 53-man roster Sunday following cutdown decisions.
Utah alum Jackson Barton, an offensive lineman who prepped at Brighton, was signed by the New York Giants a few hours after the Chiefs released him in Kansas City (and a few days after he received his Super Bowl ring from the reigning world champions).
In addition, former Hunter High standout Noah Togiai was claimed by the Indianapolis Colts after the Eagles placed the former Oregon State tight end on the waiver wire. The Colts released offensive tackle Chaz Green to make room for the 6-4, 244-pound Togiai — who could replace injured tight end Trey Burton, who will miss the first few weeks of the season with a calf injury.
Congratulations to former OBLOCK member, Jackson Barton receiving his super bowl ring tonight! Proud of you!!!#utahfootball#oblock#HometownHeropic.twitter.com/JNMPOKX7wP

— Jim Harding (@coachjharding) September 2, 2020
13 locals signed to practice squads
After a weekend of cuts and waiver claims, 13 former locals signed with practice squads around the league.
Among the highlights is Francis Bernard, the Herriman High product who played at BYU and Utah and stuck with Dallas after a standout performance at Cowboys training camp.
Former BYU defensive end Bronson Kaufusi was signed to the Jets' practice squad as a tight end, while younger brother Corbin Kaufusi — who played basketball and defensive line at BYU — stayed in New York as an offensive lineman. They'll be joined on the Jets' squad by former Utah defensive back Javelin Guidry.
Here's the complete list of practice-squad additions:
Francis Bernard, LB, Utah/BYU/Herriman (Dallas Cowboys)
Dominik Eberle, K, Utah State (Las Vegas Raiders)
Tipa Galeai, DE, Utah State (Green Bay Packers)
Javelin Guidry, DB, Utah (New York Jets)
Tyler Huntley, QB, Utah (Baltimore Ravens)
Bronson Kaufusi, TE, BYU/Timpview (New York Jets)
Corbin Kaufusi, OL, BYU/Timpview (New York Jets)
Jared Norris, LB, Utah (Washington Football Team)
Nate Orchard, DE, Utah/Highland (Washington Football Team)
Sua Opeta, OG, Weber State/Stansbury (Philadelphia Eagles)
Darrin Paulo, OT, Utah (Denver Broncos)
Jonah Williams, DE, Weber State (LA Rams)
Ty'Son Williams, RB, BYU (Baltimore Ravens)
×
Related Links