SALT LAKE CITY — The comparison was easy to make.
When the New Orleans Saints came out of the seventh round of the NFL Draft with former Mississippi State quarterback Tommy Stevens, the Penn State transfer who ran the Bulldogs' wildcat packages and drew immediate comparisons to another bruising 'back with his 6-foot-5, 236-pound frame, the immediate reaction was to call the new guy "Taysom Hill 2.0."
Even Stevens himself didn't shy away from it.
"I think Taysom brings his own game to the table and I bring mine. But again, I'm glad that I'm going to be teammates with somebody like Taysom and the other quarterbacks in that room," Stevens told Saints media after Saturday's draft. "I can't wait to get to work with them. Like I keep saying, it's such an unbelievable opportunity. I'm so thankful for it."
Taysom Hill will stick around the Saints, who announced a two-year extension with the restricted free-agent quarterback Sunday morning. The deal is a one-year extension of the first-round, $4.6 million tender offered to him in March, and reportedly makes the BYU product worth $21 million, with $16 million fully guaranteed and $1 million in performance incentives, according to ESPN's Adam Schefter, who first reported the deal.
And while Hill is flattered that Stevens would see him in such a way, there's still a Hall of Fame quarterback among the "other quarterbacks in that room": Drew Brees.
And Hill won't get in the way of the 41-year-old, either this year or next, or until whenever he decides to hang up the cleats.
"Drew has been so good to me. I don't think I would be the quarterback I am today without him," Hill said on a conference call with New Orleans media from his home in Utah, where he and his wife Emily watched the draft while expecting their first-born child. "Drew has been a great friend and a great mentor.
"I will not be part of the reason why he retires. That's not right. I will not ever put any pressure on him that way. He and I genuinely hope that he plays for as long as he can, and as long as he wants to."
As for Stevens, the Saints see him in a similar mold of Hill. But that's as a quarterback first.
"We think he's a real good athlete," Saints coach Sean Payton said of Stevens. "We kind of have a vision that'll start with quarterback, but a little bit much like Taysom's."
Hill has appeared in 37 regular season games in his Saints career, completing 6 of 13 passes for 119 yards, running 64 times for 352 yards with three touchdowns, and catching 22 passes for 238 yards and six touchdowns. He's also returned 15 kickoffs at a 24.0 yards per return clip, and has 12 tackles on special teams and a blocked punt.
In the NFC wild card game against the Vikings, Hill broke through with four carries for a team-best 50 yards, two catches for 25 yards and a touchdown, and was the lead blocker on another rushing touchdown.
But it was never his intention to usurp Brees' role as QB1 in New Orleans, he said.
Hill would've preferred to go somewhere else — to walk away from the Saints and head coach Sean Payton and everything else the organization has given him — rather than be the reason for Brees to retire any earlier than the legendary signal-caller wanted. That's part of why he didn't sign the first-round tender extended for the past month until Sunday.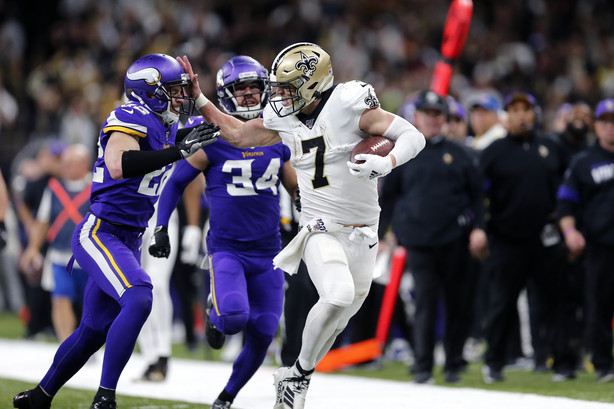 Fortunately for the Saints, they found a good way to keep the ex-BYU star around as he approaches his 30th birthday in August. Hill won't be going anywhere, at least for two years, and he's more than content to continue doing the jack-of-all-trades that his "mad scientist" head coach cooks up for him, or to settle down and be a more traditional backup quarterback.
His new contract guarantees that, no matter if Brees is around for one, two or even four more years, Hill said.
"If he wants to come back and play in 2021, I am always for it. I'm his biggest fan," Hill said. "This contract just creates the opportunity to be that guy if Drew decides to retire.
"As we looked at it, this was a way to prevent me from getting to free agency next year," Hill added. "It created some structure for both me and my family, as well as for the organization."
The friendship between Brees and Hill is mutual. The Saints starter has called the Idaho-born athlete a "unicorn" and that he's "never seen anybody like him that can do all the things that he can do."
Taysom Hill on the conversations he had with Drew Brees leading into free agency #Saintspic.twitter.com/8xMEetb1R3

— New Orleans Saints (@Saints) April 26, 2020
The Saints are also in "advanced negotiations" on a deal that would bring in former Tampa Bay starter Jameis Winston on a one-year deal, according to the Associated Press. Winston led the NFL with 5,109 passing yards as well as 33 touchdowns, but also earned the dubious "30-30 award" with a league-high 30 interceptions.
So the Buccaneers cut ties with Winston, and moved on to a former New England Patriots quarterback, one named Tom Brady.
Hill knew New Orleans would be bringing in another quarterback — they had to replace now-Carolina presumed starter Teddy Bridgewater with somebody. He didn't know who, but he said he'd be supportive of the 26-year-old Winston, whose Florida State career overlapped with Hill's saga at BYU.
"Coach and I had a conversation before free agency hit, about what his plan was for me. I knew we were always going to bring in another guy," Hill said. "I didn't know who it was going to be. But no surprise there; Jameis is a good football player, and a good quarterback.
"Nothing has changed for the New Orleans Saints. The goal has been and will always be to win the Super Bowl. I trust coach Payton."
×
Related Stories