Estimated read time: 5-6 minutes
This archived news story is available only for your personal, non-commercial use. Information in the story may be outdated or superseded by additional information. Reading or replaying the story in its archived form does not constitute a republication of the story.
SALT LAKE CITY — Welcome to peach season! No matter where you live in Utah, you probably have access to a roadside stand or grocery store that carries locally grown and fresh Utah peaches. Now's the time to stock up on peaches and get creative with them before they go bad.
Instead of just enjoying them plain (which is definitely my favorite way to enjoy local, fresh peaches), try a few easy peach recipes so you can enjoy them all day long. These registered dietitian-recommended peach recipes are easy, delicious and can be enjoyed at breakfast, dinner, desserts and even as a snack.
Breakfast
1. Banana Peach Steel Cut Baked Oatmeal via Bucket List Tummy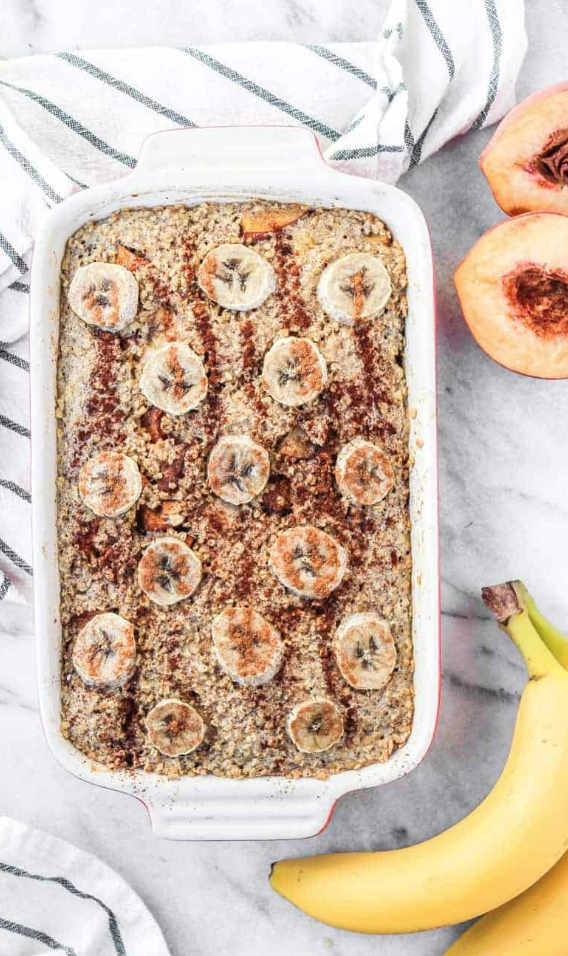 "This Banana Peach Steel Cut Baked Oatmeal is perfect for a make-ahead breakfast or snack. It can easily be reheated for on-the-go snacks and topped with your desired topping choices and great for using those summer peaches." —Sarah Schlichter, registered dietitian
2. Blueberry Peach Breakfast Crisp via Halsa Nutrition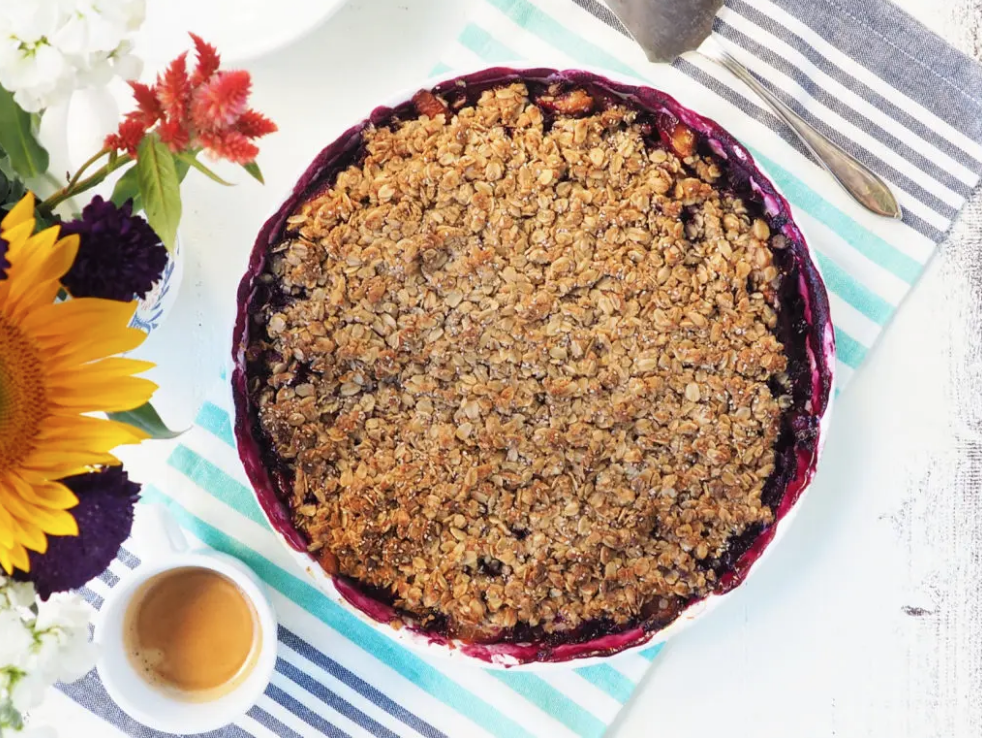 "Why wait for dessert? This blueberry peach crisp makes for a nourishing, happy breakfast! Pair it with Greek yogurt for extra protein to keep you satisfied all morning long." —Maria Adams, registered dietitian nutritionist
3. Ginger Peach Smoothie via Gorham Consulting Group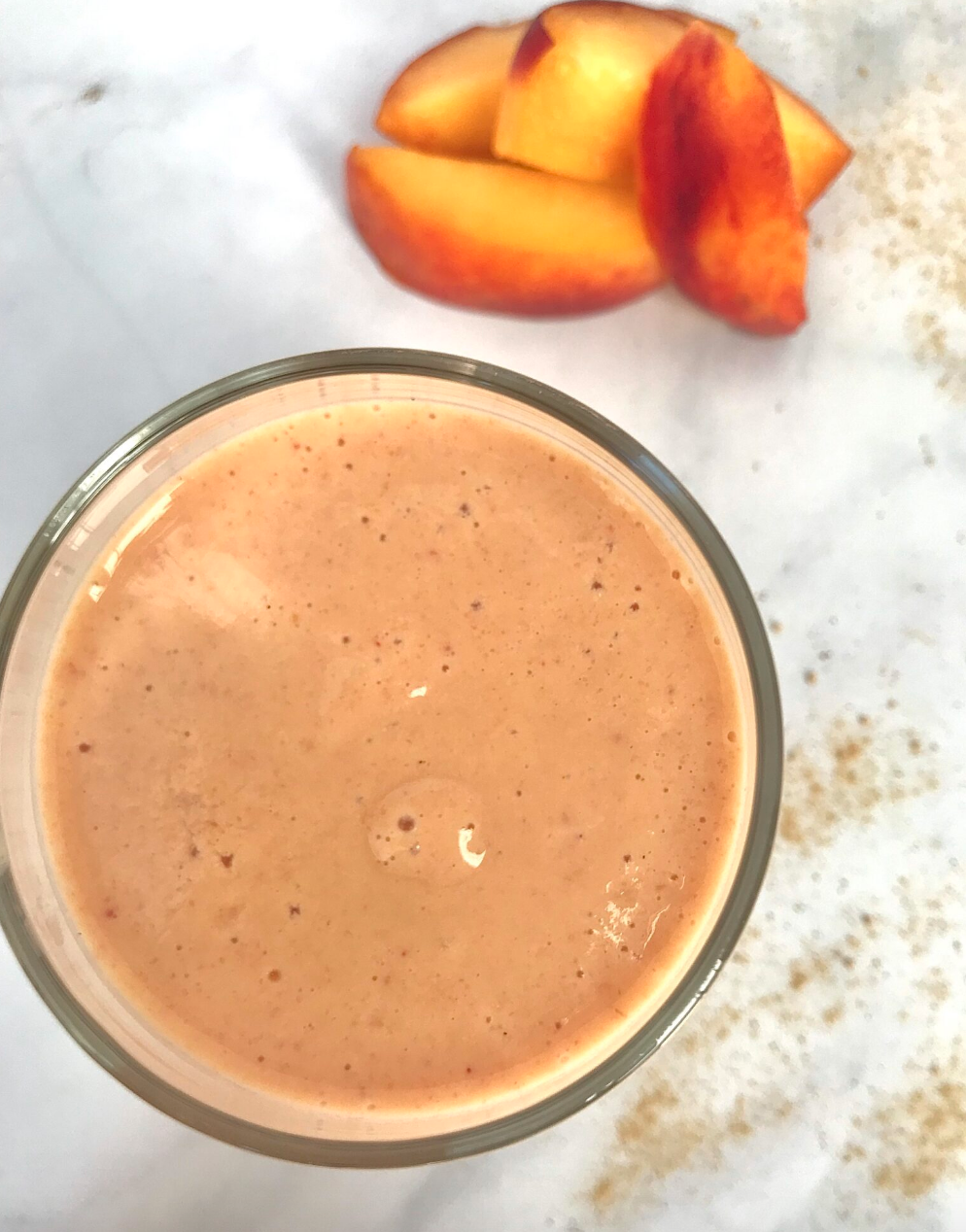 "This ginger peach smoothie is the most refreshing summer breakfast or snack. You can serve it in a bowl and top with coconut flakes and almonds or drink as-is from a straw." —Jenna Gorham, registered dietitian
Entrees
4. Peach and Prosciutto Caprese Pizza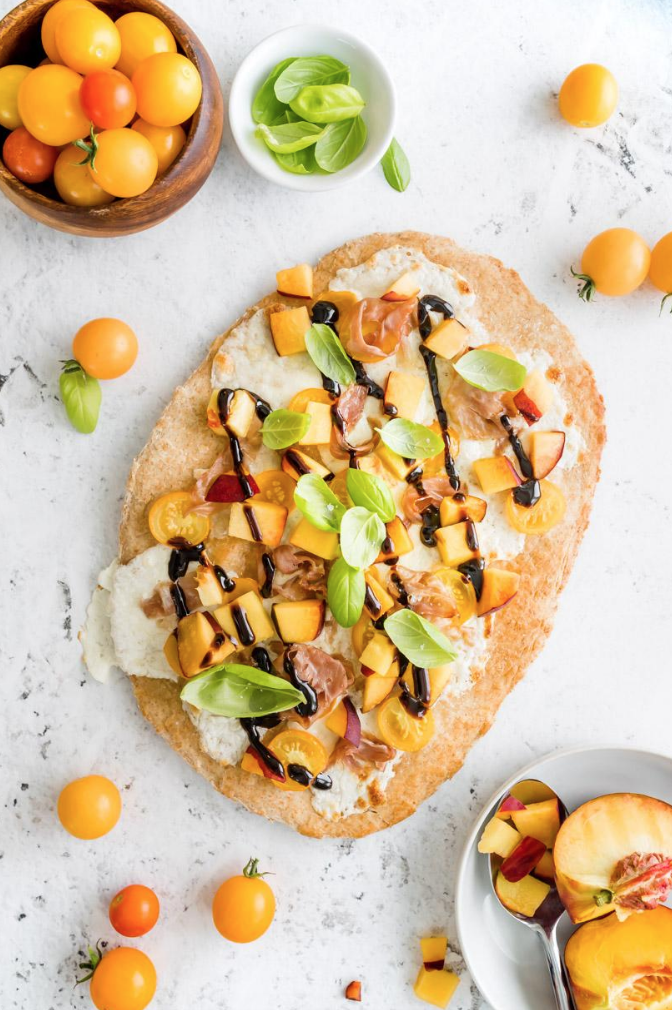 Turn a traditional caprese pizza (tomatoes + mozzarella + basil) into a seasonal delight by adding fresh peaches and prosciutto. It's sweet, salty and something you'll want to make over and over.
5. Grilled Shrimp and Peaches via Erin's Dishes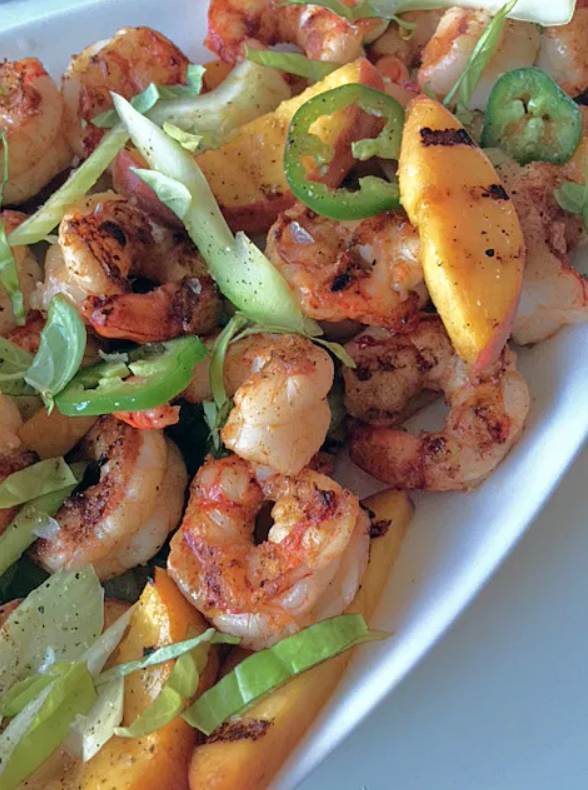 "This easy summer recipe pairs flavors you wouldn't expect to taste good together but are absolutely delicious! It's easy to make and makes for a quick and healthy mid-week dinner." —Erin McNamara
6. Blackened Red Snapper with Peach Salsa via Laurel Deininger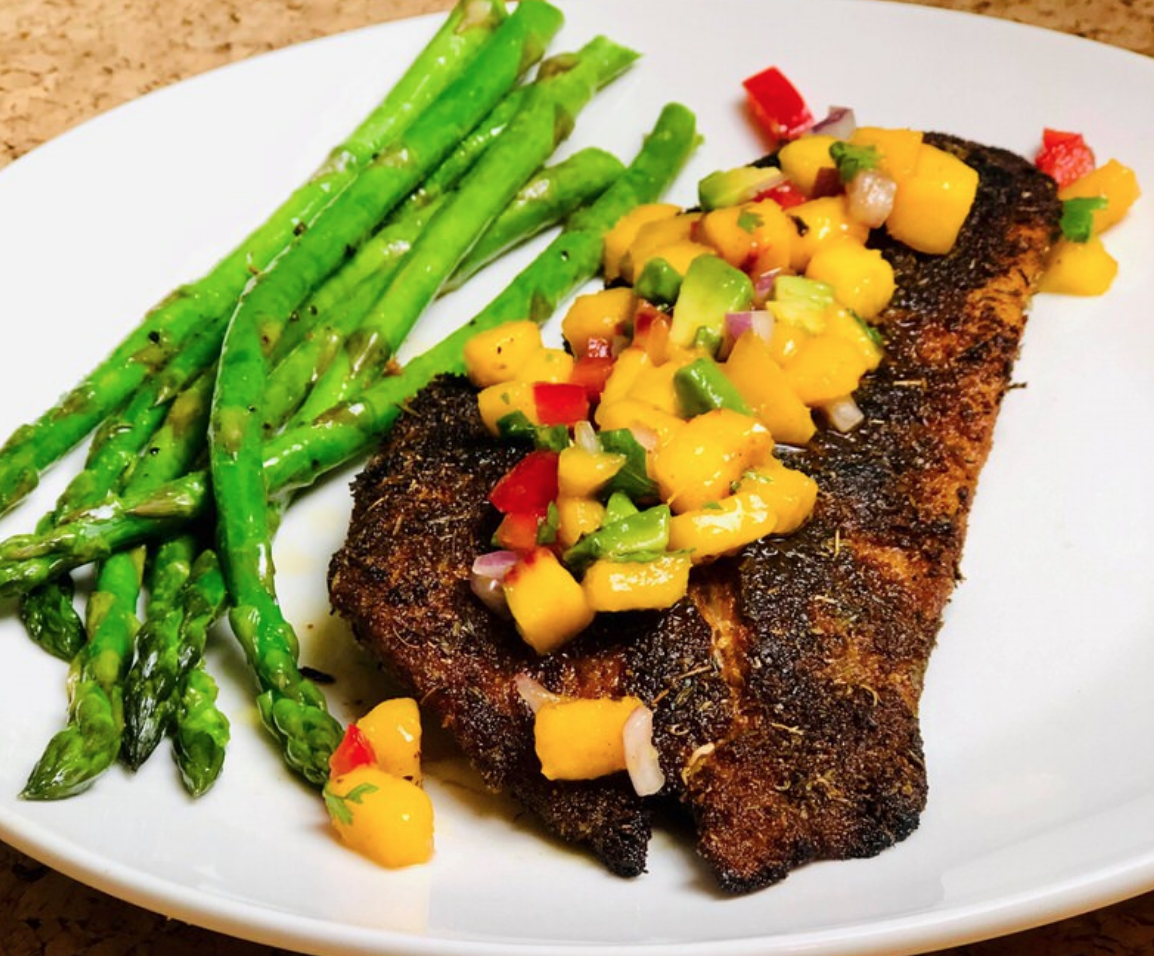 "Sweet and spicy are highlighted in this dish in the best way possible. The blackened spices are evened out with the cool peach salsa to create an amazing experience. Throw this all on Red Snapper and you have a winning meal!" —Laurel Deininger, registered dietitian nutritionist
7. Sweet Apple and Cranberry Lentils via Amy Gorin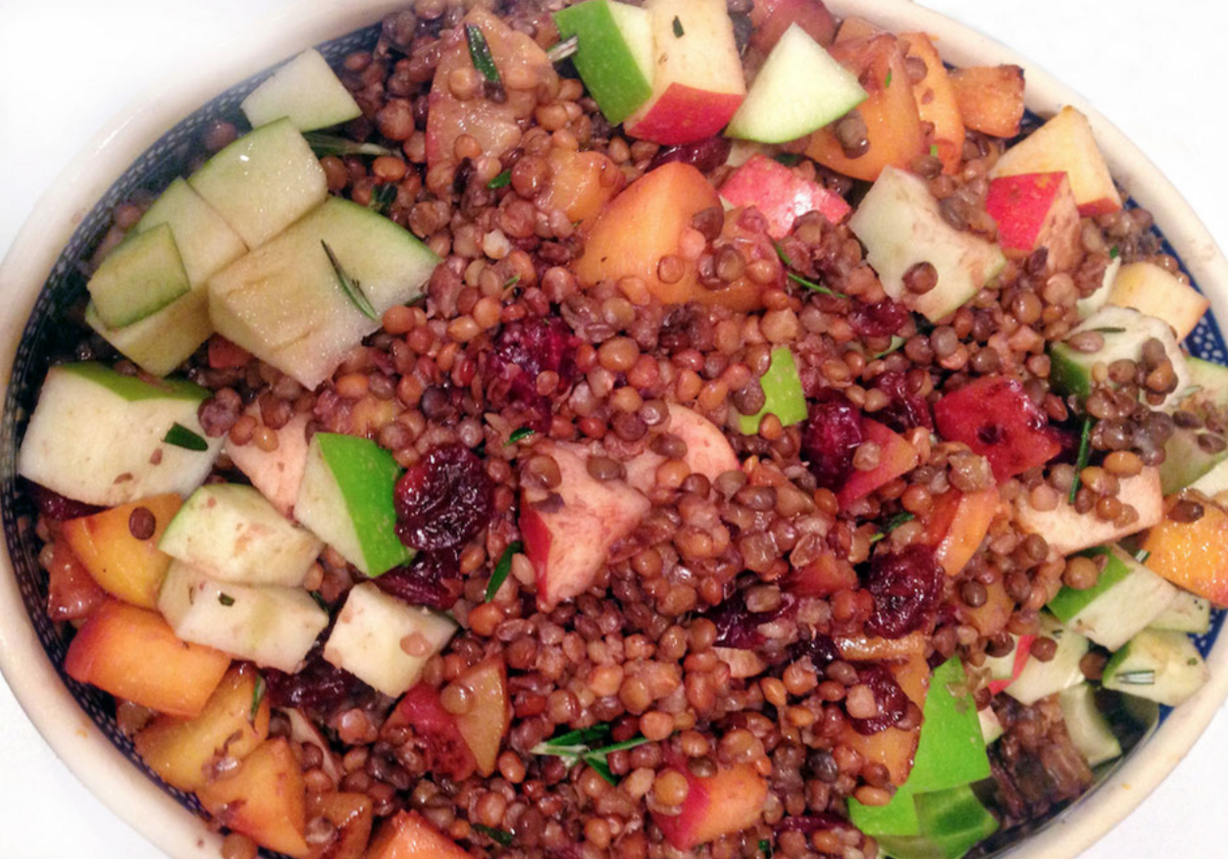 "Make your own protein-rich salad, complete with in-season fresh fruit including peaches. The juiciness of the peaches perfectly compliments the lentils." —Amy Gorin, registered dietitian
8. Honey Lime Chicken with Grilled Peach and Corn Salad via Fannetastic Food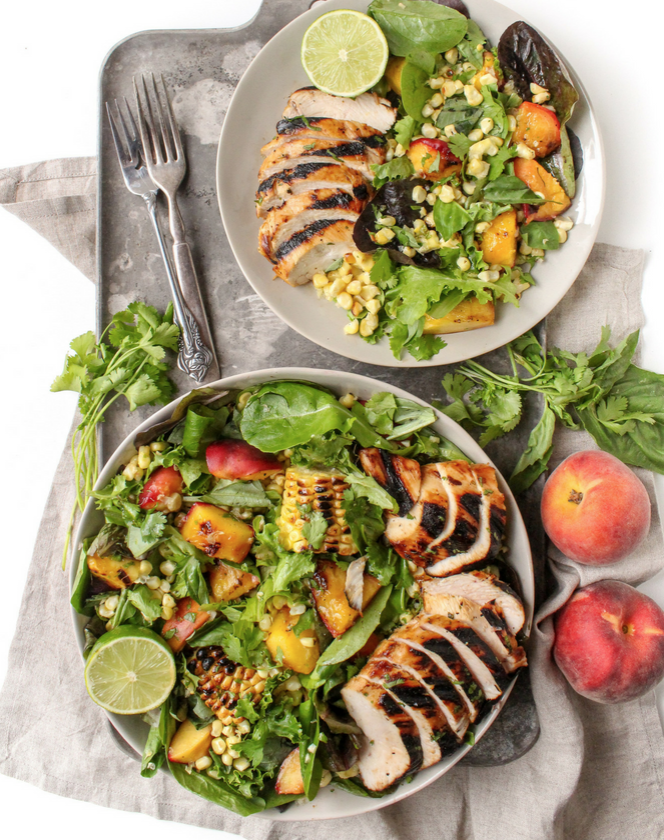 "This super fast, fresh and flavorful Honey Lime Chicken with Grilled Peaches and Corn is the perfect all-grilled dinner that celebrates summer produce." —Anne Mauney, registered dietitian
9. Grilled Chicken and Peach Salad via Carolyn Williams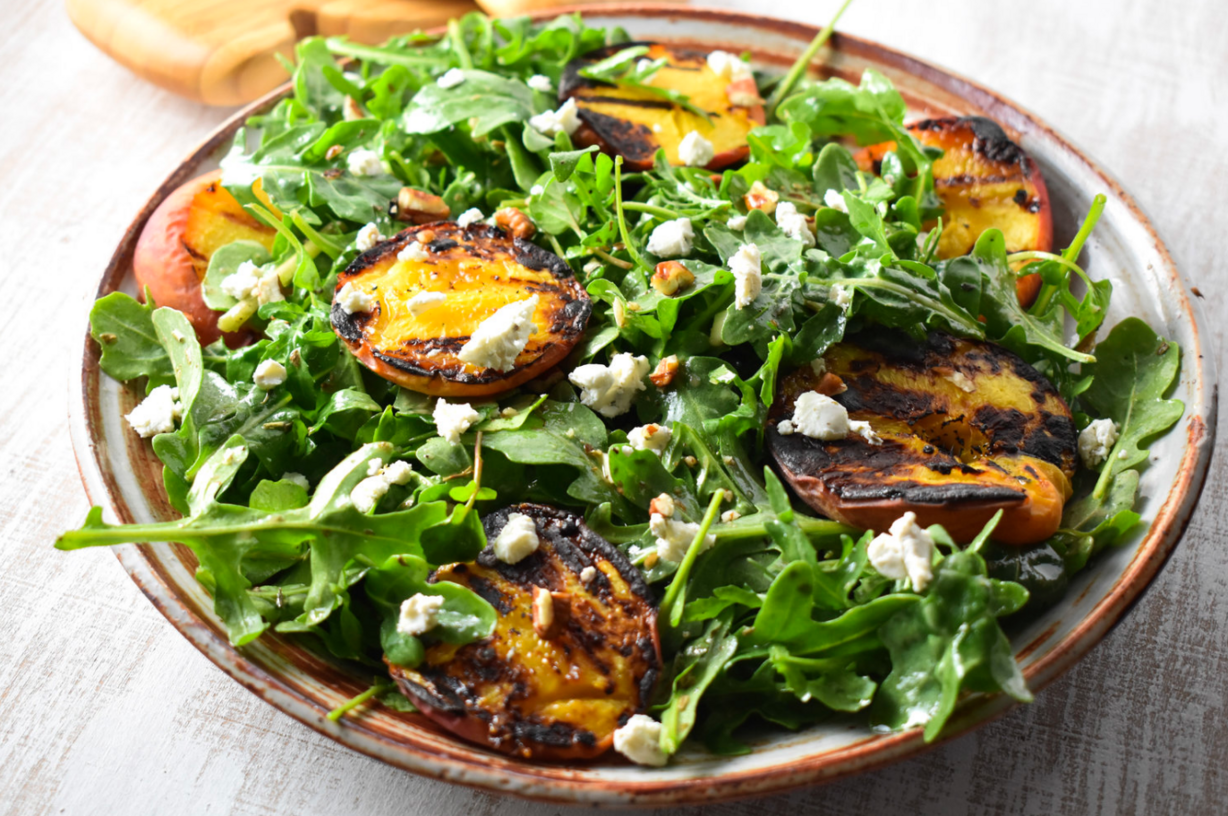 "Grilling peaches gives them a perfect flavor that makes them the perfect addition to a cool summer salad." —Carolyn Williams, registered dietitian
10. Peach Curry Chicken Salad via The Cheesy Dietitian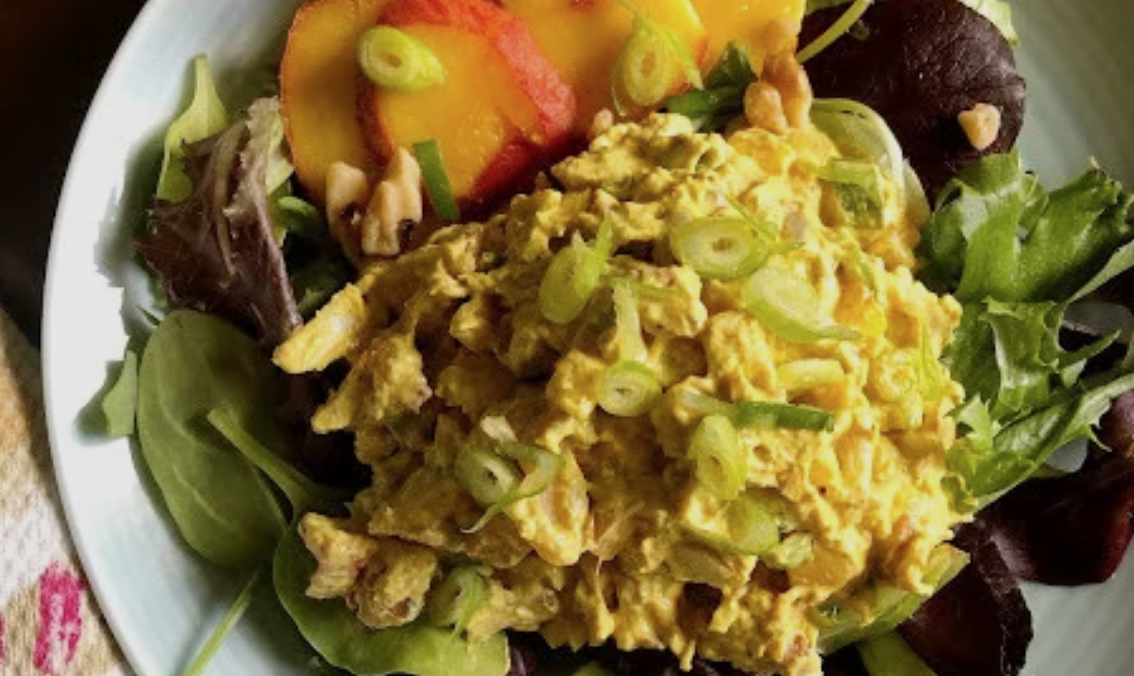 "This flavorful fruity peach curry chicken salad will brighten up your lunches with a fun twist!" —Kara Holton, registered dietitian
Sides
11. Peach, Corn, and Hatch Chile Salsa via Leanne Ray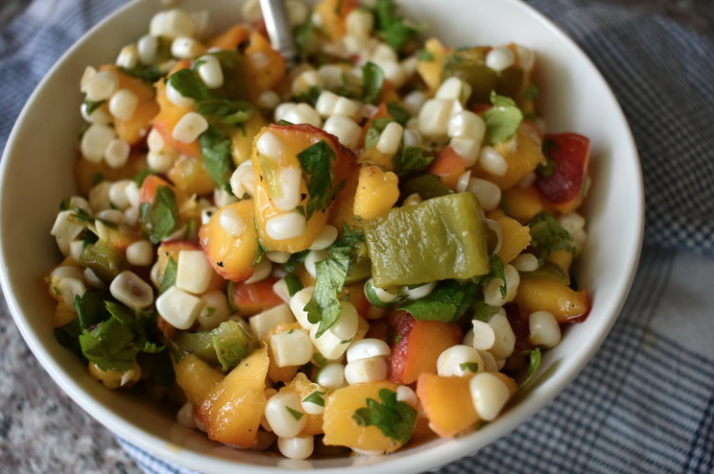 "Peaches, corn and hatch green chiles all folded into one beautiful bowl of salsa! (This recipe) comes together fast and is incredibly versatile." —Leanne Ray, registered dietitian nutritionist
12. Peach Caprese Salad via Cozy Peach Kitchen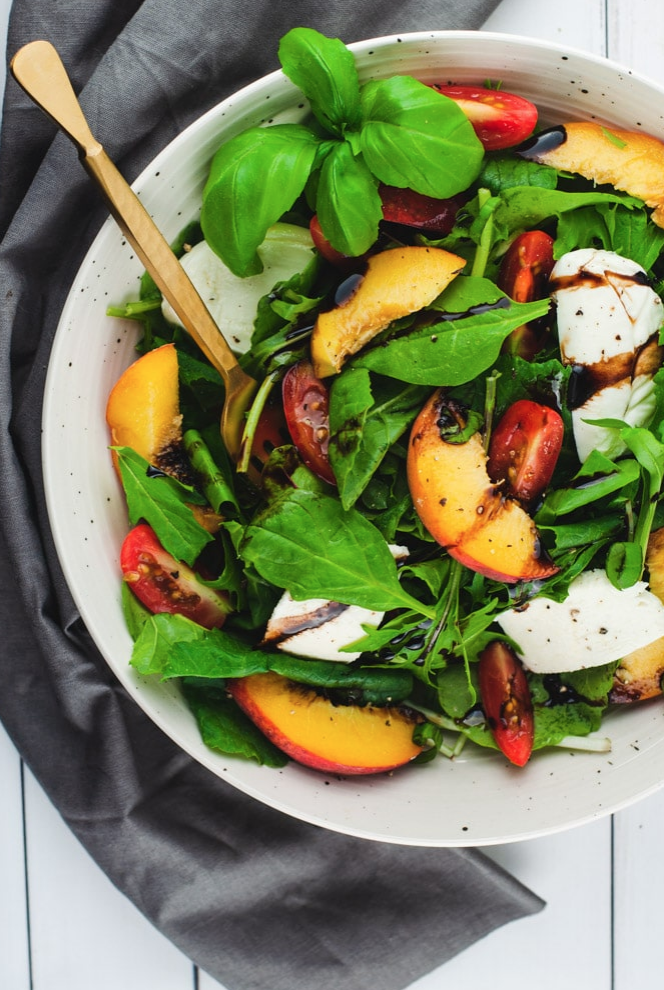 "(This) Peach Caprese Salad is a flavorful summer recipe that's a fun twist on a classic caprese salad. Light, quick and easy to make, this dish works well as a main or side salad." —Cassidy Reeser, registered dietitian nutritionist
13. Peach Soup via Fully Mediterranean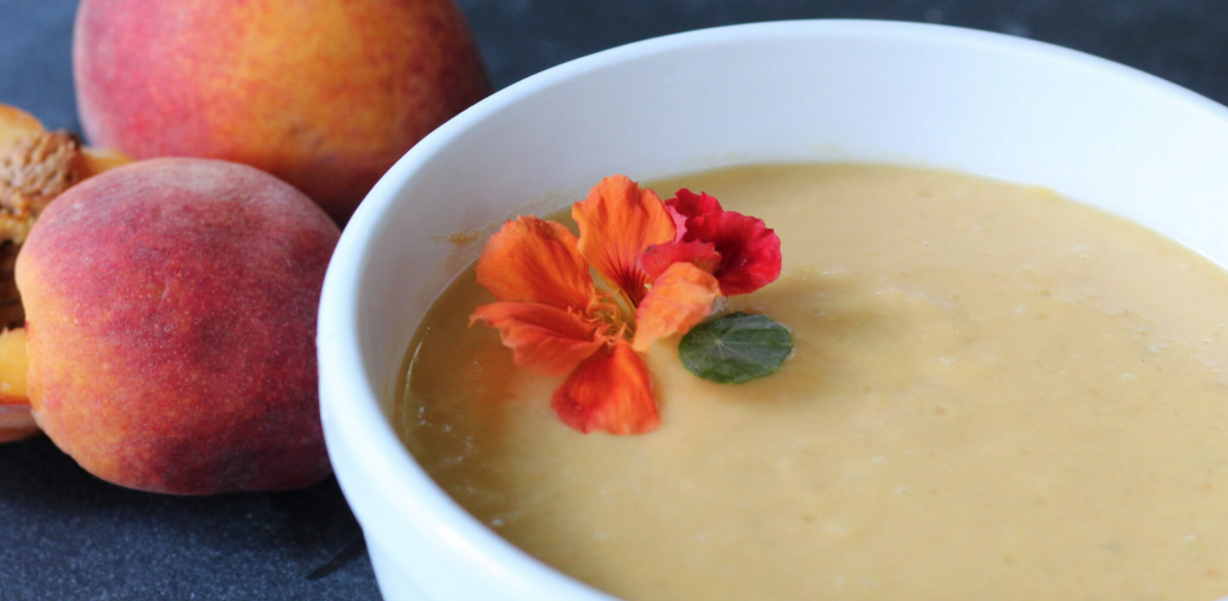 "I love to use any leftover peaches to make this peach soup. This soup is made with just a few simple ingredients, including some veggies like cucumbers and bell peppers!" —Pam Fullenweider, registered dietitian
14. Peach Panzanella Salad with Halloumi and Blueberry Balsamic Dressing via Jessica Levinson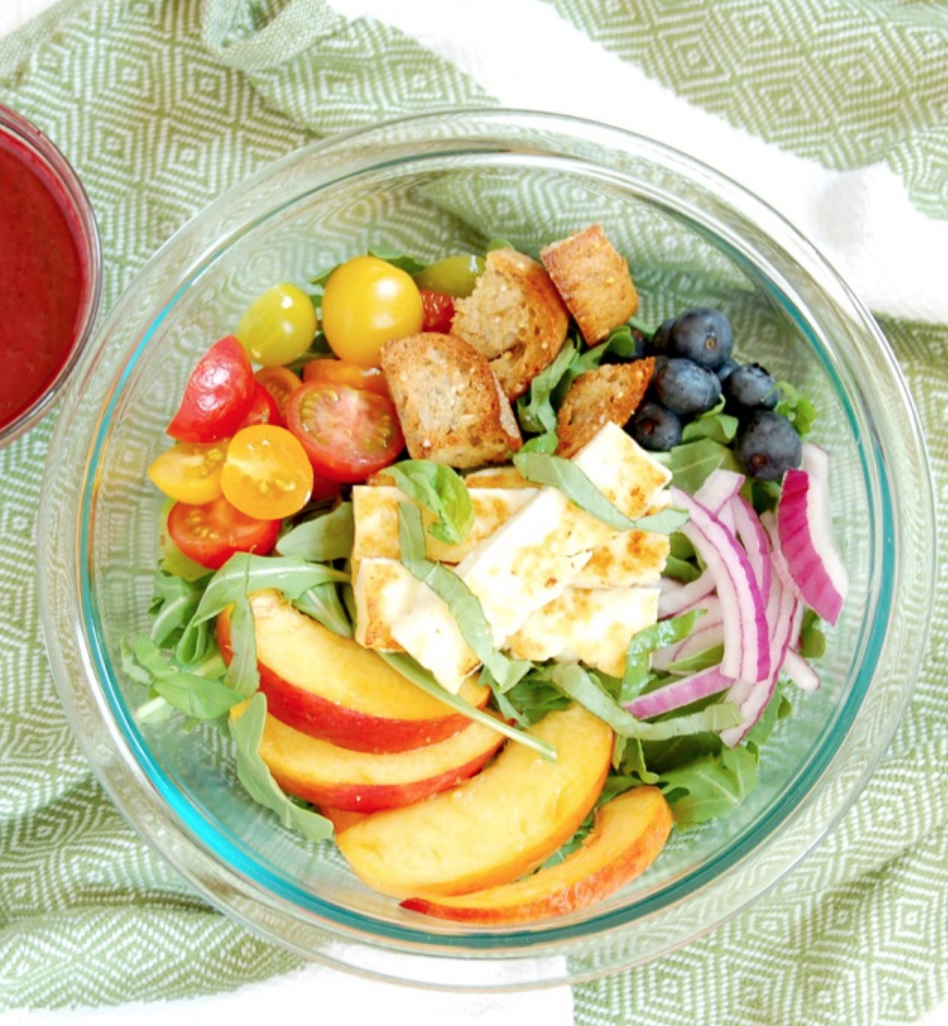 "Juicy peaches, ripe tomatoes, briny halloumi cheese and crunchy rustic bread come together in this Peach Panzanella Salad — a twist on a classic Tuscan summer dish." —Jessica Levinson, registered dietitian
Desserts
15. Peach Crisp Whole Wheat Donuts via Bucket List Tummy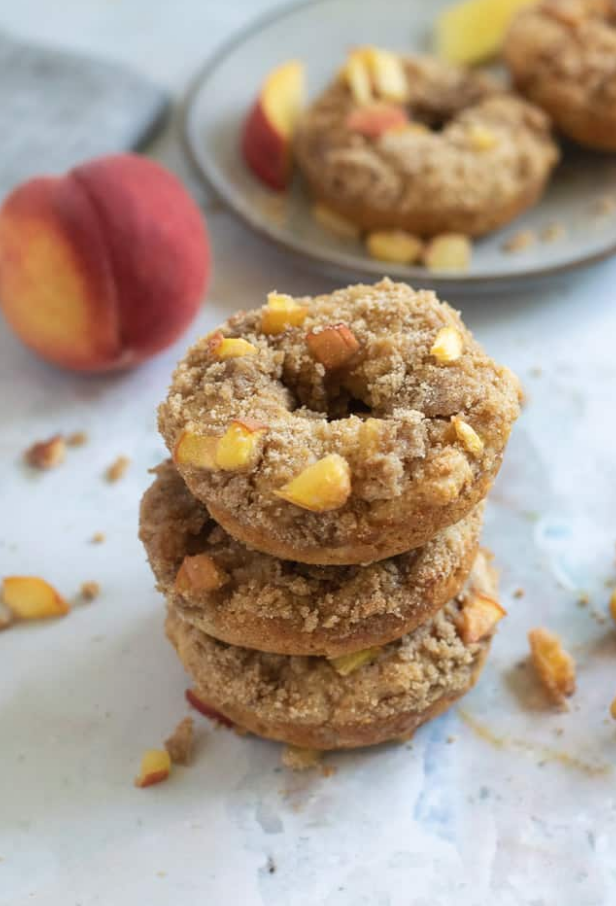 "Peach Crisp Whole Wheat Donuts are a delicious summer breakfast or snack option. Made with whole wheat flour and topped with a healthy peach crumble, these healthy baked donuts will become an instant favorite!" —Sarah Schlichter, registered dietitian
16. Roasted Peaches with Cinnamon Marscapone via My Millennial Kitchen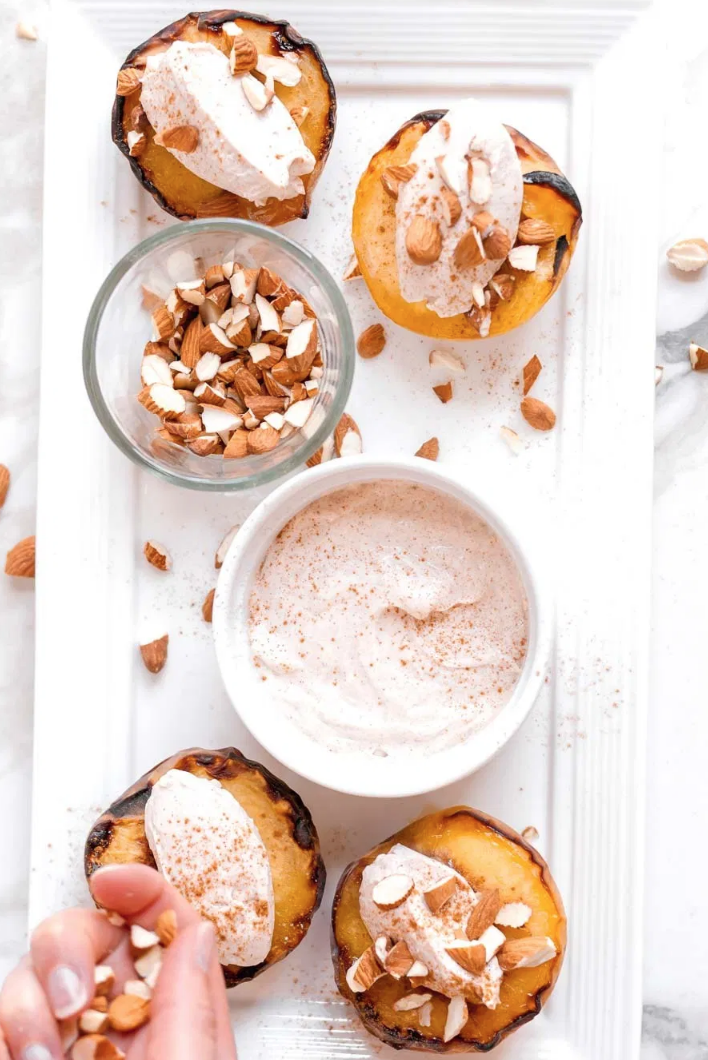 "From start to finish, these easy roasted peaches take only 15 minutes to prepare! Let the broiler do all the work to bring out the peaches natural sweetness while adding a drizzle of honey, cinnamon and a dollop of Greek yogurt and mascarpone." —Michele Sidorenkov, registered dietitian nutritionist
17. Skillet Peach Crisp for One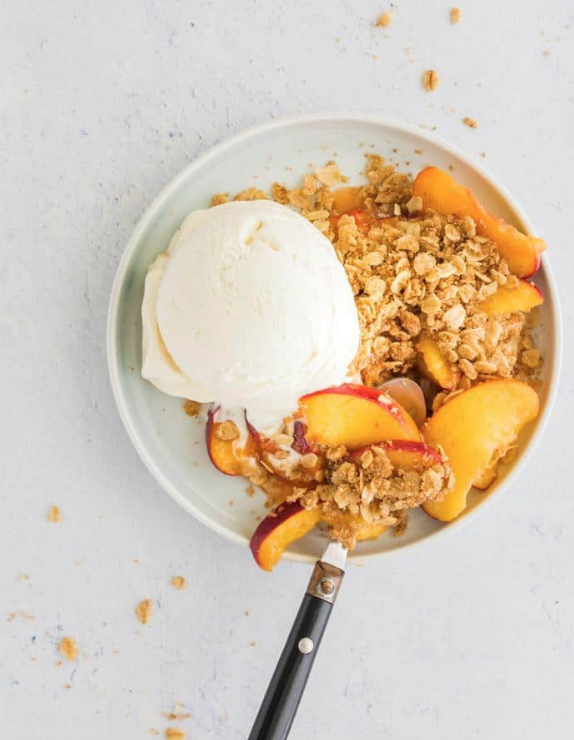 This crisp is perfect if you need a quick dessert for one. It takes 15 minutes to make, and is made on the stove so you don't have to heat up your home to make it.
18. Blueberry Peach Crisp via The Foodie Dietitian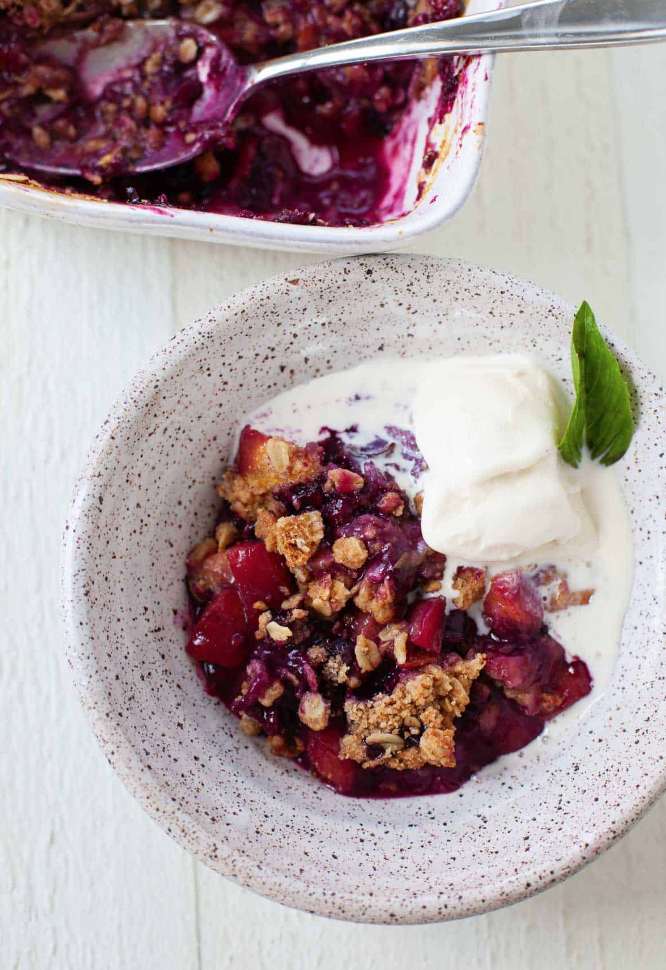 "(This is) a seasonal fruit crisp you're definitely going to want to make this summer! This Blueberry Peach Crisp is mouthwatering and contains a special ingredient for a flavor boost: basil!" —Kara Lydon, registered dietitian
Snacks
19. Peach and Mango Protein Smoothie via The Realistic Dietitian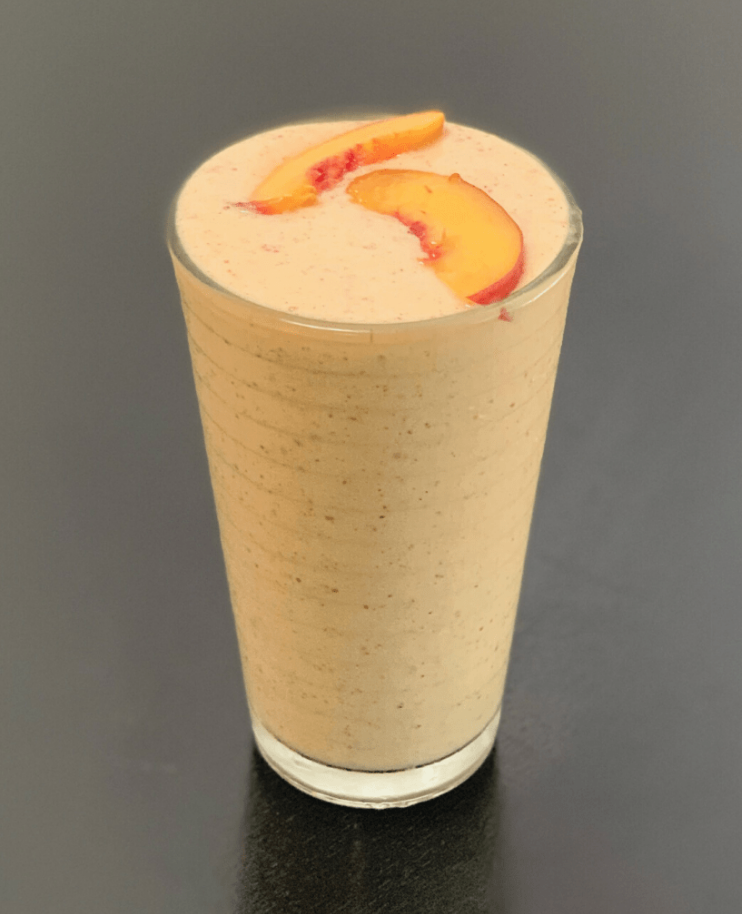 "Peach and mango blended with Greek yogurt, vanilla protein powder, almond butter and coconut beverage — this smoothie is a tropical paradise in a glass and a full meal replacement! Just throw the ingredients in a blender and create a meal in under 5 minutes." —Andrea Marincovich, registered dietitian
20. Easy Gluten-Free Peach Muffins via KISS in the Kitchen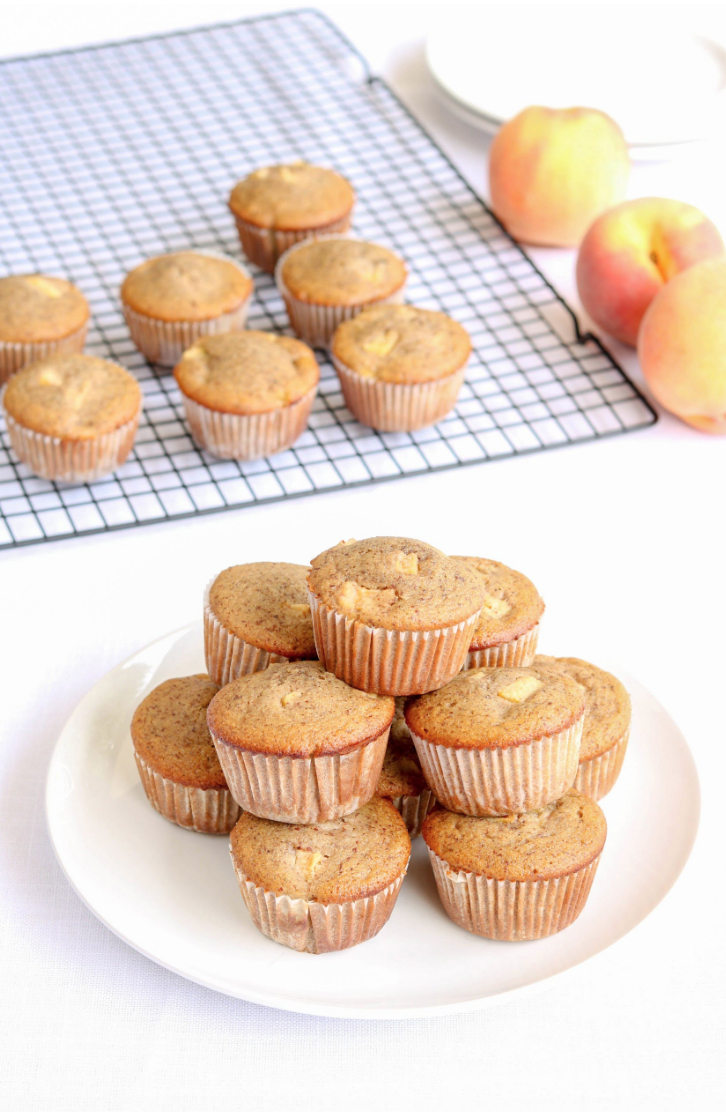 "These peach muffins are the perfect, not-too-sweet muffin recipe that lets that peach flavor shine! They're nourishing, easy to whip together and the perfect addition for breakfast or a snack!" —Shannon Garcia, registered dietitian
Now that you've got some ideas, go pick yourself up some fresh peaches and try a couple recipes to mix up your regular peach eating methods.
---
---
Editor's Note: Anything in this article is for informational purposes only. The content is not intended, nor should it be interpreted, to be a substitute for professional medical advice, diagnosis, or treatment. Always seek the advice of your physician or other qualified health provider with any questions you may have regarding a medical condition; Any opinions, statements, services, offers, or other information or content expressed or made available are those of the respective author(s) or distributor(s) and not of KSL. KSL does not endorse nor is it responsible for the accuracy or reliability of any opinion, information, or statement made in this article. KSL expressly disclaims all liability in respect to actions taken or not taken based on the content of this article.
×
Photos
Related stories
Most recent Lifestyle stories