Estimated read time: 6-7 minutes
This archived news story is available only for your personal, non-commercial use. Information in the story may be outdated or superseded by additional information. Reading or replaying the story in its archived form does not constitute a republication of the story.
PROVO — BYU safety Zayne Anderson knows what it's like to suffer a season-ending injury. A lot of football players do; it's part of the game, a risk most are willing to take for the game they love.
The former linebacker-turned-safety-again is entering his sixth season of eligibility with the Cougars, largely due to a combination of injuries that prolonged his collegiate career — including a torn labrum that curtailed his 2019 season after just two games.
But nothing hurts more than watching a teammate — a friend, a brother — go down, like he did with tight end Matt Bushman during a non-contact drill Monday.
Bushman, a senior and BYU's top returning receiver, suffered a season-ending injury in practice Monday, the school confirmed Tuesday. His senior year is over before it even began.
"It really puts a pain in your stomach," Anderson told reporters Tuesday evening. "You feel for him, for his wife, for the family because you see him go through it. When you go through it, you feel the pain for him.
"All last night, I was thinking about it. And I hate thinking about stuff like that, especially with your own guys."
Bushman, who was one of two BYU players to opt out of the NFL draft in April to return for one more season, reportedly suffered a lower-leg injury in practice. The school sought a second opinion and MRI to the affected area Tuesday, confirming initial diagnoses.
Bushman took to Instagram shortly after the Cougars confirmed the news Tuesday afternoon, thanking his family and friends who have reached out to him and his wife Emily over the previous 24 hours.
"Thank you for the love and support everyone," Bushman wrote. "Your messages have helped me during this time. I'll be back in a few months."
KSL.com can confirm that it is feared by some in the program, as reported by a variety of media outlets. that Bushman's injury involved his Achilles' tendon, though BYU did not confirm the specific nature of the ailment. Regardless of the specific injury or its mechanism, he faces a timeline of more than four months required to recover by the end of the Cougars' current season, which runs through Nov. 21.
BYU does not comment on injuries during the season, unless they are season-ending. On Tuesday, that determination became reality.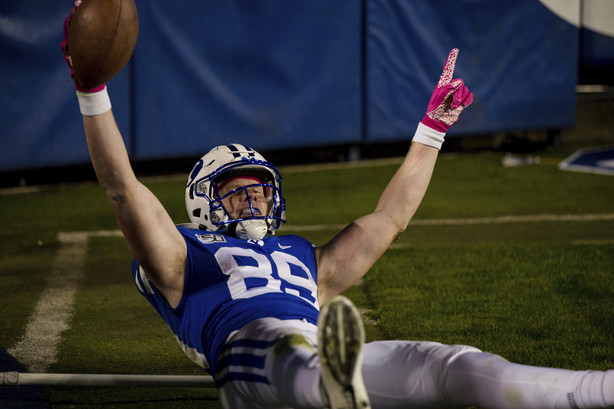 For many, it was a difficult confirmation.
"Sometimes life knocks you to your knees," wrote Emily Bushman (ne: Lewis), a former BYU volleyball player who is just days away from delivering the couple's first child, on her Instagram account. "I have seen up close how hard Matt has worked the past eight months. It makes this time even more disappointing and frustrating. His steadiness and faith since yesterday make me so grateful to have him as a companion forever.
"Thank you to all of our family and friends for the support. We feel your prayers and your love. We're grateful we still get to cheer on our team."
Under new NCAA legislation providing a blanket waiver of what is essentially a free year of eligibility for all college football players due to the novel coronavirus pandemic, Bushman could return to play one final season in 2021.
But that seems unlikely. The son-in-law of former BYU and NFL star tight end Chad Lewis, Bushman was rated the No. 5 tight end in the country by Lindy Sports prior to the season. If he does return to Provo, he'll be passing on the NFL for a second consecutive season.
Which is, perhaps, why Tuesday's news hit hard for the Cougars.
"It's always difficult on a team when you lose a good player," BYU defensive coordinator Ilaisa Tuiaki said. "Morale is always hard. We know we have to respond and step up. But it definitely hurts you as a team when you lose somebody like that."
Like Bushman, BYU safety Troy Warner has NFL hopes and ambitions. Also like Bushman, Warner has recently dealt with a devastating injury, a Lisfranc injury in his foot that caused him to redshirt his originally intended senior year in 2019 while playing in four games.
Warner acknowledged the raw emotions of Bushman's situation when he met with reporters wearing a Utah Jazz beanie cap just moments before his favorite NBA team tipped off Game 7 of its Western Conference playoff series against Denver.
"Matt Bushman is one of the greatest guys I've ever met, one of the greatest players I've played with," Warner said. "For him to go through what he's going through, I feel for him. I've had a major injury. For him to be a senior and to go through this right now, it's tough.
"A lot of us seniors are just trying to do everything we can to be with him at this time. He's in our prayers … and I know he will continue to help this team any way he can."
Bushman was active during the Cougars' recent scrimmage at LaVell Edwards Stadium that closed fall camp. He was the subject of BYU internal media department's "Mic'd Up" segment, when he told teammates Kyle Griffitts and Masen Wake to wave to the camera and offered hot takes about brownies.
Bushman was listed as the Cougars' starting tight end on the Week 1 depth chart. The 6-foot-5, 240-pound pass-catcher and three-time Mackey Award watchlist honoree started all but two games for the Cougars in 2019, when he caught 47 passes for 688 yards and four touchdowns.
Bushman, who averaged 14.64 yards per reception, joins Gordon Hudson and Dennis Pitta as the only BYU tight ends with three consecutive seasons of 500 receiving yards or more.
Bushman is backed up by Isaac Rex, a 6-foot-6, 247-pound redshirt freshman from San Clemente, California. The son of former BYU All-American tight end Byron Rex played in three games in 2019 following a two-year mission for The Church of Jesus Christ of Latter-day Saints in Samoa, making one catch for 23 yards.
Other tight ends in the group include Bentley Hanshaw, a 6-foot-6, 220-pound freshman from Moorpark, California; Hank Tuipulotu, a 6-foot-3, 230-pound legacy recruit from Fort Mill, South Carolina; and Carter Wheat, the big-bodied freshman from Mesa, Arizona.
Griffitts, a 6-foot-3, 245-pound senior from Windermere, Florida, had recently moved to fullback, but could return to tight end. Wake, the 6-foot-1, 250-pound starting fullback from Lone Peak, had recently made the same move.
The Cougars could flex fourth-year junior Neil Pau'u at tight end for some plays. The 6-foot-4, 215-pound inside receiver from Southern California was listed as one of three starting receivers on the Week 1 depth chart. But Pau'u, who is returning to the team after a year's sabbatical that followed legal troubles, is also listed ahead of incoming freshman Kody Epps.
If the 5-foot-11, 190-pound freshman from Mater Dei (Calif.) acclimates to college football quickly, it could leave Pau'u open to serve as an inside receiver or pass-catching tight end.
×
Related Links