PROVO — It wasn't exactly how Troy Warner expected it to happen.
No, we're not talking about his first experience of running out of the tunnel at LaVell Edwards Stadium, or his first start in a BYU football uniform, or even playing alongside his older brother Fred, who has already earned a name for himself in two seasons as an NFL linebacker.
Troy Warner had visions of all that, and they all worked out about like he imagined.
But he had another vision — earning a college degree, dressing up in his cap and gown, and entering the Marriott Center to "Pomp and Circumstance" while his wife and family cheered him on.
He didn't get that opportunity, at least not yet, because of the COVID-19 pandemic, which has shuttered graduations and pushed commencement ceremonies online at thousands of universities.
But the rest of his career, so far? It's worked out pretty well, even the college degree part.
Warner was one of 91 graduating student-athletes at BYU this week, a group that includes 18 football players. Joining him as graduated seniors with eligibility remaining are fellow seniors-to-be Chris Wilcox and Uriah Leiataua.
And while there won't be a capacity crowd of 60,000 screaming fans to celebrate the groups' academic accomplishment like a football game, the trio's success in the classroom is laud-worthy. All three are groundbreaking achievements, in many ways; Wilcox is the first four-year college graduate on his father's side, and Leiataua is a first-generation graduate among his family, as well.
First-generation graduate pic.twitter.com/GTyYVrBVcG

— Uriah Leiataua (@lopa54) April 25, 2020
And while earning his degree is "a relief" for Warner, whose older brother Fred preceded him in graduation before being drafted in the third round by the San Francisco 49ers, the magnitude of his achievement isn't lost, either.
"Being a graduate is a big accomplishment for me and my family," said Warner, who plans to take a few "interesting" post-grad courses to round out his final season of eligibility. "Not many people in my family had graduated from college before my brother. It's a great accomplishment."
It also helps him around the house. With his wife Bailee working 12-hour overnight shifts at Utah Valley Hospital in the newborn baby division, Warner has taken on several added responsibilities around the house while he, like most in Utah, has been shut in during the pandemic.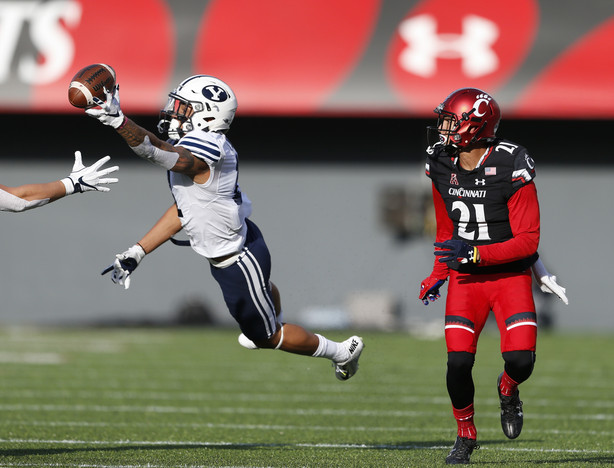 She helped him get through many of his exercise and wellness classes — from anatomy and physiology to other areas — and now he gets to repay part of the favor.
"It's a toll. She grinds, and it's a toll," Warner said. "But she's been a real saint in that regard."
Getting to the end of his BYU career has been a grind for Warner, as well. The former four-star recruit from Mission Hills High School joined his brother in Provo after fending off recruiting interest from Oregon, Arizona, UCLA, Utah, and Notre Dame, among others.
And while his career hasn't been easy — he's yet to record an interception to go along with his 92 career tackles, for example — the past three seasons (plus a redshirt campaign in 2019) have taught him a few things.
Like, for example, how to overcome adversity. Warner suffered a freakish Lisfranc injury nearly three years ago in the Cougars' 33-17 loss at East Carolina. He thought he had recovered in time for his junior season, and played in 13 games with four starts. But the foot injury kept nagging him.
So he shut it down early and used his redshirt in 2019 to heal properly.
"It was one of the toughest things," Warner said. "Mostly because I felt helpless at times. I wanted to be out there making plays for my team. But it happened to be different for a year."
It wasn't an easy decision — like his brother, Warner has designs on playing in the NFL, and he could've been draft-eligible this past April. He even played in four games, taking advantage of new NCAA legislation surrounding redshirts, and had his most productive outing of the season with six tackles in the Cougars' bowl game Christmas Eve at Hawaii.
Now he wants to end his career the right way.
"I tried to find all the positives in redshirting and all that I was able to gain," Warner said. "I was able to look at things from a different perspective.
"I think that I really benefited from it, mentally and getting healthy."
---
BYU Athletics Graduating Class of 2020*
Baseball: Bo Burrup (communications), Brock Hale (experience design and management), Brian Hsu (Chinese), Jordan Wood (exercise science)
Men's Basketball: Yoeli Childs (exercise and wellness), TJ Haws (finance), Taylor Maughan (exercise science), Dalton Nixon (exercise and wellness), Zac Seljaas (exercise and wellness), Evan Troy (exercise and wellness)
Women's Basketball: Brenna Chase Drollinger (exercise and wellness), Shalae Salmon (public health), Khaedin Taito (exercise and wellness)
Football: Sam Baldwin (Japanese), Trevor Brent (accounting), Joe Critchlow (finance), Kavika Fonua (exercise and wellness), Tanner Jacobsen (economics), Batchlor Johnson (mass communications), Austin Kafentzis (economics), Kamalani Kaluhiokalani (math education), Uriah Leiataua (experience design and management), Austin Lee (exercise and wellness), JJ Nwigwe (economics), Trajan Pili (exercise science), Addison Pulsipher (mechanical engineering), Thomas Shoaf (civil engineering), Talon Shumway (exercise science), Troy Warner (exercise and wellness), Austin Whetzel (strategic management), Chris Wilcox (exercise and wellness)
Men's Golf: Spencer Dunaway (psychology)
Women's Golf: Rose Huang (global supply chain management), Anna Kennedy (exercise and wellness)
Gymnastics: Shannon Evans (exercise and wellness), Briana Pearson (marketing)
Soccer: Ella Ballstaedt (art history and curatorial studies), Lizzy Braby (exercise and wellness), Sabrina Davis (exercise and wellness), Elise Flake (family life), Alyssa Jefferson (communication disorders), Rachel Lyman (exercise and wellness), Danika Serassio (exercise and wellness)
Softball: Emilee Erickson (communications), Ashley Godfrey (exercise and wellness), Allie Hancock (exercise and wellness), Olivia Sanchez (sociology), Libby Sugg (exercise and wellness), Lexi Tarrow (elementary education)
Men's Swimming and Diving: Jarren Brinton (psychology), Bryce Farabee (exercise science), Nathan Gonzales (statistics), Levi Jensen (psychology), Kunmi Ogunfeibo (political science), James Sorensen (finance)
Women's Swimming and Diving: Taylor Ballard (family studies), Casey Cunningham (political science), Kaela Call-Harries (economics), Kelly Hatanaka (experience design and management), Elizabeth Holmes (exercise science), Morgan Mellow-Dopp (exercise science)
Men's Tennis: David Ball (philosophy), Sean Hill (economics), Jeffrey Hsu (sociology), Sam Tullis (accounting)
Women's Tennis: Taylah Beckman (communications), Hailey Krey (entrepreneurial management), Kate Cusick Truman (communications)
Men's Track and Field: Blake Ellis (exercise science), Chase Heiner (exercise and wellness), Tyler Huffaker (exercise and wellness), Jefferson Jarvis (communications), Cade Perry (economics), Porter Reddish (chemical engineering), Jameson Shirley (psychology), Clayson Shumway (economics), Derek Sorensen (psychology), Ramarco Thompson (economics)
Women's Track and Field: Erica Birk-Jarvis (family life), Emma Gee (communications), Olivia Hoj (public health), Courtney Isom (communications), Brenna Porter (elementary education), Cassidy Pinnock (family life), Kyndal Stewart (exercise and wellness), Courtney Wayment (exercise and wellness)
Men's Volleyball: Miki Jauhiainen (computer science), Andrew Lincoln (exercise science)
Women's Volleyball: Sydnie Martindale (exercise and wellness), McKenna Miller (exercise and wellness), Kiani Moea'i (experience design and management)
*Courtesy: BYU athletic department
×
Related Stories