PROVO — For the second-straight day — really, every day of the second week of fall camp he's spoken to the media — BYU head coach Kalani Sitake has been thrilled with the state of his offense.
From a running back group that includes ankle-breaking runs from Lopini Katoa and Tyler Allgeier to a quarterback battle that is capping off the best offseason incoming junior quarterback Zach Wilson has had in his time as a collegian, the offense has been ahead of the defense.
That's a good thing for the Cougars, which ranked low in offensive production last year across the 130-team Football Bowl Subdivision, including a bottom-10 mark in red-zone conversion percentage.
But is it a cause for concern for the defense?
"I think the defense still did some good things," Sitake said Friday afternoon. "The edge has been given to the offense.
"We held some guys out on defense as we start looking toward a Navy look."
That last part might be key to the discourse. Sitake said that Khyiris Tonga, the 300-pound NFL draft hopeful from West Valley who might as well pencil himself into BYU's starting lineup at defensive tackle, was among those held out of Friday's scrimmage. The incoming senior was replaced for much of the Cougars' 75-80 play scrimmage Friday so that coaches could get a look at younger players like Tyler Batty, Seleti Fevaleaki and others.
Context makes all the difference.
And with that context, BYU's defensive line isn't that far behind, defensive lineman Zac Dawe argued.
"I think it's probably one of the best fall camps I've been a part of," Dawe said. "Everyone is pretty physical and ready to step up to the plate.
"Defensively, there are a lot of guys who want to get in and make a plan."
Another reason for the offensive emphasis, according to several players?
The "monsters" on the offensive line, Dawe added.
"They are modern-day Goliaths," he said. "They know what they're doing … I don't think we've had as good an offensive line for the last couple of years as we do this year."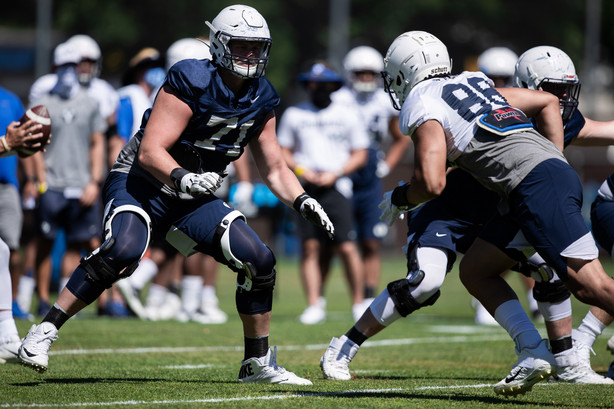 Yes, the Cougars were talking about defensive schemes and which side "won the day" Friday as they put the finishing touches on their second week of fall camp while teams across the country were deciding to cancel or postpone their upcoming fall season.
The Big Ten and Pac-12 have already backed out of the fall due to concerns around the novel coronavirus pandemic. So, too, did the Mountain West, as well as all FCS conferences like the Big Sky. The SEC, ACC and Big 12, meanwhile, have cautiously pressed forward with plans for the season, saying they need more time to make a conclusive decision — an attitude that has spread to other conferences like the American Athletic Conference (which includes BYU's opening opponent Navy on Labor Day) and the Sun Belt (home to another BYU replacement opponent, Troy).
But in Provo, the Cougars were still tinkering with depth charts and figuring out who will constitute the scout team when they jump full-bore into preparing for the Midshipmen and Ken Niumatalolo's acclaimed triple-option offense by next week.
Football is a lot easier to talk about than the pandemic, at least for coaches and players inside the Cougars' facility.
"Being a senior (in 2020) is very different," Dawe said. "Usually we have a full schedule and know exactly who we are playing.
"This year, we just have to be reactive and attack 100%. Everyone around the country doesn't know what is going to happen, and there are some seniors who won't get a chance to play this fall. … We're just trying to do everything we can so that we can have a season."
All BYU's players and coaches can do is prepare for a season — whether or not that season eventually materializes, or fades into the sunset like the Pac-12 and Big Ten decided earlier this week.
That's not their concern — that's the job of a group of administrators like athletic director Tom Holmoe, whom Sitake called the hardest working man in college football after the Cougars had two-thirds of their schedule blown up. The Cougars are taking precautions, including new equipment like face shields on helmets, masks and cloth neck-coverings under their helmets, and mandatory symptom and temperature checks every day before practice.
The rest is being left to the ones in charge.
"I know one thing: Tom's been working," Sitake said. "He hasn't put any limits on anything. He keeps working; he's the busiest man I've seen in a long time.
"Even when we have our meetings, his phone is always blowing up. Those guys have all been working really hard."
No one would envy the position of the BYU football program, as the only team in Utah with any sense of a college football schedule still on the books and the western-most program that hasn't formally canceled or postponed its season.
Even fellow independents like UConn are backing out. The Cougars, meanwhile, stay the course.
Which is why practice was focused on playing, training and scrimmaging — even to the benefit of the offense, from Wilson to Allgeier and Katoa to the wide receiver group that includes Neil Pau'u, Dax Milne and newcomer Kody Epps making plays of their own.
"It was just easy money," Milne joked, before turning more serious, "I'm liking the direction that we're headed."
×
Photos
Related Links