PLAIN CITY, Weber County — Just one day before being killed in a police shooting in what friends believe was a "suicide by cop," 21-year-old Aaron Griffin risked his life to save a woman from a fiery car crash.
"That was Aaron. He had a big heart," Griffin's best friend, 29-year-old Parker Thorson, told KSL.com. "If he had to put himself at risk or anything, he would do it for someone else, even if it was someone he didn't know."
On Friday morning, Griffin and Thorson were driving when they came to the scene of a fiery car crash at 5200 W. 2150 North in Plain City.
A woman had been speeding up to 90 mph in a 30 mph speed zone when she went over barricades and was ejected through the windshield with the car landing on top of her, witnesses told authorities.
A couple had already stopped at the scene when Griffin and Thorson arrived just moments after the crash. Soon after, the car became engulfed in flames and the fire spread to nearby dry brush.
The two men jumped into action, lifting the vehicle up and pulling the woman to safety out from underneath the car.
The pair left the woman with the other couple before authorities arrived. However, fire officials were later looking for the bystanders as they wanted to thank them for their heroic actions.
Thorson contacted the fire department after seeing the inquiry.
"We didn't do it to be known," Thorson said. "We didn't do it for congratulations. We saved her just to save her."
The driver suffered burns on 25% of her body, internal bleeding, brain swelling and some lacerations. She was flown via medical helicopter to an area hospital in critical condition — and authorities didn't believe she would make it.
"We didn't think that she had a great chance on scene," Plain City Fire Department Chief T.J. Larson told KSL.com. "But thankfully now they've been able to get her to the point where she will make a full recovery."
When Griffin's close friend Laura Spencer heard what he had done at the scene of the accident, she wasn't surprised.
"Aaron would do that for anyone," she told KSL.com. "He would never hesitate to help somebody out."
Related:
Without Griffin and Thorson's actions the woman likely would've died, Larson said.
"There's no doubt in my mind that these boys saved her," Larson said.
Larson was impressed by the two men's actions and wanted to personally thank them — and offer them a job.
"It's a rare quality to find someone who's willing to risk his life going into a burning car to save someone else," Larson said.
While Thorson doesn't think of himself as a hero for his actions, he did say he's considering a possible career as a firefighter.
Sadly, Griffin died before getting the chance to pursue being a first responder.
"It's an unfortunately late thought, but I actually think he might've done really well at something like that," Spencer said.
"To find out (Griffin) had passed away was tough," Larson added.
The night following the crash, Griffin was shot and killed by Roy police after he and 49-year-old Brian Joseph Cregg fled a traffic stop in Clinton and opened fire at officers.
A police K-9 named Mik was shot and injured in the incident but is expected to make a full recovery. The incident is under investigation, and the officers involved have been placed on paid administrative leave.
"The hard part is I was so looking forward to meeting these young men and tell them thank you so much for saving this woman's life," Larson said.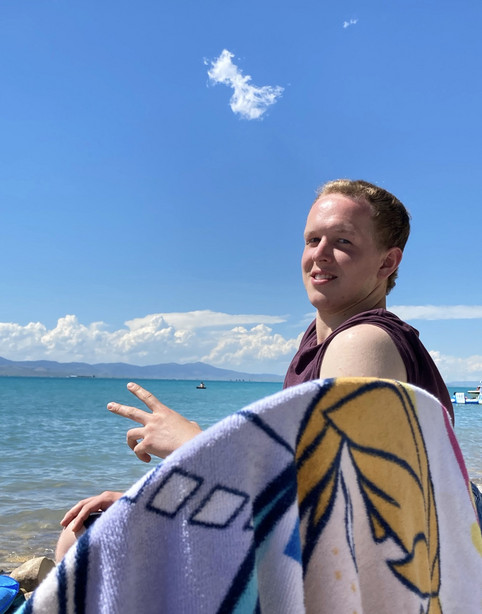 Griffin's friends believe he got involved in the shooting incident as a way to die by suicide.
"I knew he was going through some things in his own head," Thorson said. "I didn't know he was looking for a way out."
While his friends don't condone Griffin's actions in Saturday's incident, they want people to know who he was — selfless, caring and kind.
"He's no angel," Spencer prefaced. "He's done some things he shouldn't do, he's a drug addict that gets involved in things he shouldn't be involved in. But his heart is good. He's a good person. He's very tenderhearted and very loving."
Spencer admits that when she hears stories similar to Saturday's police shooting she's "like anyone else" and thinks, "Who are these thugs that are violent and have no concern for anyone else?
"But you don't know the backstory, you don't know the state that Aaron was in and how he was feeling and what he was dealing with," she continued. "And you know, was it wrong? Yes, absolutely. We don't ever want to see those kinds of things happen, and especially when it involves law enforcement coming to do what they did — because that's hard on them as well."
But Spencer wanted people to know that Griffin was more than the way he died.
"This was a young man who was dealing with a lot of demons and struggling with some decisions he'd made in life and where he was at," she said. "I wanted to make sure that people knew there was another side to this young man."
Griffin struggled with drug addiction and previously served time in Utah State Prison on a drug conviction.
"He was tormented by his inability to control his addiction and did not want to disappoint his family any further," Spencer said in a previous interview with KSL. "We feel terrible about how his life ended and that officers were put in danger and a K-9 was injured. We support our law enforcement and the difficult decisions they had to make."
But Griffin's loved ones hope he's remembered in a positive light.
"I just want to make sure that everybody knows that he was a good kid and he did have a big heart," Thorson said. "And I would hope that he gets viewed for the good he did in this world and not judged by the last actions that he had."
Suicide prevention resources
If you or someone you know is struggling with thoughts of suicide, call the suicide prevention hotline at 1-800-273-TALK.
Crisis Hotlines
National Suicide Prevention Lifeline: 1-800-273-TALK (8255)
Statewide/Salt Lake County Crisis Line: 801-587-3000
Utah County Crisis Line: 801-691-5433
Wasatch Mental Health Crisis Line: 801-373-7393
Trevor Project Hotline for LGBTQ teens: 1-866-488-7386
Online Resources
×
Related Stories