Estimated read time: 5-6 minutes
This archived news story is available only for your personal, non-commercial use. Information in the story may be outdated or superseded by additional information. Reading or replaying the story in its archived form does not constitute a republication of the story.
SALT LAKE CITY — With the backdrop of the Salt Lake City-County Building and a group of Salt Lake City police officers, Mayor Erin Mendenhall signed an executive order Monday covering seven amendments to police department policies regarding the use of force, search and seizure, and body-worn cameras.
The ink on the signature was still fresh by the time she addressed a handful of media Monday afternoon.
All changes will go into effect no later than Sept. 5. Because they involve disciplinary action and review boards, some policies will be available for comment from the police officers' union for 30 days before being fully enacted.
"My priority is that these reforms improve officer safety and public safety," Mendenhall said, "which is a balance we have worked collaboratively to achieve."
Use of force
Before employing such tactics, an officer must determine that deadly force is necessary and that a threat of death or serious bodily injury is imminent, which will be carefully defined under the new policy.
Officers are required to use de-escalation techniques before using force.
Banning use of deadly force to prevent an individual from self-harming or where the individual is not an immediate threat to others.
Any officer who reasonably believes an officer is about to use force or other action that is illegal, excessive, or otherwise inconsistent with policy must, absent extraordinary circumstances, do whatever they can to interrupt the flow of events and prevent the use of force. If a supervisor is on the scene, the supervisor must give a direct order to prevent the use of force.
Officers will include more details in reports of use of force, including de-escalation tactics — all reviewable by two levels of supervisors.
Use of body cameras
Ensure discipline of officers for intentionally or negligently failing to activate body-worn cameras.
Search and seizure
Officers conducting search and seizures of property or a vehicle without a warrant are to inform the person being searched of the right to refuse and obtain a signature of the consent-to-search form.
Mendenhall hopes that the reforms will be the beginning of additional needed changes that will make the Salt Lake police department the "most progressive" in the country.
"These seven reforms are the beginning of our work, not the end. I hope and I expect that we will see additional reforms in the coming weeks and months," Mendenhall said. "I want to thank Chief (Mike) Brown and the Salt Lake City police department for collaborating with me on these reforms. I know that we have a long road ahead of us in this journey toward equity. And I thank you for your professionalism, your desire to innovate and grow, and your commitment to doing what's right for our residents."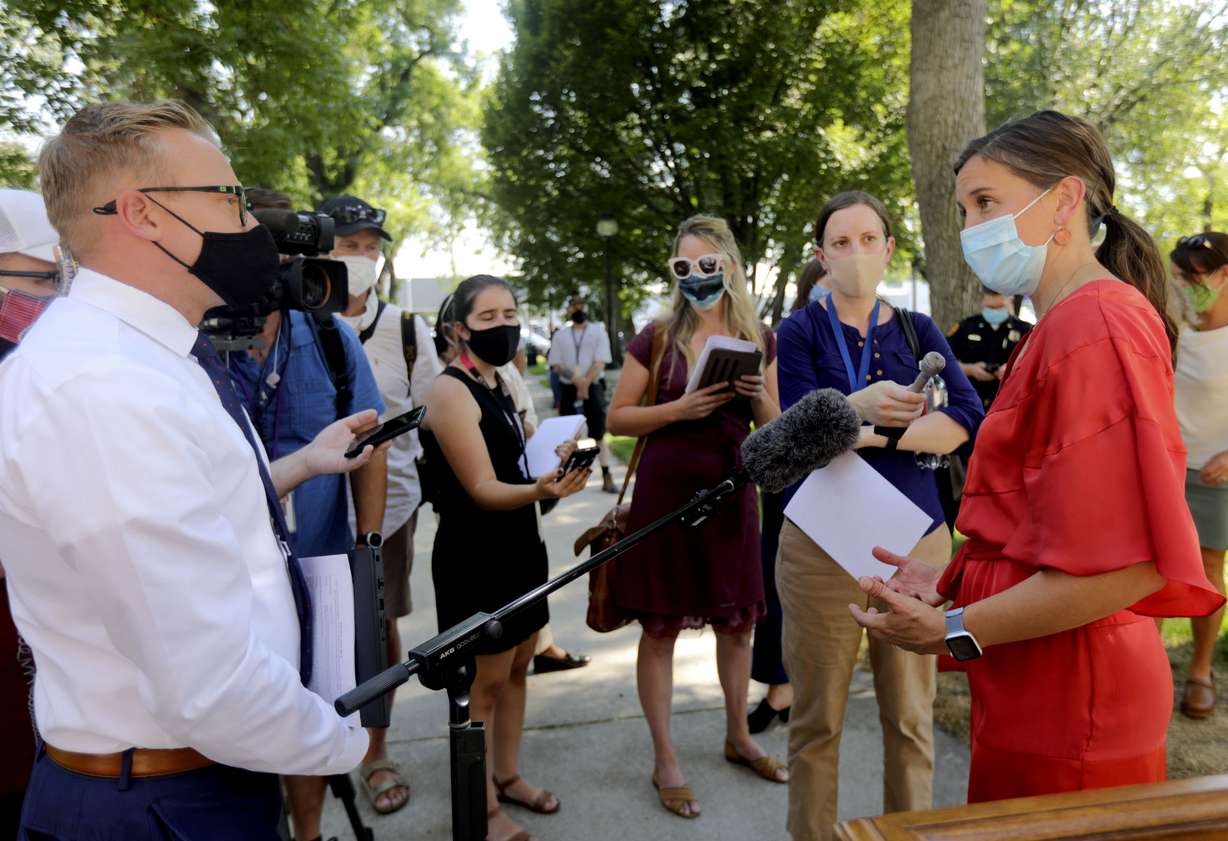 Salt Lake City Police Chief Mike Brown said the new policies, which he plans to adopt across the department, should not represent a dramatic shift from his officers every day. Brown recently updated department policy in banning the use of chokeholds and limiting the use of tear gas as responsive police tactics.
"Honestly, this is not a radical shift for us," Brown said. "Many of these challenges we understand to be best practices. We've always held change and evolution as a pillar of our training, and that is why we are the best department with the most opportunities."
Brown said he hopes his department can be a "gold star" to other agencies, both in the state and nationally, as they work to affect reform in the wake of nationwide protests calling for an end to police brutality following the death of Minneapolis resident George Floyd while in police custody.
"These new policies aren't just about ink on paper," Brown said. "We will take the time necessary to ensure the department reads them, that they understand them, and most importantly that we train with these changes. There is not one officer in this department who doesn't want to be the best in his profession. I know they come to work every day, and they bring their A-game, as we have seen their professionalism and their character.
"We are sworn to obey, to support and to defend the Constitution of this country, and this state. And we will continue to do so."
The changes also come after Mendenhall and Brown worked together to establish the Salt Lake City Committee on Racial Equity, a committee comprised of civic leaders, religious leaders and experts in legal and human rights tasked with helping to "redefine a new normal of policing," according to committee member Darlene McDonald of the Utah Black Roundtable.
In issuing the order, Mendenhall said her group leaned on the examples of police forces in Austin, Texas, and Camden, New Jersey, which has drawn headlines for the way the city reimagined its police force in 2013.
"It has taken some time; we worked as quickly as we can," Mendenhall said. "And there will be more changes to come as we continue reviewing opportunities."
Salt Lake County saw its own police-citizen confrontation Sunday evening as Cottonwood Heights police clashed with protesters marching in support of Zane James, the 19-year-old former hockey standout who was shot by police after allegedly robbing two convenience stores in 2018. Among the protesters arrested in the aftermath was James' father, Aaron, who spoke during a news conference earlier Monday about the event.
Mendenhall declined to comment specifically on the incident in Cottonwood Heights, which is its own municipality in Salt Lake County. But she did say she hopes her city can work with surrounding jurisdictions in addressing police reform.
"Salt Lake City is committed to the reform and creation of greater equity for all of our residents and the safety of policing for the police and the public involved," she said. "We have the resources to have these broad conversations … and we invite other cities surrounding us, as all of our borders intertwine without very much definition to the public eye. It's important that we get on the same page about these police reforms and that the public are safe — no matter what they are in the state of Utah and that they work under the same guidelines."
×
Photos
Related links
Most recent Utah stories