Estimated read time: 2-3 minutes
This archived news story is available only for your personal, non-commercial use. Information in the story may be outdated or superseded by additional information. Reading or replaying the story in its archived form does not constitute a republication of the story.
A Utah woman has filed a federal lawsuit claiming Sevier County deputies violated her civil rights. The lawsuit includes claims of humiliation after being strip searched and having several male deputies in the same room while she was forcibly catheterized.
Haley Owen Hooper admits she's had some bad days in life, but nothing like the day she can't forget. "It was like I had been raped, just like I had been raped and all those guards were helping," she said.
It all started in 2004, when Sevier County deputies pulled her over. They were looking for someone else, but Hooper was driving the car investigators were looking for.
Hooper says deputies searched the car, and her, without her permission. "They arrested me for nothing. They should have let me go as soon... I mean, they weren't even looking for me," she said.
Hooper was taken to jail after refusing to perform field sobriety tests. A female nurse strip searched her, which Hooper's attorney says was wrong.
"You can only strip search somebody in this kind of context if they're going to go to the general jail population, which she was not and never did," explained attorney Bob Sykes.
After refusing a urine test, Hooper says deputies got a warrant for bodily fluids. She then offered to give blood. She says a deputy told her the judge wanted urine.
"The male guard started taking off my pants. They told me I'd have to bend over, and I started freaking out," Hooper said.
"They stripped her in front of all these men, and held her down and forcibly catheterized her. It was totally illegal," Sykes said.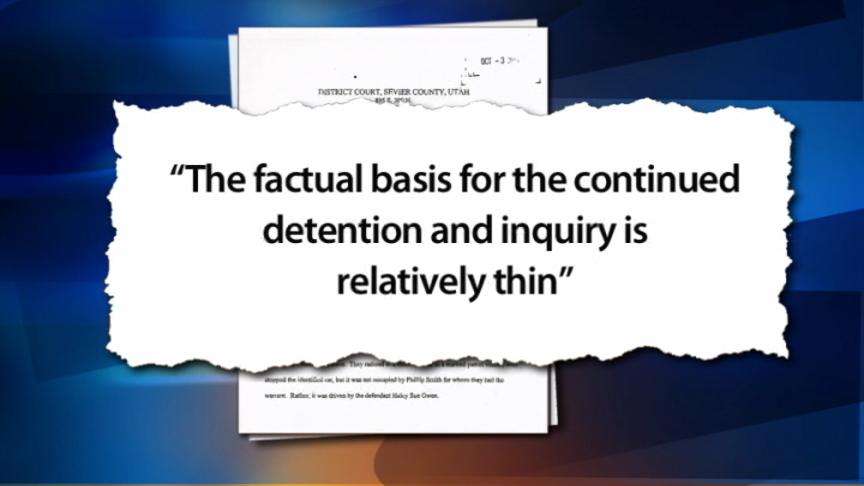 The urine test was negative for alcohol, but positive for meth and THC.
A year later, a judge ruled those results, and all charges against her, should be thrown out. He also said "the factual basis for the continued detention and inquiry is relatively thin."
The judge noted Sevier County had been warned before about using catheters, saying, "They should be limited to the most exigent circumstance and extreme necessity."
"I'm a person. I shouldn't be treated like that. I don't think anybody should," Hooper said.
We left messages with Sevier County Sheriff Phil Barney. We wanted to ask him if his deputies have used a forced catheter since. He hasn't called us back.
Sevier County Attorney Dale Eyre did call us back, but he said he has never heard about this case, even though the last page of the judge's 2005 ruling says a copy of it was delivered to his office in person. The county now has 20 days to respond.
E-mail: acabrero@ksl.com
×
Related links
Most recent Utah stories