Estimated read time: 2-3 minutes
This archived news story is available only for your personal, non-commercial use. Information in the story may be outdated or superseded by additional information. Reading or replaying the story in its archived form does not constitute a republication of the story.
Steve Young is speaking out about his family and California's Proposition 8. He's reacting to the use of his name in a press release from the "Vote No" Prop. 8 group.
"I have not given anyone authority to use my name whatsoever, in any political matter," he said.
Opposing sides have spent some $60 million on ads for and against the proposed amendment which would ban same-sex marriage. Recently, Steve and Barbara Young's names have been linked to the issue.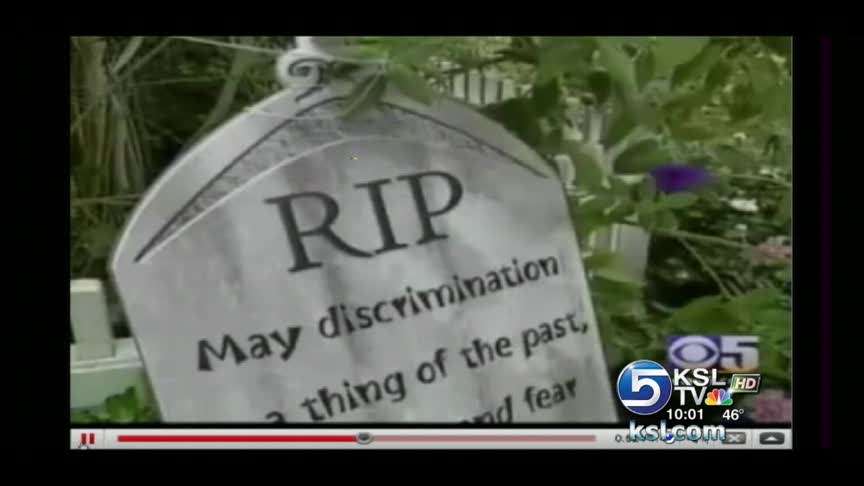 Hall of Famer Steve Young and his family took center field last month as the San Francisco 49ers retired his number 8. Now his fame has brought him into the controversy of another 8 -- Proposition 8, banning same-sex marriage.
On YouTube a video of the Young home in Palo Alto from a California television station shows a "Vote No" on Prop. 8 sign and anti-discrimination Halloween decorations. Saturday the "No on Prop. 8" organization issued a press release saying NBA great Magic Johnson is calling Prop. 8 wrong and unfair. It also said Steve Young's family announced its opposition.
Barbara Young is passionate about this issue. Her brother Michael is gay. Her statement reads, in part, "We believe all families matter, and we do not believe in discrimination, therefore, our family will vote against Proposition 8." She later said, Steve "makes no endorsement."
By phone Sunday night, Steve offered a statement as a chance to correct that press release and subsequent reports.
"Barb and I love each other very much. It is that love of each other and the Savior that helps us come to the decisions we do. For Barb, who has a remarkable and enviable compassion for others, those political activities are far more public than mine. Those who know me, know I chose long ago not to be publicly active in the political process. I do have strong opinions. I do vote and will vote on Tuesday, but those matters are private," he said.
Steve is not only a football legend but a famous Latter-day Saint. This story has made Internet headlines.
Steve said, "Barb and I and our children love our church and our faith, which allows for a wide diversity of political discourse. In our case, our diversity does not diminish in any way our or my love, respect and sustaining of the leadership of our church, which is deep and profound."
Steve declined to answer any questions, saying the statement is all he wishes to say publicly on the matter.
E-mail: cmikita@ksl.com
×
Most recent Utah stories