Estimated read time: 5-6 minutes
This archived news story is available only for your personal, non-commercial use. Information in the story may be outdated or superseded by additional information. Reading or replaying the story in its archived form does not constitute a republication of the story.
SALT LAKE CITY — Are you feeling cooped up at home and stuck eating the same dinners? Picnics are a great way to break away from the monotony of our current reality.
Take a picnic blanket, your family, a few drinks and your picnic food to your backyard, shared apartment space or other public grassy area and enjoy a change of scenery with some delicious food. You can safely gather with friends from a distance or keep it to your household. Either way, a picnic might be exactly what you need to break out of the monotony. All you need are a few food safety tips and great recipes.
Tips to keep your picnic safe
You can't get COVID-19 from food/food packaging. There's no evidence to suggest that you can get COVID-19 from food or food packaging, according to the World Health Organization. You can, however get it from droplets from people who are infected.
Bring your own food and utensils. If you're gathering with people outside your household, each household should bring their own food and utensils, suggests the Centers for Disease Control and Prevention .
Avoid touching your face. "Though it's tempting to think we're back to normal, it's super important that we continue to practice safety with diligence. Avoid touching your face — especially licking your fingers — no matter how tasty the picnic food," suggests registered dietitian Shahzadi Uzma Devje. "Though simple, when you're outdoors enjoying the weather and the food in others' company, it's easy to forget this one."
Don't picnic in a crowded park.
If you're picnicking with people outside of your household, try to maintain 6 feet between households, even if you're outside.
Bring hand sanitizer. If you're not able to wash your hands before and after eating, hand sanitizer is a good option. Remember, maintaining distance, not touching your face and washing your hands are three ways to help you stay safe and slow the spread.
Keep cold food cold, and hot food hot. The Food and Drug Administration recommends keeping cold food below 40 degrees Fahrenheit. That means packing your cold food with ice packs and keeping warm food above 140 degrees. Food can be left out for less than 2 hours, or for less than one hour if it's over 90 degrees outside. If food is left out for longer than that, it may not be safe to eat.
Read through the FDA's food safety recommendations for eating outdoors.
Picnic recipes
1. Avocado Deviled Eggs via Amy Gorin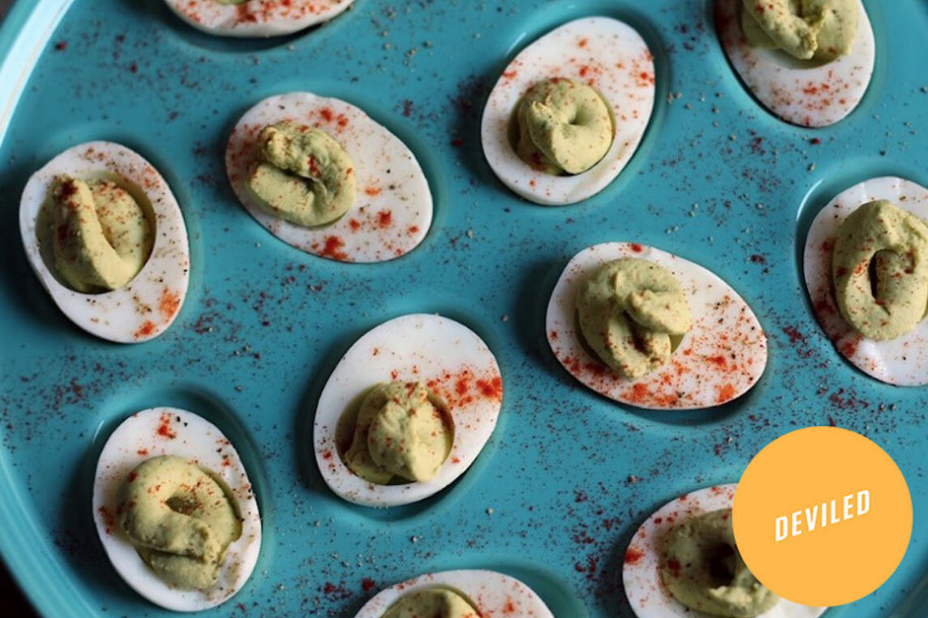 These deviled eggs are perfect for a picnic. Take just the amount you need to your picnic and leave the rest in your fridge for later.
2. Shaved Zucchini and Corn Salad with Feta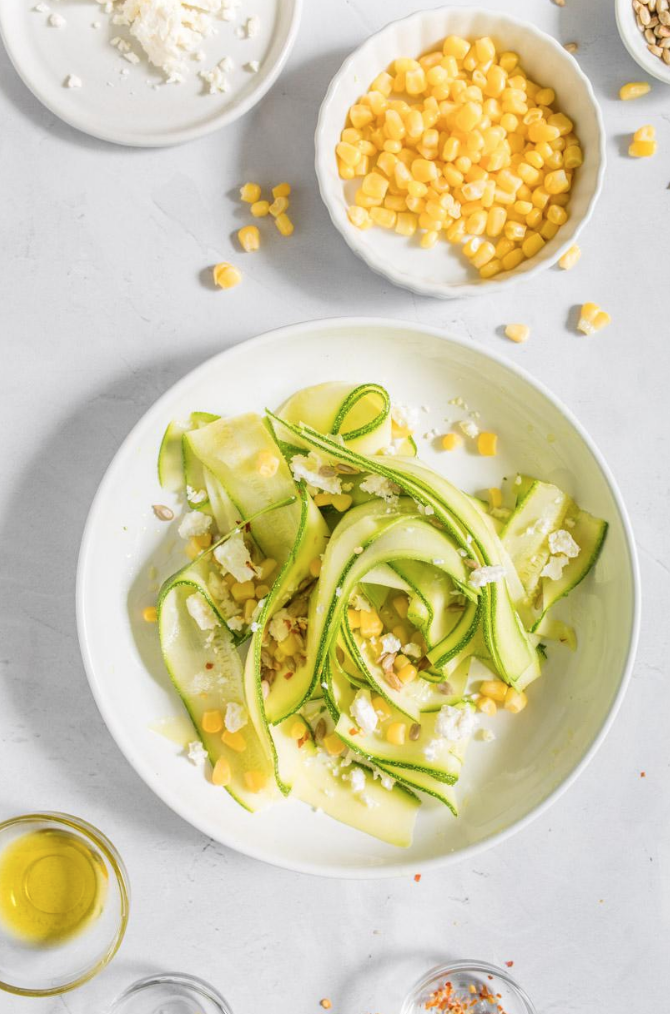 This simple zucchini salad with feta cheese is refreshing, delicious and perfect for a quick summer meal or a barbecue. It's a delicious light summer salad that's crunchy, cheesy, salty and tangy.
3. Cherry Tomato Bruschetta via Michele Sidorenkov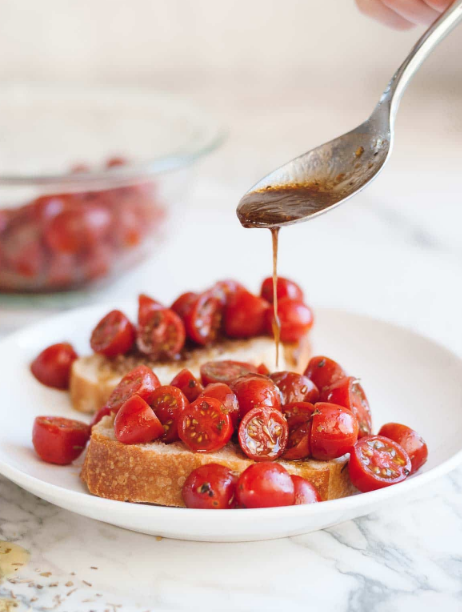 Cherry tomato bruschetta is the perfect make-ahead picnic snack! Prep all the ingredients hours ahead and assemble outdoors with ease.
4. Healthy Pea Salad via Karman Meyer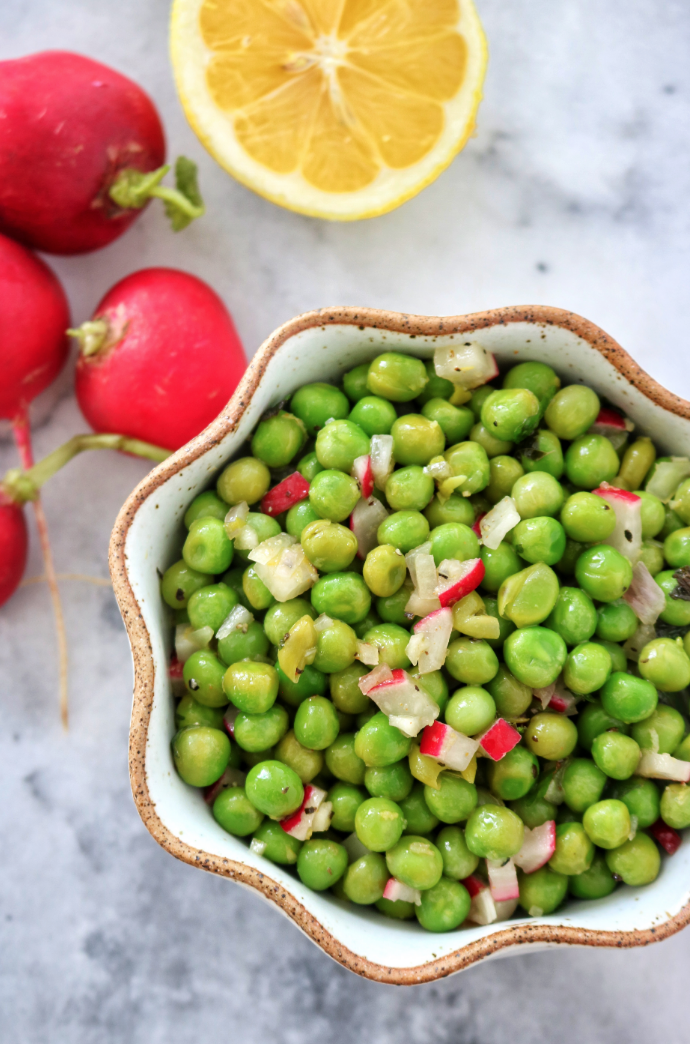 "This healthy pea salad is light, crunchy, and cool — perfect for summer gatherings and picnics." —Karman Meyer, registered dietitian
5. Creamy Burrata with Pesto and Tomatoes via Jenny Shea Rawn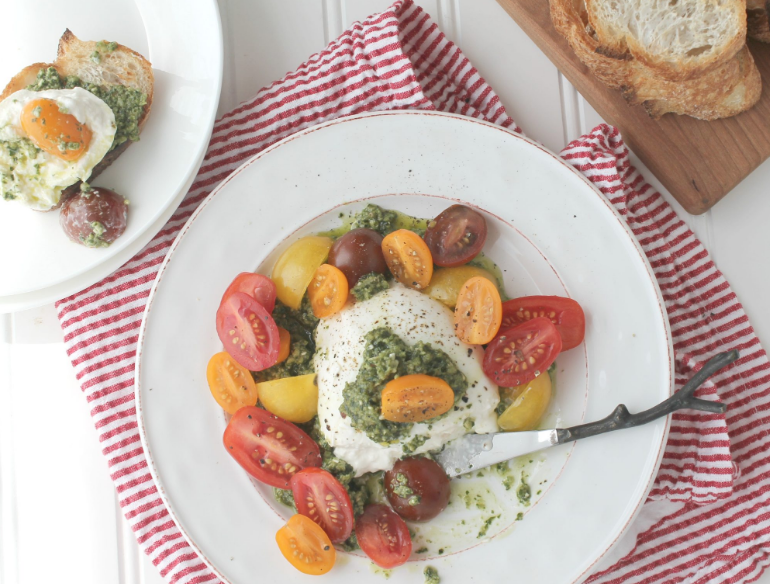 It's simple, gorgeous, fresh and tastes like pure summer. Serve this as an appetizer for your upcoming mini socially-distanced summer picnics or barbecues. It'll be gone in a split second.
6. Mediterranean Hummus Pasta via Sarah Schlichter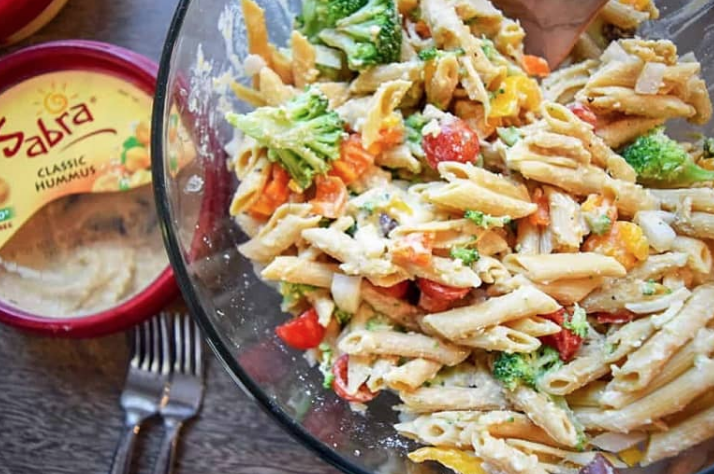 "This Mediterranean hummus pasta salad is a creamy, colorful vegan cold pasta salad recipe. Swap out your typical pasta salad recipe for this unique hummus pasta sauce." —Sarah Schlichter, registered dietitian
7. Chaat Salad with Corn via Shahzadi Devje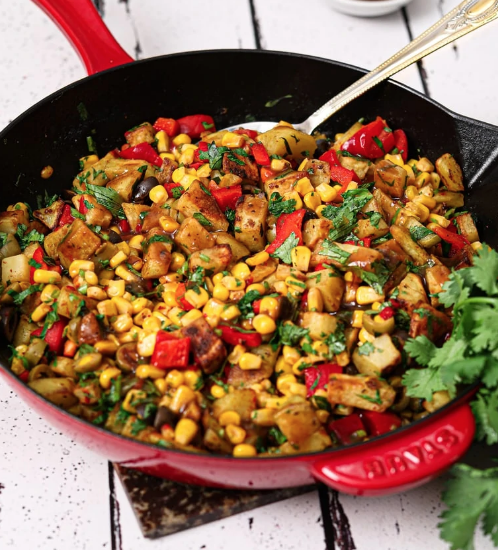 "This easy and healthy Chaat salad with corn recipe is a vibrant Desi-licious dish bursting with nourishing ingredients and all sorts of textures. Soft cubes of roasted potatoes are infused with carom seeds tossed in a spicy mix of crunchy sweet corn, juicy peppers and cilantro — all doused in tamarind chutney." —Shahzadi Devje
8. Peach Curry Chicken Salad via Kara Holton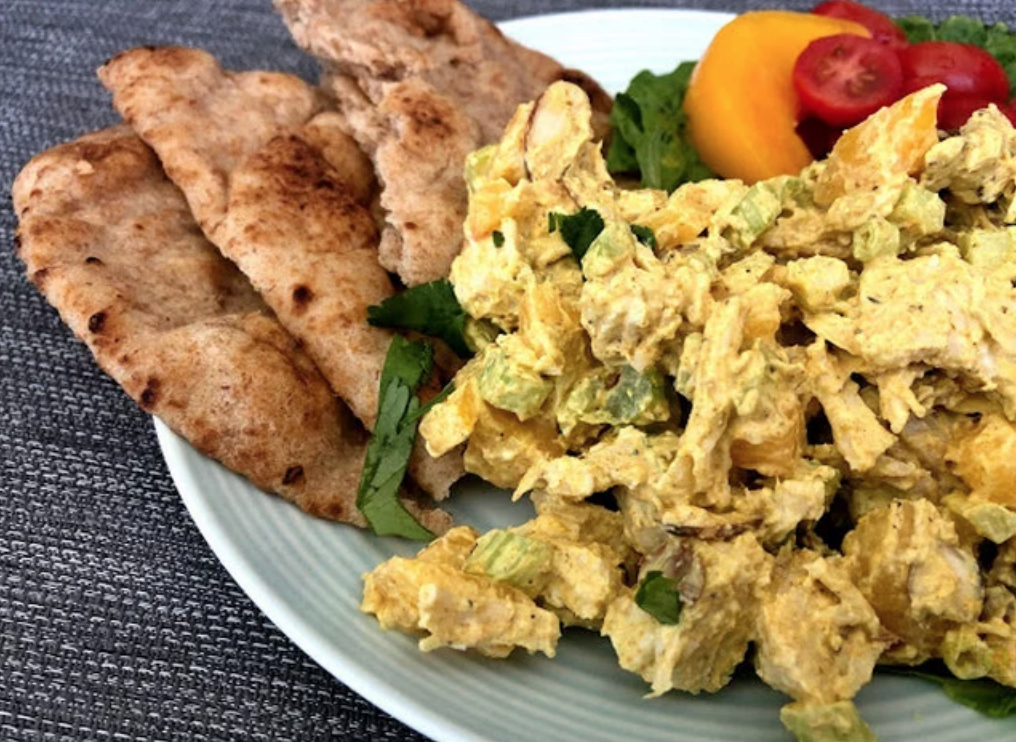 This peach curry chicken salad is filled with sweet peaches, lean chicken and tons of flavor! You'll be looking forward to your picnic all day. Just make sure to keep this chilled until lunch since it is made with Greek yogurt.
9. Veggie Mediterranean Pressed Sandwich via Melissa Nieves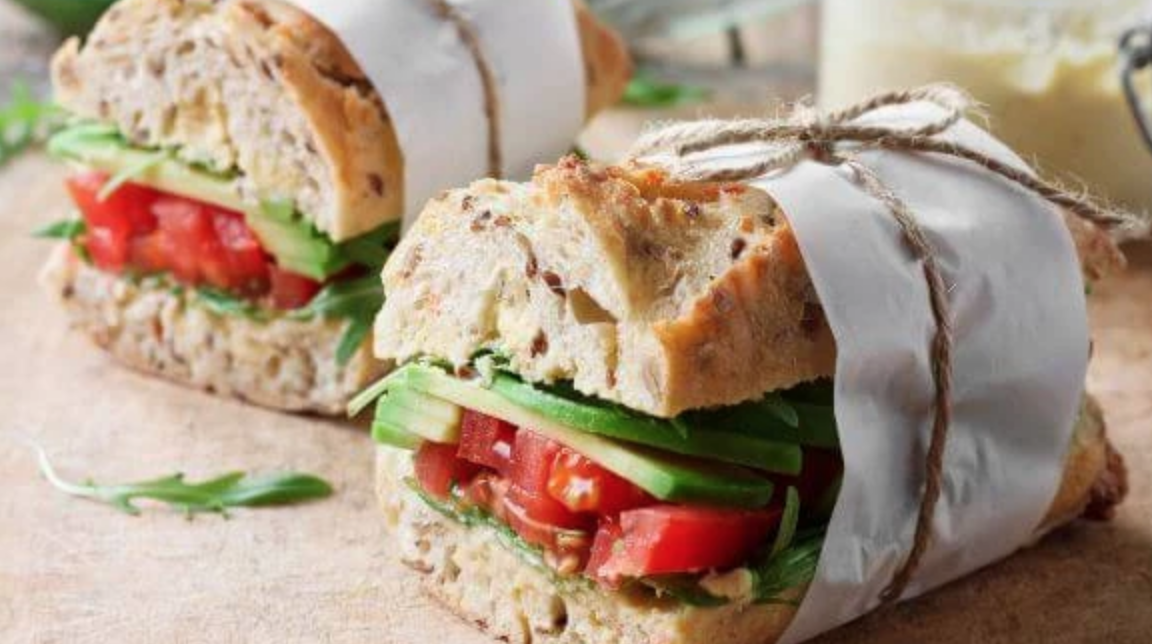 A pressed sandwich is a great option for a picnic, a day at the beach or even for work. Registered dietitian Melissa Nieves also includes some tips for creating a fun, healthy picnic.
10. Quinoa Taco Salad via Anne Mauney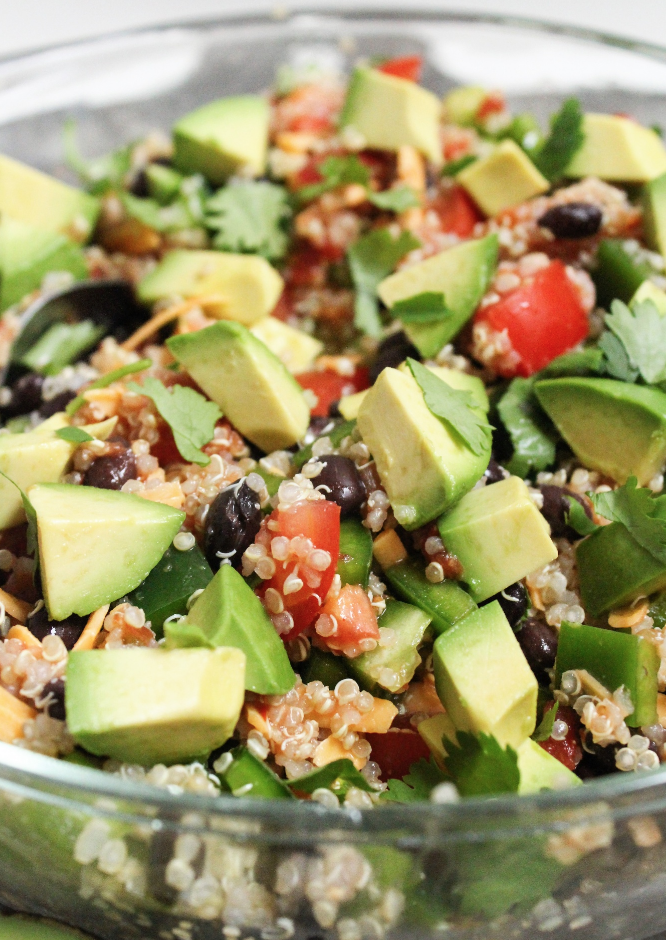 This super easy throw-together quinoa taco salad is perfect for picnics and easy to scale up or down. Feel free to get creative with the ingredients, too!
11. Asian Sesame Chicken Salad via Judy Barbe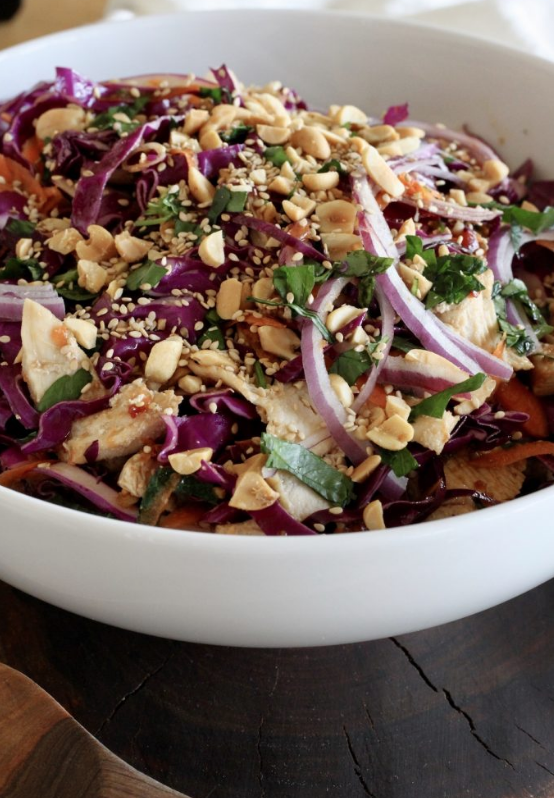 This Asian sesame chicken salad is easy to make and requires few pots and pans for an easier cleanup.
12. Grilled Cauliflower Hummus Sandwich via Kara Lydon
"Cauliflower hummus is a new spread that's sure to rock any sandwich. This drool-worthy, grilled cauliflower hummus sandwich is packed with avocado, caramelized onion and arugula. Lunch never looked better." —Kara Lydon, registered dietitian
13. Gluten Free Chickpea Blondies via Elizabeth Ward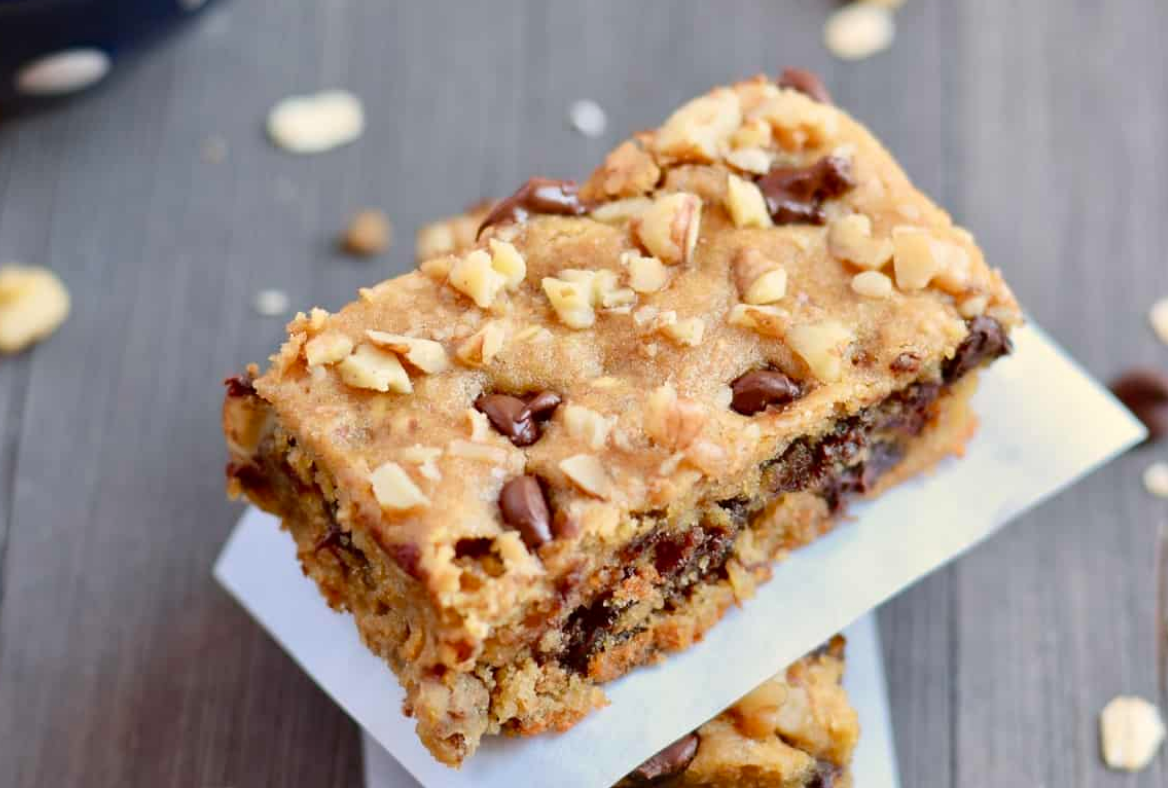 These chewy blondies are perfect picnic food and they just happen to be gluten-free! They're also pre-cut and easy to pack, pick up and eat.
14. Special K Bars via Colleen Christensen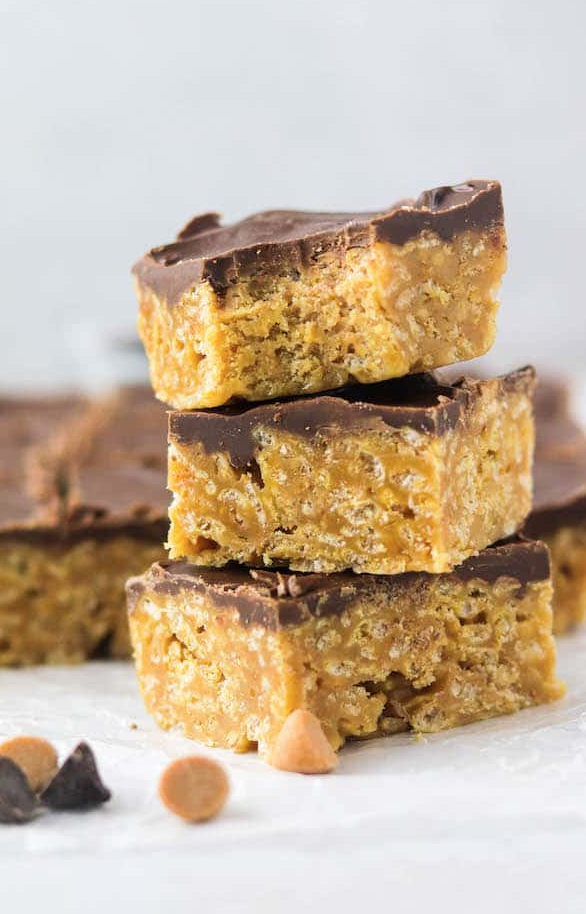 Every picnic needs a sweet treat and these "scotcheroos" are the perfect thing. They transport well and require no plates or utensils to eat.
Now you've got a bunch of great recipes to enjoy outside in a safe and socially-distance manner. Enjoy!
---
---
Editor's Note: Anything in this article is for informational purposes only. The content is not intended, nor should it be interpreted, to be a substitute for professional medical advice, diagnosis, or treatment. Always seek the advice of your physician or other qualified health provider with any questions you may have regarding a medical condition; Any opinions, statements, services, offers, or other information or content expressed or made available are those of the respective author(s) or distributor(s) and not of KSL. KSL does not endorse nor is it responsible for the accuracy or reliability of any opinion, information, or statement made in this article. KSL expressly disclaims all liability in respect to actions taken or not taken based on the content of this article.
×
Photos
Most recent Lifestyle stories