SALT LAKE CITY — College football has opted to wait as long as it possibly can before making formal decisions about the 2020 season.
The wait may be nearly over.
One way or another, colleges will have to make a decision about the start of the season, which opens for most teams on Labor Day weekend. With coaches and athletic directors in uniform agreement that they need a six-week preseason or training camp to be ready for the season, the final decision on the calendar must be made by mid-July, at the latest.
The moment is upon us.
The Ivy League will be among the first conferences to decide on the regular season, according to multiple reports, with league presidents and athletic directors scheduled to make a final decision Wednesday, according to multiple reports stemming from The Athletic.
The league's decision could cause a significant ripple effect across college sports, even up to the Football Bowl Subdivision and Power Five level — much like it did prior to the NCAA men's and women's basketball tournaments, and the spring sports season at-large.
As multiple professional leagues begin implementing plans and protocol to start their seasons — the National Women's Soccer League is currently several games into the NWSL Challenge Cup in Herriman, while Major League Soccer starts this week in Orlando, followed shortly by the NBA in the same city — the plan for implementing a full collegiate season has significantly more hurdles to clear before officials can sign off.
Perhaps the biggest clearance is the "college" part of "college sports."
"The biggest difference for the NCAA compared to the NFL, Major League Baseball, NHL, is that our resocialization is tied to the resocialization of the campus — of colleges and universities," NCAA chief medical officer Dr. Brian Hainline said during a recent webinar with college coaches. "What's really important for coaches to understand is that the athletics plan is infinitely tied to the university's plan, and the university's plan is tied to local health officials.
"They have to do it in sync with local health officials. … The public health officials are in a place now where rather than everyone staying at home, we can aggressively trace new cases and undergo aggressive testing protocols."
In other words, athletic departments must work in tandem with universities to bring athletes back to campus, and those same universities must work in direct guidance with local and state health officials.
That includes plans for handling when — not if, anymore — an outbreak of COVID-19 occurs on campus or within athletic facilities.
To that extent, Hainline admitted he's pleased with the progress that NCAA member schools have been making as they bring back student-athletes for voluntary workouts. Obviously, that doesn't include the presence of positive test results — but how the schools are dealing with those positive results, including isolating and contact tracing affected athletes to minimize the spread of the virus.
Several schools have reported a high number of positive test results, and some even temporarily "paused" voluntary workouts, including regional programs Arizona, Arizona State and Boise State.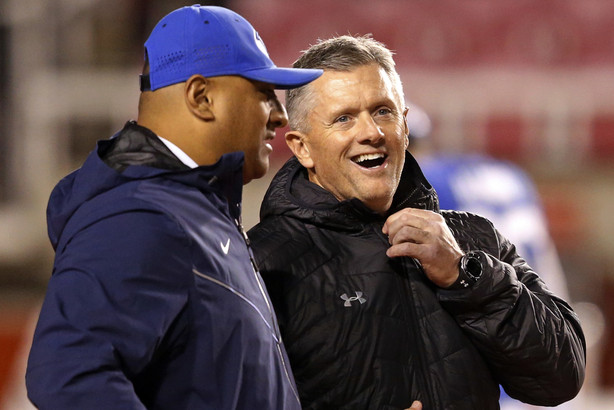 That's why Pac-12 commissioner Larry Scott doesn't believe a decision should be made on the 2020-21 seasons before the absolute necessary time.
"We are trying to take baby steps and we are learning a lot as we have student-athletes coming back for workouts," Scott said during another NCAA resocialization series that featured Hainline. "Frankly, our campuses have been learning a lot. What we thought was the narrative a month ago is now very different and we've been reminded to stay flexible.
"No one can predict right now what the fall will look like, in my opinion."
Many changes are already being made on campuses, such as plans for physical distancing, universal mask-wearing and proper hygiene and cough etiquette.
"Those three things work better than anything else we know of," Hainline said. But that's only just the beginning of modifications for returning to play, and more will come — and will likely stay in place, even after the pandemic.
Athletic training rooms should no longer be open to the public; coaches should wear masks when social distancing cannot be possible, such as during practice; and players should take care to distance and wear mistakes when they are not actively participating in training or competition.
𝐍𝐂𝐀𝐀 𝐒𝐨𝐜𝐢𝐚𝐥 𝐒𝐞𝐫𝐢𝐞𝐬 | 𝐄𝐩 𝟏𝟓
𝘊𝘖𝘝𝘐𝘋-19 – 𝘞𝘩𝘢𝘵 𝘞𝘦 𝘒𝘯𝘰𝘸 𝘕𝘰𝘸@pac12 commissioner Larry Scott and @NCAA CMO Dr. Hainline join @TheAndyKatz to assess what a return to campus/sporting events might look like as fall approaches. https://t.co/Kbwk1Olh27

— NCAA (@NCAA) July 2, 2020
Hainline added there are also some sports with low levels of risk, such as rifle shooting, bowling and swimming, and others with high risk levels, including football, soccer and volleyball. The high-risk sports won't be completely safe until a vaccine is available — something most medical professionals, including Hainline, believe won't be available until sometime in 2021, at the earliest.
So the ability to bring sports back will depend more on how society, communities and college campuses are able to mitigate the spread of the virus. Several schools from USC to Rutgers have already announced online-heavy models for education, and others like Notre Dame and BYU have said the in-person classes they offer won't last past Thanksgiving break, eliminating the need for students to return to campus in the winter after going home.
But where does that leave sports?
It's still complicated.
"Our ability to play sports in the fall will have more to do with macro elements and behavior in our society," Scott said. "What happens when thousands of young people come back to our campuses? What will happen with the spread of the virus? What will be the impact on health services?
"Right now, the early indications are concerning. What we've seen in the last few weeks gives us reason to be concerned that when campuses open up, there could be spikes that put pressure on health care systems; and from my perspective, that is really the biggest risk to college sports in the fall, be it football, soccer or volleyball."
×
Related Stories