PROVO — College campuses are beginning to reopen, healing from the shutdown since mid-March due to the novel coronavirus pandemic.
The NCAA took a massive step towards colleges resuming normal activity Friday by allowing college athletes in all sports to return to campus for voluntary workouts, beginning June 1. Previously, the NCAA's Division I council had only permitted workouts in football and men's and women's basketball.
"The return to voluntary activity in addition to the extension of the waiver to allow virtual, nonphysical activity shows sensitivity to local, state and regional differences in how Division I campuses are reopening," said Penn athletic director Grace Calhoun, who chairs the council. "We will continue to be considerate of these differences with wise and flexible administration of our regulations, and we expect schools to keep the well-being of student-athletes as a priority."
The council also prohibited "countable required athletics activities" (mandatory practices) before June 30 in football and basketball. An exception was given to provide funds to cover meals, lodging and school-related expenses through summer scholarships, including cost-of-attendance stipends, where available.
FBS schools, which shuttered campus athletic activities since just before the NCAA men's basketball tournament, will not be allowed to host football camps and clinics during the summer. Coaches are prohibited from working offseason camps and clinics at other four-year schools — though most universities had already canceled such camps.
Schools will be expected to follow local government and health department guidelines — things like social distancing, sanitization and face coverings have been the most common — but won't stop programs from resuming some normal offseason programs like strength and conditioning.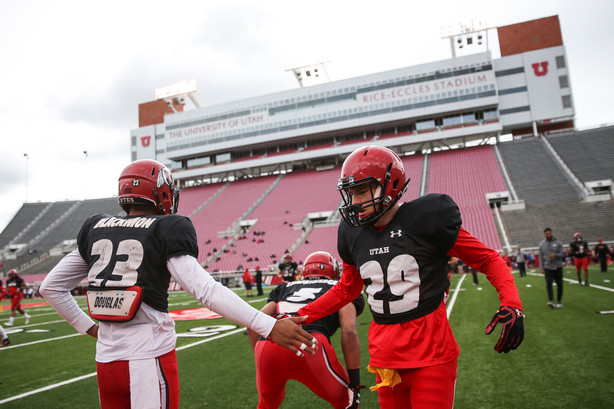 The University of Utah says it will allow athletes back on campus beginning June 1 in a voluntary capacity, while BYU announced Friday that it would begin to welcome back football, men's basketball and women's basketball players with a strict set of policies and protocol — just hours before the NCAA opened up the approach to all student-athletes.
BYU did not immediately reply to a request to clarify the policy. But the school's previous statement said the same policies will be enforced for all student-athletes "in subsequent phases, subject to future NCAA directives."
All workouts will be supervised by the BYU athletic training staff, the school said, while all state and county health guidelines, protocol and safety measures will be enforced.
"We have worked closely with the university leadership, medical professionals, training staff and coaches to prepare a comprehensive plan for our student-athletes to begin participating in voluntary activities in select athletic facilities," BYU athletic director Tom Holmoe said in the statement. "The multiphase plan provides opportunities for our student-athletes to resume some of the workout routines typical of this time of year."
KSL.com has reached out to representatives from Utah State, Weber State, Southern Utah, Utah Valley and Dixie State for clarification about their campuses' policies regarding the return of student-athletes for voluntary workouts.
×
Related Stories