HERRIMAN — During the first half of Utah Royals FC's second match of the NWSL Challenge Cup, Royals striker Amy Rodriguez's children scampered over to the playground to run, slide and play in the northwest corner of Zions Bank Stadium.
Utah's team captain was having plenty of fun with her own "play," too.
Rodriguez combined with Vero Boquete for the only goal of the match, and Abby Smith earned a clean sheet without making a save to help Utah Royals FC to their first win of the 2020 season, 1-0 over New Jersey-based Sky Blue FC.
"I absolutely love playing with Vero," said Rodriguez, deferring much of the credit of her goal to the former Spanish international. "She's one of the best midfielders in the world. How luck am I, as a forward, to play in front of her? She's so dangerous, and she makes my job so easy."
Whether credit goes to Rodriguez, Boquete, or the immense space provided by a Sky Blue defense that failed to fill it in a moment of weakness, the result was the same – a Royals goal that gave Utah (1-0-1, 4 points) a claim on second place behind North Carolina midway through the Challenge Cup preliminary stage.
"Amy is a fantastic forward, I'm used to playing with her, and we have a fantastic connection," Boquete said. "When a No. 10 and a No. 9 find that connection, it's really good. We know that at any point during the game, we can find that connection.
"This is only the second game of the tournament, and we have to keep improving."
Boquete took a pass in the midfield and threaded the needle past the Sky Blue defense, finding Rodriguez for the one-touch swish inside the far post that gave the Royals the only lead it needed on a warm, blustery day on the western edge of the Salt Lake Valley.
Brittany Ratcliffe found Boquete with the hockey-style assist, and with barely any pressure from the New Jersey side, the Spanish midfielder made the visitors pay.
Utah out-shot Sky Blue 7-2 in the first half, including the only two shots on goal. Despite splitting possession evenly, the Royals set up each ball with a 77.1% passing accuracy in the first 45 minutes. The hosts had 14 shots — four of them on goal – to just three total shots from the visitors.
"I think there's a lot more in us," Sky Blue midfielder Sarah Woldmoe said. "This team has so much more to give. We've shown that in moments, but it needs to be more consistent."
Whether based on the numbers, the moment of brilliance between the former Spanish and U.S. internationals, or simply the consistent metric, Utah first-year head coach Craig Harrington felt confident with his team's result.
"I'm delighted for the group," Harrington said. "I think they earned it and I think the best team won today. From the last game I think we improved and that's all that we're asking for from this group. Second, I think there were several outstanding individual performances, but the hot take is right now that we won the game and we kept a clean sheet.
"Now people are talking about playing three at the back."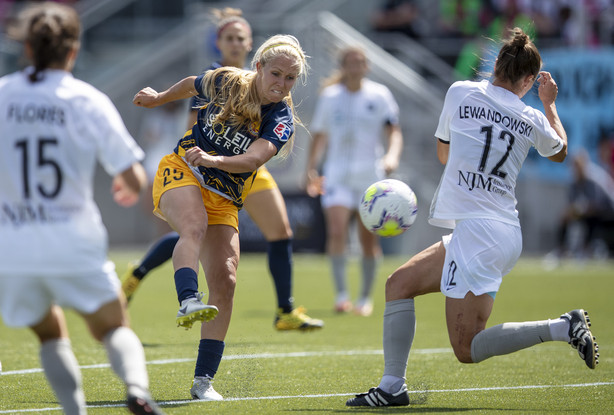 Rookie Tziarra King, who scored the late equalizer in the Royals' 3-3 draw with Houston earlier in the week, earned an extra five minutes in her second professional match. The North Carolina State product entered in the 65th minute alongside Mallory Weber, replacing Ratcliffe and Michelle Maemone.
Saturday felt totally different.
"Today was a totally different game for us," Rodriguez said. "We have different game plans, different opponents, and we take each game with stride."
A big part of the difference was the Royals' defense — led by the three-woman back line of Rachel Corsie, Elizabeth Ball and rookie Kate Del Fava in her first career start, in addition to Smith — that didn't allow a shot on goal through 90 minute while only giving up three total shots.
"I think we were more compact and more secure in defense," Boquete said. "After conceding three goals in the last game, we knew we had to get better at that. And then it was just about feeding our forwards.
"Today was Amy, other days it's another forward, and I think that's key to us."
Through two games, the Royals have scored four goals with three allowed, making Saturday's shutout a critical step forward, Harrington said.
"I was happy with the way we played at the back," Harrington said. "I've watched a lot of games here and we went against the wind in the first half, so our game plan was pretty spot on with how we were trying to play against it instead of just hanging on and trying to survive the first half. To get the goal I think we absolutely deserved it. Obviously, it would've been nice to put the game away with the chances we had.
"Overall, I'm delighted with the mentality of the group and I think it's a great effort. I'm proud of them and now we're onto OL Reign."
Houston Dash 2, OL Reign 0
At Herriman, Shea Groom had a goal and an assist to help Houston cruise to a win over the Washington-based Reign.
Kristie Mewis gave the Dash a 1-0 lead just 12 minutes into the match, slotting home a ball inside the near post after Groom's perfect-touch backheel that gave Houston (1-0-1, 4 points) a lead it would never relinquish.
Groom added a goal from her head less than 10 minutes into the second half, and goalkeeper Jane Campbell held the Reign (0-1-1, 1 point) without a shot on goal while facing just four shots to clinch the shutout.
Challenge Cup-leading North Carolina will open the third round of the preliminary stage Sunday at 10:30 a.m. MT against Chicago, followed by Portland-Washington at 8 p.m. MT.
×
Related Stories