Update: New election results show Cox with 148,528 votes and Huntsman with 137,431. Hughes has 83,063 votes and Wright trails with 32,082.
---
SALT LAKE CITY — Lt. Gov. Spencer Cox and former Gov. Jon Huntsman remain locked in a battle for the Republican gubernatorial nomination after initial primary election results were released Tuesday, trailed by former Utah House Speaker Greg Hughes and former Utah GOP Chairman Thomas Wright.
Cox had 145,730 votes to Huntsman's 135,577 in the results that weren't posted until 10 p.m., two hours after the end of voting in the by-mail election because of changes made in the primary election as a result of the COVID-19 pandemic that included eliminating polling places and permitting ballots to be postmarked Tuesday.
Hughes, who portrayed himself as the most conservative candidate and touted his support for President Donald Trump in the 2016 presidential election, had 81,506 votes. Wright, the owner of a Park City-based real estate company, had 31,585 votes.
The winner of the primary election race will face Democrat Chris Peterson, a University of Utah law professor, in November for a seat that hasn't been open since 1992 — and has not been held by a Democrat since the 1980s. Current Gov. Gary Herbert did not run for reelection after more than a decade in office.
"You've made us so proud," Cox told several hundred supporters gathered at a drive-in in Mt. Pleasant in Sanpete County for an election night watch party. "We love what you stand for. We love the goodness that has shown through from the very beginning," he said, promising to "stay true" to the values of the state.
Cox, joined by his running mate, state Sen. Deidre Henderson, R-Spanish Fork, said "we're not stopping. I'm still lieutenant governor and she is still a state senator. We're still working." He also reminded his supporters that the results aren't final. "We're keeping our fingers crossed as the new numbers come in."
Huntsman said in a statement, "The early numbers are encouraging but this election will be too close to call until every vote is counted. That's the beauty of the American election system. We look forward to tracking the final results over the next several days."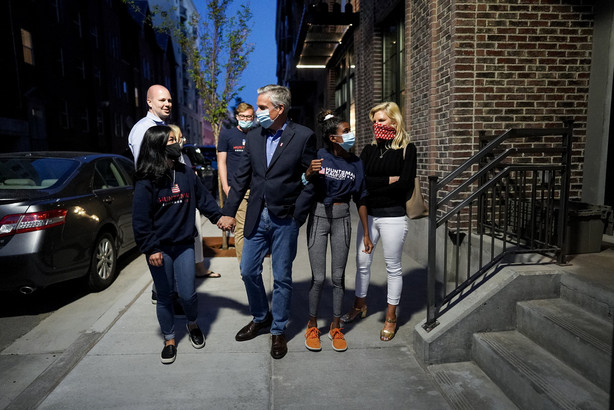 Hughes, who attended a watch party in the backyard of a supporter's Centerville home, did not issue a statement.
Wright said in a statement that "while he came up short in this election, many Utahns have lost loved ones, businesses, jobs and some degree of hope. Their strength has inspired me to be strong and look at the end of this race for my campaign from a different perspective," promising to "do what I can to make Utah the best it can be."
Herbert, who was Huntsman's lieutenant governor and has held the governor's office since Huntsman resigned, endorsed Cox in the race and made an appearance at Cox's election night watch party.
The race was highlighted as one to watch by Politico in the three states holding primaries Tuesday: Utah, Colorado and Oklahoma. The online political news source posted a story headlined, "Huntsman at risk of shocking defeat in Utah," that suggested voters questioned why he was running again and whether he would leave again if elected.
Initially, there were eight GOP contenders in the race. Cox, Huntsman and Wright secured a spot on the primary ballot by gathering voter signatures, while Hughes competed only for delegate support at the party's state convention. Delegates advanced both Cox and Hughes to the ballot.
Provo entrepreneur Jeff Burningham, Salt Lake County Councilwoman Aimee Winder Newton and perennial candidate Jason Christensen all lost at the party's state convention, while businesswoman Jan Garbett failed to submit enough voter signatures even after going to court and getting the number needed reduced.
Throughout the race, Cox and Huntsman were the front-runners. The lieutenant governor, who was plucked from the Utah House by Herbert for the post eight years ago and still commutes to the Capitol daily from his Fairview home, was the first to announce he was making a run for governor, more than a year ago.
Huntsman didn't get in until last November, after returning from Moscow where he served as U.S. ambassador to Russia under Trump. The twice-elected governor stepped down less than a year into his second term in 2009 to become U.S. ambassador to China under President Barack Obama and later, made a brief bid for the White House.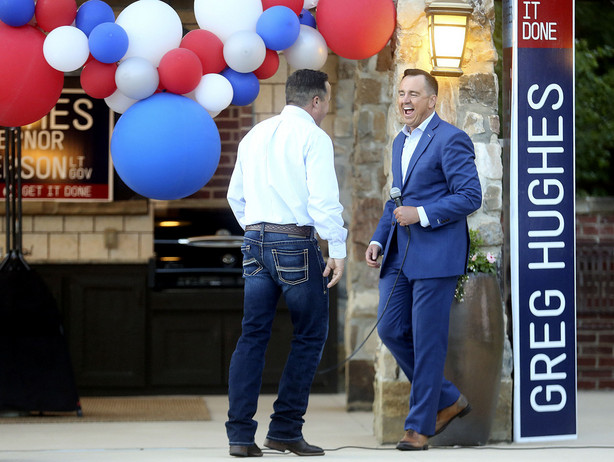 While the election had been largely focused on issues related to accommodating growth while maintaining Utah's quality of life and strong economy, the pandemic stalled in-person campaigning for a time and shifted voter concerns to the health and financial impacts of the novel coronavirus.
Cox, named by the governor to head the state's COVID-19 task force that has since stopped holding regular meetings, appeared regularly at daily briefings about the virus and became a target of the other campaigns, accused of "politicizing" the outbreak.
Hughes has been a critic of what he's called "trampling on our constitutional rights" by Herbert and Cox, saying schools, churches and businesses should never have been shut down involuntarily and Salt Lake and Summit counties should not have been allowed to mandate masks be worn in public despite the recent spike in cases.
Huntsman tested positive for the virus after first being told he didn't have it due to a testing mishap and was cleared only last week to return to campaigning. He, along with Hughes and Wright, have questioned the no-bid testing contracts issued by the executive branch.
Both Cox and Huntsman told reporters before results were released that they did not expect the race to be able to be called Tuesday.
"We do know that this is likely a close race. We feel very good, again, the polling that we've seen has us with a good lead. But it's very possibly that there could be 100,000 ballots still out there that aren't counted tonight," Cox said.
The lieutenant governor, whose office oversees elections, said in many races throughout the state, it could take seven to 10 days or more to determine the winner. Ballots are being quarantined in the election for at least 24 hours before being processed by smaller groups of election workers due to social distancing.
Cox said conservatives "tend to wait until the end to cast ballots" but noted there are also an unknown number of new GOP voters, thanks to efforts by former Utah Democratic Party Chairman Jim Dabakis and others to get Democrats and unaffiliated voters to register as Republicans so they could vote in that party's closed primary.
"There are a whole bunch of Jim Dabakises that joined the race in the past week as well and may be later voters so we're not sure how those things are going to shake out," Cox said. "But I would say any lead is a very good lead for us tonight."
Huntsman, whose campaign also urged voters to ensure they were registered as Republicans, said the high turnout anticipated in the primary should help him.
"Any high turnout would probably favor us," he said. "My guess is it brings out a diverse base which we've always considered part of our natural base."
The former governor said results "may be days away" or longer and compared having to wait to know whether or not he's won to "flying through a really bad storm. You know that the end is out there at some point and if you're a white-knuckle flyer — and I'm a white-knuckle candidate — then it becomes a harrowing experience."
Huntsman took a swipe at Cox, saying it might be time "to take a look at the lieutenant governor's role in overseeing the elections office. I know that's standard here and it's standard in other states, but when you have a lieutenant governor actually running ... it's a little close for comfort and you want a level of trust there."
The campaign has likely been Utah's priciest primary ever, with the four candidates spending more than $6.2 million on the election this year through mid-June, according to their final pre-primary financial disclosure statements. Since then, they've raised more than another $755,000.
×
Photos
Related Stories