Estimated read time: 4-5 minutes
This archived news story is available only for your personal, non-commercial use. Information in the story may be outdated or superseded by additional information. Reading or replaying the story in its archived form does not constitute a republication of the story.
FARMINGTON — Patrick Fishburn has played a lot of rounds on his home course at Oakridge Country Club, a lot of them good, and some of them not so good.
Friday's second round of the Utah Championship was definitely somewhere in between. But the best part about it?
He'll still be playing Saturday.
Fishburn used five front-nine birdies to propel himself to his second-straight 3-under-par 68 Friday and survive the cut tied for 41st at the Utah Championship on the Korn Ferry tour.
Fishburn came out scorching on a course he had played dozens — maybe even hundreds — of times since his days at nearby Fremont High. He shot a blistering 5-under on the front nine, capped by a beautiful approach shot on the par-4, 381-yard ninth hole that led to an easy 10-footer for birdie.
"I hit it really well. I drove the ball in the fairway on pretty much every hole, I think. On the par-5s, I had a couple of looks for eagles inside of 15 feet. I gave myself a chance to make birdie on pretty much every hole," Fishburn said. "There were some low numbers that were posted, but that's kind of the way I play, anyways.
"I rip the driver, and whatever happens, happens."
He fizzled a bit on the back nine, by Fishburn's own admission. But a birdie on No. 15 preceded back-to-back bogeys, and the Ogden native survived the final cut for the weekend.
"I drove the ball really well, and put myself in a bunch of chances to make a bunch of birdies. I didn't putt very well, or take advantage of it as much as I could have," Fishburn said.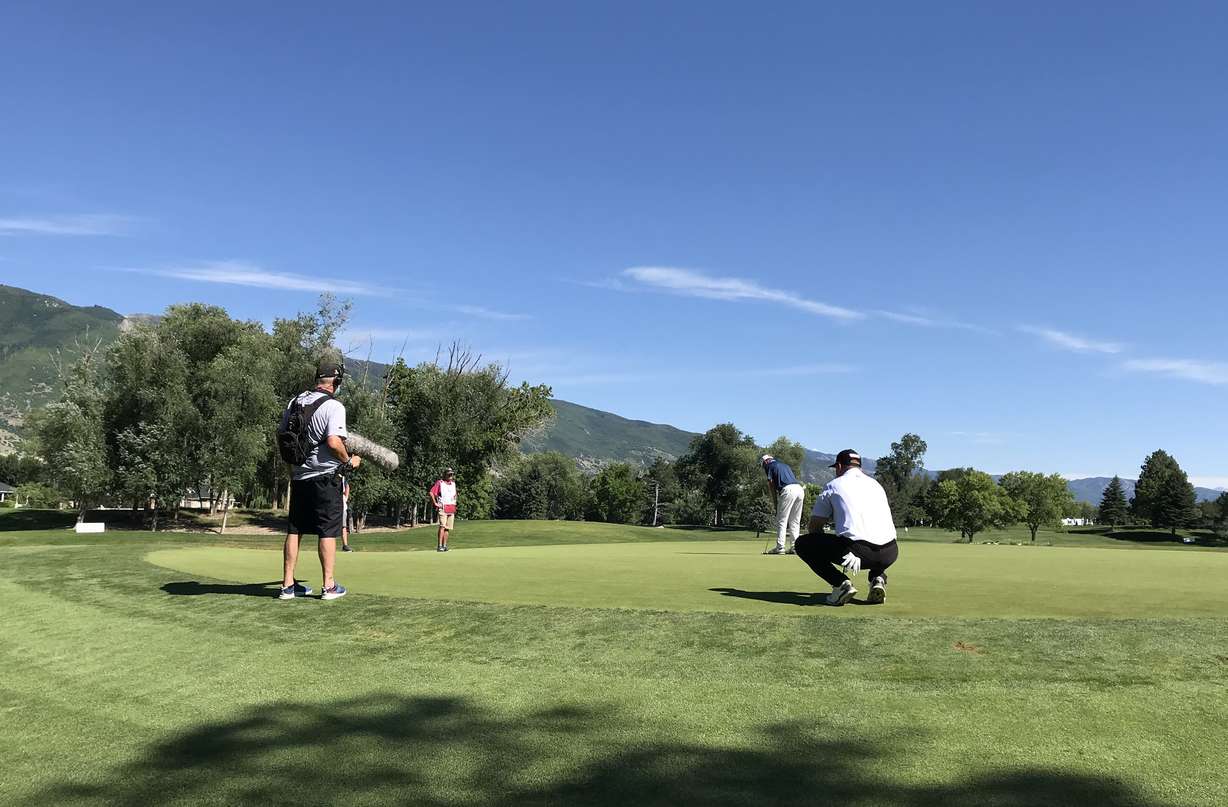 Former BYU golfer and Sandy resident Mike Weir shot 3-under 68 to finish at 6-under-par and comfortably — if not easily — make the cut for the weekend. The 2003 Masters champion fired three birdies on the front nine, including a walkoff on No. 9 to pull past the cut line.
Fellow BYU alum Daniel Summerhays, playing in his last professional tournament before taking the head coaching job at Davis High School, fired four consecutive birdies on the back nine to shoot 6-under 65 and finish tied for 15th after the second round.
Playing in the final pairing of the day with nephew Preston — the two-time defending Utah State Amateur champion — and BYU freshman Cole Ponich, Summerhays opened with birdies on three of the first five holes before finishing at 8-under going into the weekend.
"I battled a lot of emotions out there, as I had my nephew and close friend with me," Daniel Summerhays said. "I've never rooted so hard for somebody out there, and I almost wish I could give some of those birdies to them.
"But I'm extremely happy to play two more days; hopefully the body keeps going."
"I'm extremely happy we get to play two more days."

Daniel Summerhays recaps a round filled with 8 birdies. pic.twitter.com/WGgf7NMSsp

— Utah Championship (@UTChampionship) June 27, 2020
Preston Summerhays shot finished at 2-under, and Ponich was 3-under through 36 holes — just two strokes off the cutline. After a birdie on the par-4, 409-yard 16th hole, the former Davis High standout had a chance at surviving the cut as an amateur golfer in his first professional tournament before three-putting for bogey on No. 18.
"The experience out here was great," Ponich said. "We don't get to see a lot of courses set up like this, long rough, and the green the way they were.
"There are so many really good players out here. Everyone is really good at thinking around the course."
Paul Haley II shot 9-under 62 on the day to move into a tie for first at 13-under-par. He's deadlocked with Kyle Jones, the 55th-ranked golfer on the Korn Ferry Tour.
"I got kind of in one of those zones," Haley said. "I started well, making a big up-and-down on my third hole and then I made a 10-footer for birdie. And that just kind of got me going.
"I was making everything. That's usually what happens when you shoot a score like that."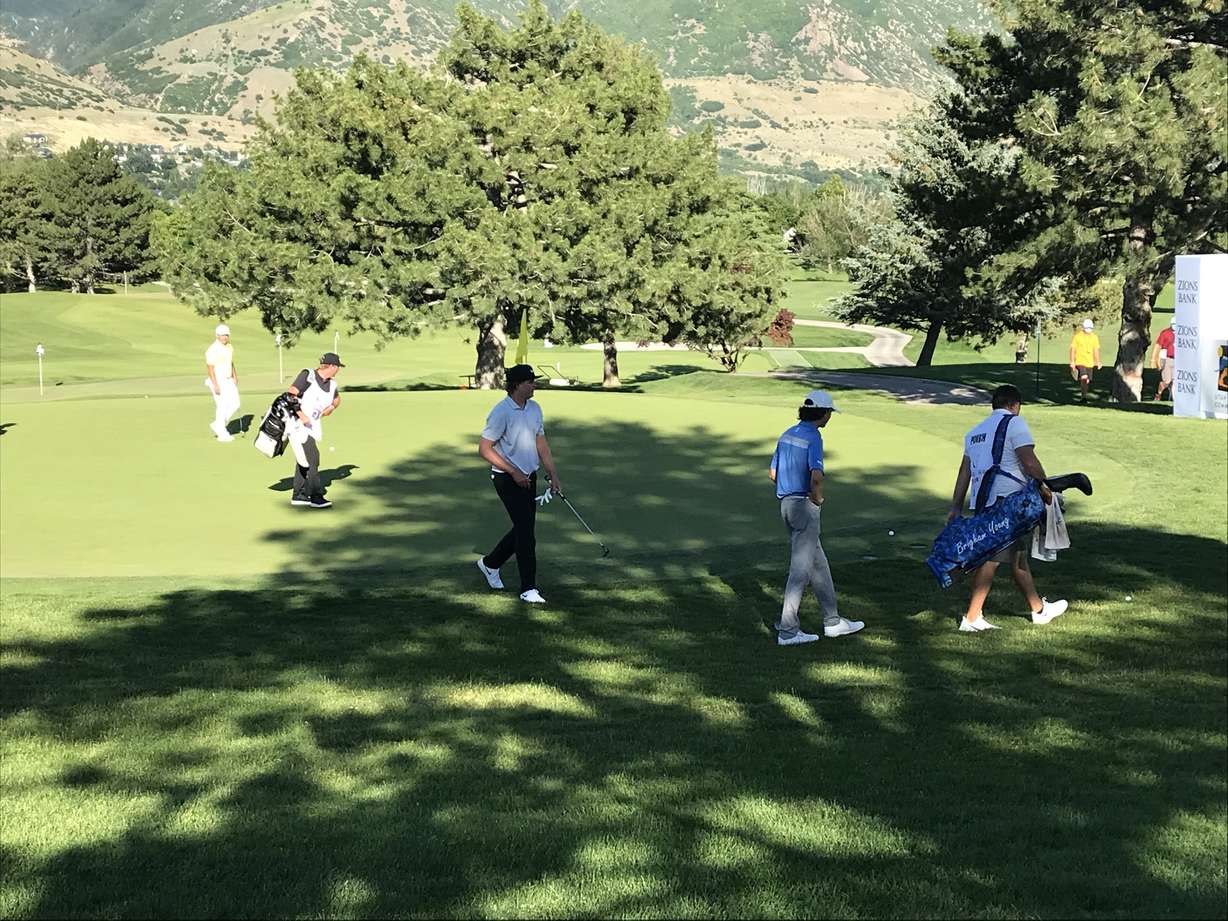 Haley has played in Utah four times since the Georgia Tech graduate turned pro in 2011, and said he "loved it every time."
"I couldn't wait to get here, chomping at the bit," Haley said. "This course plays me very well; it's very similar to the one I have at home. I couldn't wait to get here."
Josh Teater, Chip McDaniel and Chandler Blanchet are tied for third, just one shot back.
Playing on the weekend means more for Fishburn, even playing 15 minutes away from home during a global pandemic that has kept fans — and most of his family — away from the course.
He's not in the position he wants. But he's still in position to make a run. "It's definitely awesome to get to play two more days. I wish I was in a little better position, but you never know what can happen on the weekend," Fishburn said. "You can shoot some low numbers, and get back in the hunt.
"I'll just try to attack the course like I have been — and try to figure out how to hit a wedge."
Fishburn will tee off at 9:10 a.m. MT Saturday, followed by Weir at 10:20 a.m., and Summerhays at noon.
Saturday's round will air on the Golf Channel from 4-6 p.m. MT.
×
Related Stories