Estimated read time: 4-5 minutes
This archived news story is available only for your personal, non-commercial use. Information in the story may be outdated or superseded by additional information. Reading or replaying the story in its archived form does not constitute a republication of the story.
FARMINGTON — With his dad, Boyd, on his bag, uncle Daniel teeing off across from him on every hole, and uncle David as another caddie, Thursday's round of golf could have felt like a family reunion for Preston Summerhays.
Sure, it was also the second time playing in the Utah Championship on the Korn Ferry Tour for the two-time defending Utah State Amateur champion.
He expected to have plenty of family around him Thursday, even another uncle carrying Daniel Summerhays' bag. But what he saw through the fence as the Summerhays duo and BYU freshman Cole Ponich teed off at 9:15 a.m. caught him by surprise.
There was Preston's mother, Barbara Jean, and Daniel's wife, Emily, who corralled four kids ages 12 and under, cheering and clapping and hanging signs over the fence at Oakridge Country Club.
"That was really surprising," Preston Summerhays said. "It was fun seeing them watch on No. 1, and then on the No. 2 tee box, and down the par-3 No. 6. It was so fun seeing them out there.
"It still felt like it was a big event, but it was cool to play with Danny and one of my buddies."
In a tournament played without fans, a rule aimed at helping to slow the spread of COVID-19, the sight provided a brief moment of normalcy for the trio of Utah golfers — a "home-cooked pairing," Daniel Summerhays said.
"It's kind of weird times, being able to watch through the fence. But at least they could watch a few shots," he added. "They watched me get up-and-down on No. 6, too. My wife's dying that she's not able to walk with me, but I'm grateful to have the support."
The group was the featured Utah group of the tournament, but it was another former BYU golfer who led out. Patrick Fishburn, who teed off close to an hour before the Davis County trio, shot 3-under-par 68; Daniel Summerhays and Ponich each carded a 2-under 69, and Preston Summerhays was 1-under 70.
.@PatrickFishbur6 is thru 15 and sits at -1.#UtahChampionshippic.twitter.com/DGGAN3hwyy

— Utah Championship (@UTChampionship) June 25, 2020
Former BYU golfer Mike Weir also carded 3-under 68, tied for 48th with Fishburn. That included an eagle on the par-5, 547-yard 15th hole, and birdies on Nos. 2, 6 and 16 to go along with a pair of bogeys.
"I played really well. I wanted to make at least five birdies, and I got that; just added a few bogeys in there," said Daniel Summerhays, who is coming off foot and ankle surgery and still has a small hairline fracture in one foot. "Besides that, I hit a lot of good shots; I felt like I rolled it pretty well and was just skirting the edges on a few putts.
"Overall, I'm really happy for not having played a tournament in six months. I definitely felt the nerves and felt the competitive juices again."
The Summerhays duo was just as competitive as they ever are, whether playing in a local tournament or a family skins game.
And yet, Thursday's professional round almost seemed less competitive than the last time the Summerhays clan met on the links. Sure, there was the coronavirus-inspired precautions, like an emphasis on social distancing and masks worn around the clubhouse area when distancing couldn't occur. Players were tested before Thursday and take mandatory temperature checks before they are admitted into the fan-free area, either for play or practice before their round.
But mostly, it was just another competitive environment for the Summerhays.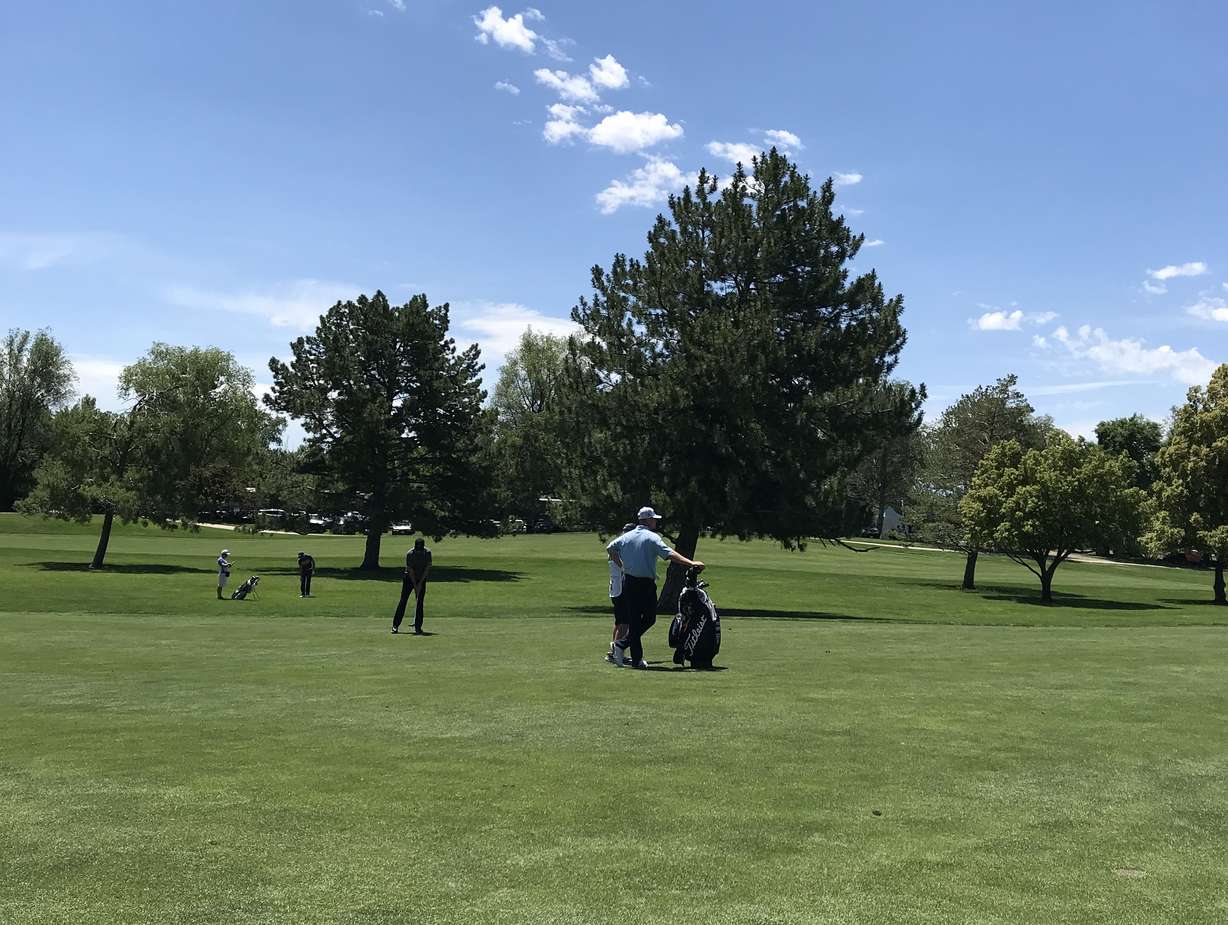 "When we play in practice, it's always really competitive," said Preston Summerhays, who was a junior golf contemporary of Ponich, as well. "But in the tournament round, I think it just felt the same. It's so competitive during practice."
Both Summerhays golfers have put themselves in position to make the cut, which will be projected at 3-under after Friday's second round.
For Daniel Summerhays, the tournament will mark his last as a touring professional; he's set to be named head golf coach at his alma mater Davis High in the fall.
Daniel Summerhays talks about the loyal supporters during today's round. Cheering them on from a safe distance! 👏#UtahChampionshippic.twitter.com/I4hgCqMtKK

— Utah Championship (@UTChampionship) June 25, 2020
But Thursday's round wasn't about the future or the emotional wave of the end of one career.
"The emotion I am feeling is gratitude," Daniel Summerhays said. "To have my brother David on the bag with me, to be paired with my nephew and my brother Boyd — it's just pure gratitude to be here at Oakridge, Farmington, Utah, Korn Ferry Tour; what a dream.
"To add a couple under par, sub-70 round? It was a little cherry for me."
Summerhays, Summerhays and Ponich will be the final group to tee off on hole No. 1 Friday at 2:20 p.m. MDT, putting them in the prime viewing window for Friday's broadcast on the Golf Channel from 4-6 p.m. MDT.
Fishburn will tee off at 1:30 p.m. MDT, and Weir at 8:15 a.m. on No. 10.
Harry Hall and Stephan Jaeger both shot 8-under 63 to tie atop the leaderboard, one shot better than Josh Teater, Ryan Ruffels, T.J. Vogel, Chandler Blanchet and Kyle Jones.
×
Related Stories