Estimated read time: 4-5 minutes
This archived news story is available only for your personal, non-commercial use. Information in the story may be outdated or superseded by additional information. Reading or replaying the story in its archived form does not constitute a republication of the story.
FARMINGTON — Cole Ponich set a goal when he was 13 years old to qualify for a professional golf tournament while he was still a teenager.
The former Davis High standout accomplished that goal — on the last possible day.
Just one day before his 20th birthday, Ponich shot a blistering 63 in a Monday qualifier at TalonsCove Golf Club to book a spot in this week's Utah Championship on the Korn Ferry Tour, the first professional event for the BYU golf freshman.
"I was pretty emotional after qualifying," said Ponich, who was the only amateur among eight professionals to qualify from TalonsCove. "It finally hit me that all those late nights and practice sessions, the slumps and everything, it just felt like it all paid off."
And he'll make his pro tour debut just steps away from where he grew up.
Ponich will join a bevy of BYU golf alumni in this week's Utah Championship, which runs Thursday through Sunday at Oakridge Country Club in Farmington. In addition to former BYU All-American and incoming Davis High golf coach Daniel Summerhays, former BYU standout Patrick Fishburn qualified based on points from previous finishes on the KFT.
BYU great Mike Weir will be in the field as a PGA Tour member, earning an overage exemption, and Summerhays' nephew Preston will play for the second straight year on a sponsors' exemption.
Ponich will tee off on the No. 10 tee Thursday at 9:15 a.m., playing with both Summerhays golfers — yes, Danny and two-time defending Utah State Amateur champion Preston Summerhays will play in the same group in the first round. Weir will tee off at 1:20 p.m. MT, and Fishburn at 8:25 a.m. on the No. 10 tee.
Ponich, who previously qualified for the U.S. Junior Amateur at TalonsCove during high school, had to play-in to the field via Monday qualifier. He had a good feeling his score would be low pretty early in his round, after a birdie on his first hole, the par-4, 465-yard 10th at TalonsCove.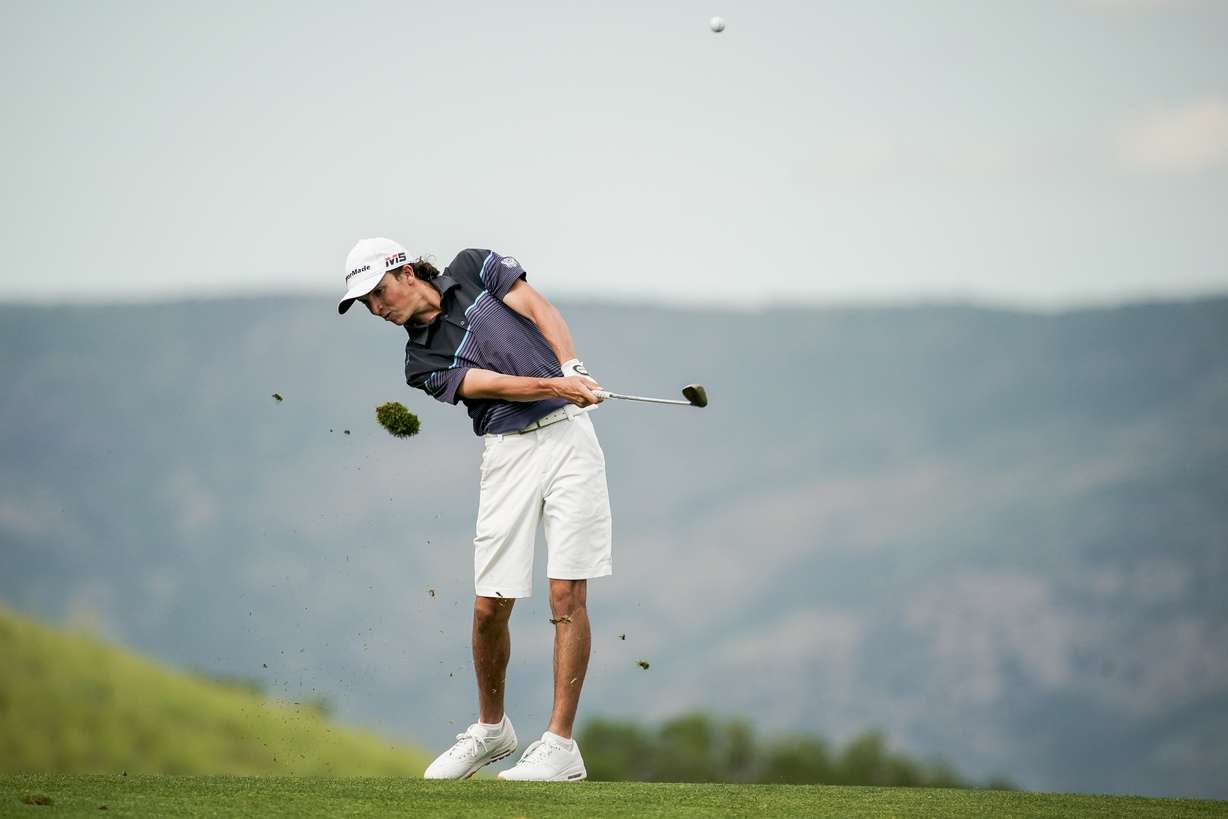 Even so, "low" might not be good enough on a day when few rounds got out of the 60s. His former teammate, Corner Canyon product Rhett Rasmussen, shot 6-under 66 — and missed the qualifying cut by one stroke.
"I just told myself I had to stay patient on the greens, make eight or nine birdies, and pretty much play flawless," Ponich said.
"Any bogey is devastating to the round," he added. "You couldn't afford to drop shots. I just had to play the smart shot."
After the first hole, he felt confident. Ponich turned to his caddie and said if he could get another birdie "soon," then he felt his putter would keep him in contention for a coveted spot on the Korn Ferry Tour.
He birdied five of the next six holes, or five in a row from the 12th through 16th before hitting the turn to go to the front nine at 7-under 29.
That will bring him home, to Oakridge Country Club, where he and his family have been members since they moved to Kaysville. His family still owns their house next to the second-hole tee box, and even though restrictions designed to curb the spread of the COVID-19 pandemic won't allow for galleries or fans during the tournament, Ponich will have his own grandstand on Tom and Becky's back porch.
"My mom might embarrass me, too," he joked. "She was going to put a happy birthday sign up while I'm walking by."
✌️ more days. You ready? Our 2nd hole is a 565-yard par-5 presented by @KUTV2News.#UtahChampionship | #KUTVpic.twitter.com/AF8qmkJTH6

— Utah Championship (@UTChampionship) June 23, 2020
Playing in a professional tour event fulfills a lifelong dream for Ponich. But he also hopes it's just the first of many.
He played in eight events during his freshman season at BYU before the pandemic curtailed the spring season, averaging 73.04 strokes per round with a low of 68 and two top-20 finishes.
Playing college golf allowed Ponich to take his game to the next level — mentally even more than physically, he said. Playing on the Korn Ferry Tour could be the next step, he added.
"It's really exciting to see myself stack up against some of the best players on tour," Ponich said. "These guys have had more experience than I could dream of having so far. They've been out there for years.
"I want to go into it and just take a piece from them. I'll ask them about their journey and what have been their defining moments. I'm just looking for the experience."
Utah Championship (Korn Ferry Tour)
Oakridge Country Club, Farmington
TV: GOLF Channel, 4 p.m. MT
Local tee times
8:25 a.m.: Steven Alker, Patrick Fishburn, Cyril Bouniol (No. 10)
9:15 a.m.: Daniel Summerhays, Preston Summerhays, Cole Ponich (No. 10)
1:20 p.m.: Dawie van der Walt, Steve LeBrun, Mike Weir
×
Related Stories