LEHI — In another timeline, Justin Hier would likely be celebrating a triumphant opening after bringing one of the more celebrated restaurants in Hawaii to Utah.
But in this one, a global pandemic had other plans.
Over the last seven years, Hier has built up quite a reputation on the Hawaiian island of Kauai, as he turned a small food cart into a sensation.
It's not hyperbole to say Hier's little place, Porky's Kauai, located just off the shores of Waimea Bay, is one of Hawaii's most beloved spots.
In 2018, Travel + Leisure named Hier's sausage and pineapple mashup Hawaii's best hot dog. The next year, Yelp ranked Porky's as the No. 11 best place to eat in all of America. Trip Advisor rates it as the best restaurant on the island. And Porky's has even been featured in the Los Angeles Times.
Hier, a graduate of Brigham Young University, rode a wave of five-star reviews back to Utah as he prepared to open his second location. But nearly as soon as the doors opened, he had to close them again.
On March 7, Porky's Kauai officially opened its second location, near 785 E. 200 South in Lehi. Ten days later, the state suspended all dine-in options due to the coronavirus pandemic.
Hier was 3,000 miles away from his usual customer base and didn't even have a drive-thru. That made it hard to draw customers.
"I know our food is good," Hier said. "It's just how do we get people in our door if they're not comfortable eating out yet?"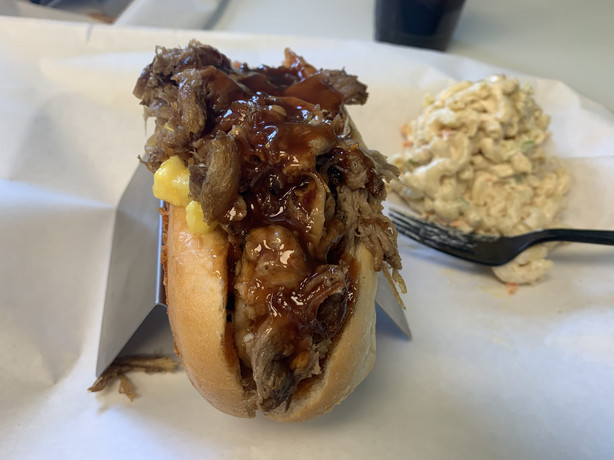 On this day, business hasn't been too bad. There's been some large to-go orders and consistent enough walk-ins to keep things busy for the two-man crew working. But that's not always the case.
A mask covers Hier's face, but you can still hear his smile as he talks.
He explains the options on the menu (a pineapple sausage, an all-beef frank, a grilled cheese sandwich, and a rice bowl — all covered with Hawaiian-style pork), he helps carry to-go orders out to cars, and he laughs with a customer about Utah's love of pebbled ice (yes, he made sure to get the correct type for his restaurant to satisfy that specific craving).
Even since being able to welcome people back into the restaurant, there have been days where hours go by without a customer. But as Hier talks about the challenges, there's still optimism in his voice.
"I don't like admitting this, but there have been plenty of times where I've said, 'What on earth am I going to do?'" Hier said with a chuckle. "Sometimes it's like, 'We just put every penny that we have into this shop and it's been two hours since we saw a customer — I'm gonna go cry."
He laughs before reassuring himself by saying, "Nah, it's all right."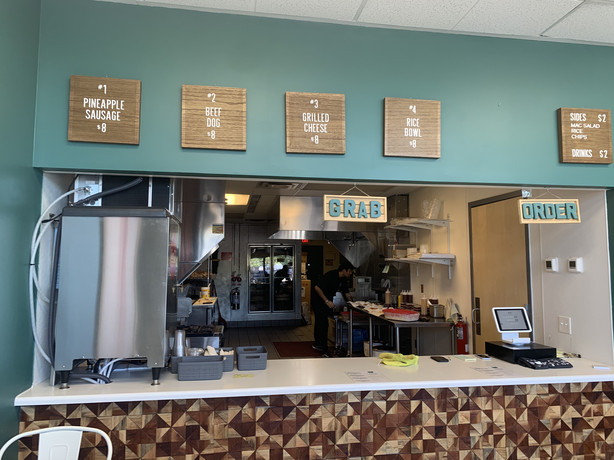 Hier moved to Hawaii in 2013 with the plan of running a hot dog cart for about a year and then returning to the mainland to begin real life. But as the word got around about the little cart putting pulled pork on a hot dog, a year turned into two, which turned into three, and soon Hier was getting featured on local news and praised by foodies everywhere.
He moved into a trailer and then into a food truck and then opened a storefront location. He didn't have investors, didn't use big loans, or really any marketing. It grew due to word of mouth.
He thought of expanding to another island but ultimately decided to stick with his original plan made way back in 2013 — return to the mainland and get a real job. That job just ended up coming back with him.
"It's a little bit closer for our family to raise a kid here and have grandparents around," Hier said. "We wanted to be a little bit closer to family and have a little bit more opportunities for growth, but, yeah, everyone always thinks I'm nuts for leaving."
A global crisis has slowed the growth for now. And it hasn't helped that Hier's popular Kauai location has also felt the sting, dealing with shutdowns and the lack of tourists.
"Any money that we're making from this shop here (the Lehi location) is going to basically pay our rent and everything over there," Hier said.
But there's a reason he's still optimistic. That's because he already knows what he hopes the people of Utah will in time find out: The food at Porky's Kauai is good.
×
Related Stories