PROVO — There's a movement spreading across the country, focused on three words, and the NFL is taking notice.
Many of the loudest voices for those three words — that Black Lives Matter — got their start at BYU.
And the momentum of the current movement, which has seen protesters take the street, Instagram go dark with support for the black community, and social media aflame every night with new cries for racial equality and police reform is getting louder.
It also needs to continue, former BYU linebacker Fred Warner said — even if that means taking the momentum into the NFL's upcoming fall season.
"I think the key is to try and find a solution where we can keep the conversation going," the San Francisco 49ers linebacker said during a roundtable discussion on the NFL Network. "Whatever that means or however we do that, using our platform is very important at this time because we have a voice that a lot of people don't have, to be able to reach a lot of different minds."
The discussion has been palpable, both in the streets, in city council chambers, and in NFL locker rooms — virtually, in the age of the COVID-19 pandemic, but in metaphorical locker rooms, nonetheless — as players often labeled as Gen Z make their voices heard.
"The change needs to start inwards."@fred_warner, @MJAcostaTV and @AprilDRyan talk to @wyche89 about our personal responsibility to better our communities. pic.twitter.com/FCKnRWhVDF

— NFL (@NFL) June 15, 2020
It's a beautiful thing, said Kansas City Chiefs head coach Andy Reid.
"I'm so happy, I'm so fired up about our younger generation," the former BYU offensive lineman told Kansas City media during a recent teleconference. "They are taking it, and they are attacking this thing the right way. I just think we have a great country, and these kids know how great this country is. All they want to do is make it better."
Reid is a self-described "old head," and he recognizes the progress — but also pain — his generation has made on issues of race and racial equality. It's not enough, he admits, and he's hopeful that the next generation can finally eradicate the stain of racism in America.
He's not afraid to do his part, either, even if it looks a little different as an older white man.
"We're sitting here with this push on black lives matter, and absolutely they matter," Reid said. "I think it's a beautiful thing. I'm in complete support of them.
"I believe in communication, I believe in what my parents taught me: at times like this, you have large ears. You sit, and you listen, and you learn. You become better."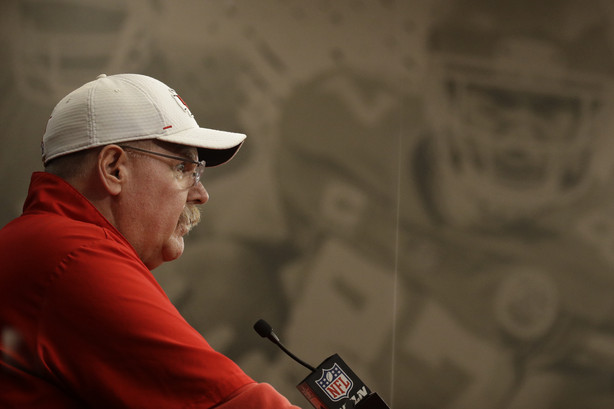 NFL stars Patrick Mahomes and Tyrann Mathieu have been among the leaders in the Chiefs' locker room on racial equality, with a grassroots effort for voter registration, helping minority communities make their voices heard — not just in street protests, but in the halls of Congress and local governments everywhere.
Back in the old college grounds once inhabited by Reid and Warner, BYU football players were adding their own voices to the movement. Last week, players from quarterback Jaren Hall to defensive lineman Khyiris Tonga to defensive back Troy Warner, tight end Matt Bushman, and many others, got together to create a video in support of Black Lives Matter, calling for an end to racism and police brutality. The video was posted on the BYU football teams' official social media accounts, lending a powerful voice to a movement that is not going away.
Indeed, BYU's athletic video employees worked on the project, and athletic director Tom Holmoe was aware of it and shared it on his own accounts.
"My brothers have many colors. My brother bleeds the same color," recite a variety of Cougar voices. "My brother embraces our many differences. My brother stands with me, not against me."
The video continues with a cavalcade of voices, often repeating statements of protest and equality. They include:
"Don't wish for change; be the change."
"We want justice."
"Stand and bring justice and equality."
"No matter who you are, be the voice to those around you."
"This is for George Floyd, and the countless others who have died from the hands of injustice."
"This can't be done alone."
Seeing that kind of fire and activism "fires up" Reid, too.
"I get fired up every day because I get to work with my guys," Reid said. "I get to see how smart and how much they thrive on life and competition, and the greatness they bring to my spirit every day. I always wish that everybody could feel that. That's what really our guys want: they want to take this, and allow others to feel it.
"We've got to be open-minded and open-hearted to do this."
Change comes in society, in political debates, and in individual natures.
That last one, perhaps, is the most important.
"At the end of the day, the change needs to start inward," Warner said. "I look at myself; how can I be a better person out in the community and in society where I can treat others with the same love and compassion as I do with my own family?
"I think you've got to look inward. You've got to speak to your children. The youth are extremely powerful in creating real progress. Obviously, we have a long way to go from where we need to be as a country."
It also starts in the home, with family conversations and dialogue that may be difficult to have — but are necessary, according to NFL Network reporter MJ Acosta, who participated in the same panel discussion with Warner and White House correspondent April Ryan.
It's not the time to "stick to sports," Acosta said.
"This isn't just a sports topic or a political topic; this is a human topic," she added. "The fact that people continue to spew that kind of rhetoric … this goes so far beyond your platform, what players are doing on the field, what ownership does in their offices, even what we do in the media.
"This has to start in homes, having very uncomfortable conversations — be uncomfortable. That's the whole point, because nothing has been 'comfortable' for the black community for eons. That is the point; everyone should feel uncomfortable right now so that we can move past, and all get to the place where there is true equality."
It's about more than taking a knee, posting a black square on Instagram, or participating in viral hashtag campaigns, too.
Today's movement is about change — and change that the current generation can accomplish, Reid said.
"Every generation has changed in some way to get us to this point," he said. "Now we get to put it down, and end it."
×
Related Stories