OREM — While ever Utah college and university is facing a budget crunch related to the sudden onset of the coronavirus pandemic, Utah's largest public university is expanding — again — after years of planning and preparation.
Utah Valley University announced Tuesday the purchase of 38.7 acres of land in Payson to serve as the site of a future satellite campus in southern Utah County, the culmination of a plan approved nearly five years ago.
The site will be located at state Route 115 and South Bamberger Road, northeast of the Payson power plant and close to the I-15 exit at Main Street in the city, according to a news release from the school.
"It is no secret that the south end of Utah County is growing," said UVU President Astrid S. Tuminez. "The acquisition of the Payson land demonstrates UVU's ongoing commitment to providing exceptional education in affordable and innovative ways in our service area.
"The campus will incentivize sustainable development, facilitate business and government partnerships, and serve our Utah citizens."
The site will also be close to a future FrontRunner station when the Utah Transit Authority expands to the south end of Utah County, according to the university's release.
The Utah Department of Transportation has also proposed a freeway interchange near the north end of Payson that will flow into the campus' design.
"I am extremely excited that UVU is building a campus in Payson," said Payson Mayor Bill Wright in a statement. "I attended UVU's forerunner trade tech, where I studied aircraft instrument repair, welding, and computer science, and later received my emergency medical technician designation there. I have watched it grow from a small technical school to a first-rate college and eventually to a full-scale university. UVU has a stellar reputation, and we welcome it with open arms in Payson."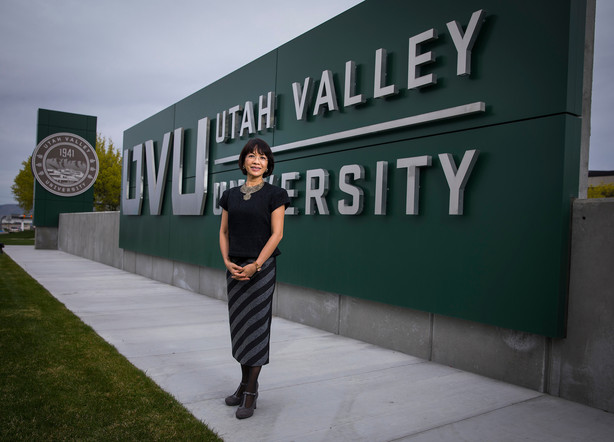 The Payson campus won't be the first satellite campus offered by the public university with the highest enrollment in the state. UVU also has campuses in Heber City, Park City, Spanish Fork, Capitol Reef, Lehi (Thanksgiving Point) and Vineyard, which serves as the primary campus for students in the university's health profession programs and the National Guard corps.
In addition, the school operates a high-tech facility at the Provo airport to train prospective pilots and emergency services specialists, an art gallery at University Mall in Orem to "collect, preserve, and exhibit art that focuses on modern and contemporary artistic styles," and a 100-acre field along Geneva Road in Vineyard that serves as a practice facility for interscholastic teams like men's and women's soccer, as well as to host sports camps and intramural activities.
The university recently received a historic $17.7 million donation from Utah-based essential oils company doTerra, as well as nearly $23 million from the federal Coronavirus Aid, Relief and Economic Security (CARES) Act. Close to half of that fund had been redistributed to students by the end of May, Tuminez revealed during a board meeting of Utah administrators of higher education.
×
Related Stories