OREM — Utah Valley University's supersized $17.7 million donation from local essential oil company doTerra won't just help further educational developments at the state's largest public university.
It also will have an impact on the Wolverines' athletic department.
The second-largest donation in UVU's 79-year history, which is part of a 10-year agreement, will help further the university's scholarship fund — including providing an endowed scholarship in basketball, among other sports — and be immediately felt on the campus' athletic venues.
"DoTerra's generosity is helping us in so many ways with our student-athletes," UVU athletic director Jared Sumsion said. "It impacts every area of their lives. Through their generous support, we are able to provide resources that we didn't have previously."
The grant will help pay for new field turf for the baseball team at what will now be doTerra Field at the UCCU Ballpark, renovate and upgrade Lockhart Arena where the women's basketball, volleyball and wrestling teams play, and add upgrades to the school's brand-new, state-of-the-art doTerra Training Dome in Vineyard.
The what? If you've been to the underdeveloped spot of land just west of I-15 in Vineyard, you've seen the dome. Up until now, you might have simply referred to it as "the bubble."
The donation will also help begin construction on a student-athlete resource center on campus that will help student-athletes, both athletically, nutritionally and academically.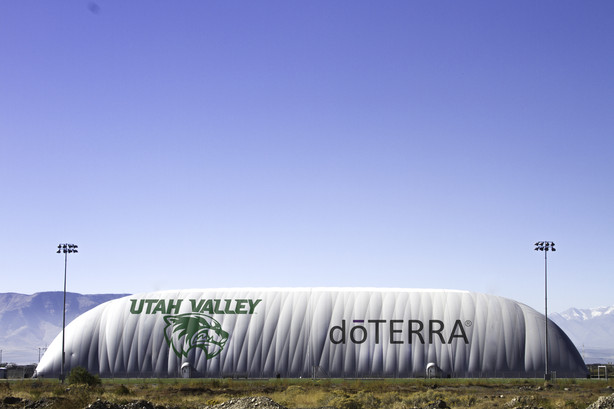 "Looking at where it's going, athletics is certainly going to be one of the biggest beneficiaries," Utah Valley president Astrid S. Tuminez said. "Everything from the physical facilities to naming the ballpark to support for our student-athletes.
"What I love about it is that the leaders of doTerra had a chance to say, 'Here are the areas we are passionate about.' And the size of the donation is big enough to be distributed among (several departments)."
Thanks to doTerra, the school can move further into upgrading the state's largest university and its 350 student-athletes to better compete in Division I and the Western Athletic Conference.
"It helps us in recruiting. It helps us financially," said Sumsion, whose athletic department will split the donation with the university, including the Center for Constitutional Studies, the Women's Success Center, and the Noorda Center for the Performing Arts. "But more than anything, it's just generous support to the university to help our student-athletes, even down the road, to find jobs after the graduate."
×
Photos