SALT LAKE CITY — University of Utah students know that what happened to Lauren McCluskey was horrible.
But they have to remember that what Lauren went through with police before her death is something minority groups face every single day, one organizer said.
"We just have to remember that that is what is happening for so many black families, black and brown families across the country," said organizer Bryn Dayton, a recent U. graduate. "What happened to Lauren was horrible, but this also just happens every (expletive) day, across the United States. Because of the police."
Saturday, several hundred people gathered on campus for a car caravan protest organized by the Students for a Democratic Society, a progressive student group that fights to improve the lives of students.
People gathered to protest police brutality in the wake of the death of George Floyd, a black man who died while in police custody in Minneapolis last week. Protesters also called for attaining justice for McCluskey, defunding the U. police department and holding police accountable.
The U. and its police department have faced near-constant heavy criticism regarding the handling of McCluskey's case. She was killed on Oct. 22, 2018 by her ex-boyfriend Melvin Rowland, who died by suicide shortly after.
McCluskey's family members have alleged that U. police investigators ignored Lauren's calls for help after Rowland lied to her about his name, age and criminal history. More recently, a former U. police officer who was assigned to the McCluskey investigation has been accused of sharing explicit evidence photos of McCluskey with coworkers and bragging about being able to look at them.
The U. has made an increased effort since McCluskey's death to improve campus safety, including working toward enacting 30 safety measures that were proposed through an independent review of the university.
But Dayton said the improvements aren't addressing the root of the problem with police and campus safety. The problems with McCluskey's case are deeper, they said.
"The problem wasn't not enough cops. It wasn't that we didn't have a nice enough police building," they said. "The problem was that the cops were sexist and incompetent and they didn't care, and you can't fix that with money."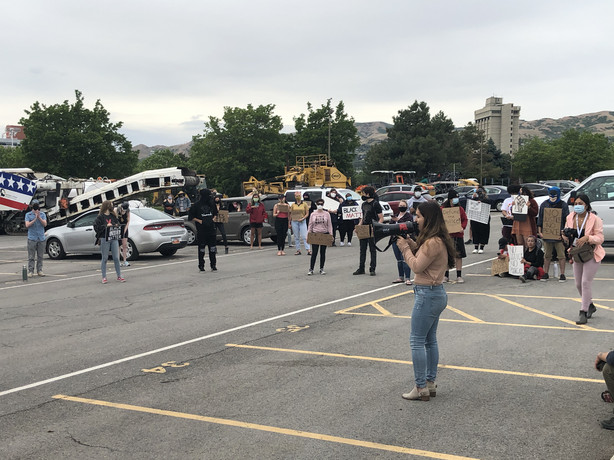 The car caravan included at least 100 cars and several hundred people. After gathering in a tailgating parking lot near Rice-Eccles Stadium, protesters drove several laps around a portion of the U. campus, honking and holding signs out of their cars.
The route went east on Campus Drive directly past the U. public safety building, then south on Mario Cappechi and back west on Foothill Drive.
After driving for about an hour, protesters gathered once again at the tailgating parking lot and several students delivered speeches. Hannah Wolfson, also a Students for a Democratic Society organizer, read a statement from Jill and Matt McCluskey, Lauren's parents.
"Sexism and racism both result in violations of civil rights," the statement said. "The murder of George Floyd confronts us with the tragedy of racism. Matt and I strongly and unequivocally condemn the racial inequalities that have taken lives, and caused injuries to both physical and mental health. We call for increased police training and professionalism. We call for sexist and racist police to be fired when they exhibit behaviors that reveal these characteristics."
This protest has wrapped up. Organizers ended by asking people to take a knee while they read a statement from Jill and Matt McCluskey. pic.twitter.com/jDW3vCDEx9

— Jacob Klopfenstein (@JFKlopfenstein) June 6, 2020
In a May 31 statement from U. President Ruth Watkins's office, campus leaders said the deaths of Floyd, Breonna Taylor, Michael Brown and others have "visibly exposed our society's deeply rooted racism, inequities and white supremacy."
The statement said the university is supporting Utah lawmakers in efforts to reform criminal justice, promote social justice and address systemic racism.
"We are committed to equity, diversity and inclusion at the University of Utah and are steadily progressing in our efforts to make this historically white institution more representative of and responsive to the diverse communities we serve."
Saturday, protesters also called for defunding the U.'s police department through discontinuing funding of the department with any tuition dollars.
Wolfson also said organizers want to see more counselors instead of police officers. In confrontational scenarios, counselors can support mental and physical health in ways police can't, she said.
In a speech, she added that the students stand together in demanding justice for McCluskey, Floyd, and others who have died at the hands of a "cruel and violent police force."
"The blood cannot be washed away from those hands," she said.
×
Photos