MAPLETON — On May 29, Caleb Johnson was involved in a car crash that he would not recover from. The 22-year-old Mapleton man left behind a loving family and countless friends.
Just three days after the crash, one of those friends would be a recipient of Caleb's liver through organ donation. It's a story those close to Caleb are calling a miracle.
Caleb's liver would go to Jamie Derfler, the mother of his childhood friend Cory Derfler. But to fully understand the miracle, it is important to understand the friendship that started it all.
Caleb and Cory
Caleb and Cory met during junior high school. Caleb was a peer tutor and Cory was a student with autism in the class. According to Cory's father, Sean Derfler, Cory immediately took a liking to Caleb.
"Cory loved Caleb," Sean Derfler said. "He liked him so much that when Cory would get out of control, the teachers would call Caleb out of whatever class he was in to come and calm Cory down."
The friendship continued through high school, and when Caleb went on a mission for The Church of Jesus Christ Latter-day Saints his thoughts weren't far from his friend. In fact, according to Caleb's mother, Sheri Johnson, while on his mission Caleb asked to be connected with Cory so he could write him letters.
"While Caleb was on his mission, he sent me a note saying that Cory had been on his mind a lot lately and that he wanted me to reach out to his parents so he could write Cory letters," said Sheri Johnson, Caleb Johnson's mother.
With the help of Cory's parents, Caleb was able to exchange notes with his friend throughout his mission. Not long after returning home, a unique opportunity presented itself that would allow the two to continue their friendship.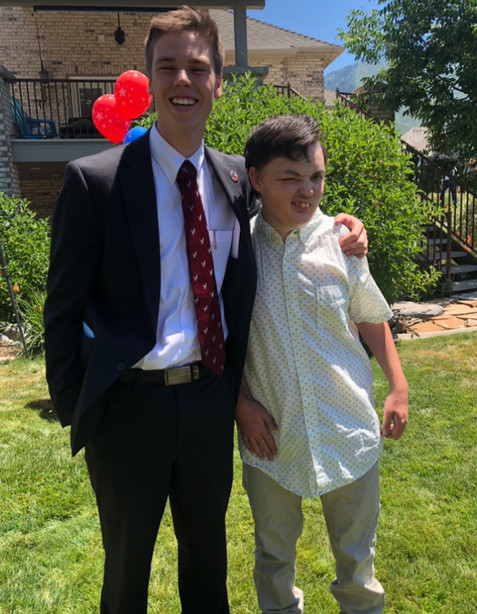 "We were given some state funding to hire someone to come to our home on a daily basis to help with Cory," Sean Derfler explained. "I offered the position to Caleb, and for the next year he spent time with Cory every day. Unlike some caregivers, Caleb didn't just watch Cory or put him in front of a TV all day. Caleb would take him for daily walks where they would pretend like they were being chased by werewolves. He'd spend hours playing with Barbies and Littlest Pet Shop toys. Caleb was Cory's best friend."
While at Cory's home, Caleb became aware of something that was affecting his friend deeply: Cory's mother who was becoming gravely ill. Sheri Johnson recalled many times when Caleb would come home and tell her husband about how bad he felt and how much he wished he could help the family.
Just days before the fatal accident, Caleb had a conversation with his dad that Sheri Johnson said would plant a seed for future events.
"Four days before the accident, Caleb and my husband, Mike, were out running some errands, and Caleb was talking about how bad Cory's mom, Jamie (Derfler), was doing," Sheri Johnson said. "He mentioned that she would be needing a liver transplant soon, and he was really concerned about her and her family."
The crash, and making tough decisions
On May 29, Mapleton police say Caleb was traveling south on U.S. 89 and had just passed through the intersection at 1600 North, approaching the 400 East intersection. Investigators said it appears a vehicle turned off 400 East onto the highway and cut in front of Caleb's car. Caleb swerved to avoid the vehicle and ended up in the oncoming lane and hit a dump truck head-on, igniting both vehicles.
When the crash happened Caleb did not die right away, giving his family including his wife of less than a month, Marissa Johnson, a chance to say their last goodbyes. And because his death occurred in the hospital, it allowed him to be able to be an organ donor — something his parents and wife did not know much about beforehand.
"When the donor representatives at the hospital came to speak to us, the conversation that Mike and Caleb had a few days before was at the forefront of his mind, and Mike asked if it was a possibility for Caleb to donate his liver to Jamie (Derfler)," Sheri Johnson said. "We were told that it was hard to request a donor because blood type and other factors had to match up.
"After I showed them a picture of Caleb and Cory and told them about their relationship, it brought them to tears and they told us that they would do everything in their power to make it happen."
A miracle unfolding
Knowing that things would need to match up perfectly for their son to be able to donate his liver to Jamie Derfler, the Johnsons were hopeful yet realistic. But when they got the news that Caleb was a perfect match, they knew it was a miracle and said they felt their son's help along the way.
When the news was delivered to the Derflers that Caleb was a match, Sean Derfler agreed that it was a miracle.
"The day the accident happened, Sheri called me to let me know, and we were all devastated because Caleb was part of our family," Sean Derfler said. "Not once during our conversation did I ever think about a liver transplant.
"On Saturday evening, Sheri called us about the possibility of Caleb donating his liver, and on Sunday we received a call from the hospital telling us that everything was approved and all we needed was an operating room."
---
Out of tragedy did come a miracle. I am sad, devastated and happy all at the same time. I never knew I could feel so many emotions.
–Sean Derfler, Cory Derfler's father
---
"It all happened so fast," he continued. "If I had just lost my child, my mind would not be in the place to think of someone else. I know that Caleb was there prompting his dad to say something."
While a miracle has unfolded out of a tragedy, that tragedy has also left loved ones to mourn the loss of a wonderful life gone too soon. Sheri Johnson acknowledged both the extreme heartache that she felt, as well as the overwhelming blessing her family's loss is to another.
Sean Derfler said he has also felt myriad emotions.
"Out of tragedy did come a miracle," Sean Derfler said. "I am sad, devastated and happy all at the same time. I never knew I could feel so many emotions. We are so sad that Caleb is gone, and so grateful that Jamie has a second chance at a healthy life. We are so grateful to the Johnson family — including Caleb's wife, Marissa, who ultimately had to make the decision for the gift of life. It's wonderful to know that Caleb will always be a part of us, and that he is continuing to serve our family from the other side."
Coming full circle
Jamie Derfler had surgery to receive Caleb's liver, and Sean Derfler said the doctors say things went as well as can be expected. He also said that he and his wife have felt at peace.
"After the surgery, I was talking to my wife about Caleb," Sean Derfler said. "Caleb was a talented songwriter and musician, and there is a song of his called, "Paean" which means to praise God. In the chorus Caleb repeats "I think I'm doin' all right." When my wife heard the lyrics after her surgery, she said that it was as if Caleb was telling her that he was doing all right."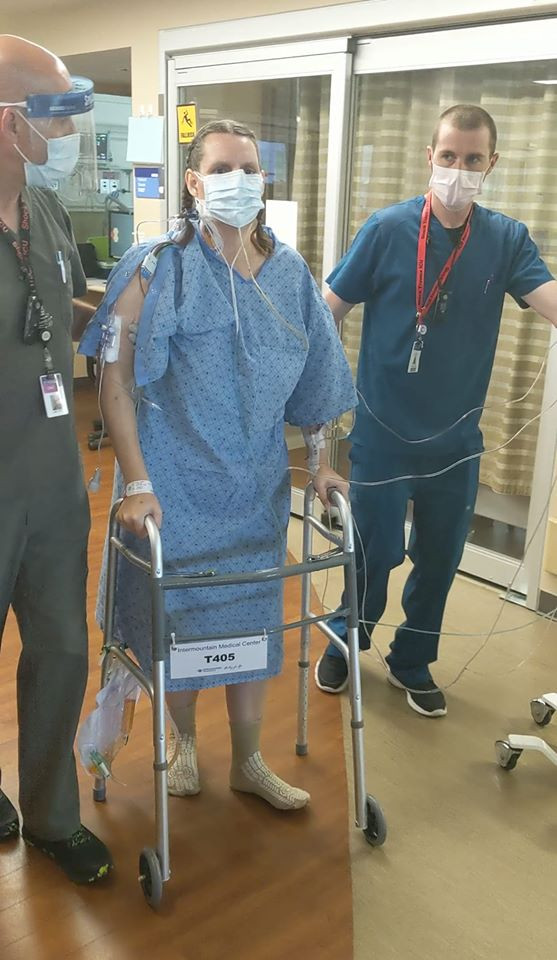 As for Cory, Sean Derfler said his son misses his dear friend but is looking forward to getting to know his new friend better. Caleb's wife, Marissa Johnson, recently expressed a desire to continue the friendship her husband so delicately fostered.
To help with the Johnson's funeral costs, a Gofundme page has been set up called "Help for Caleb Johnson."* Another funding page for Jamie Derfler's liver transplant has been set up under the name "Help for Jamie Derfler's liver transplant."*
Contributing: Graham Dudley, KSL.com
---
*KSL.com does not assure that the money deposited to the account will be applied for the benefit of the persons named as beneficiaries. If you are considering a deposit to the account, you should consult your own advisors and otherwise proceed at your own risk.
×
Photos
Related Stories