SALT LAKE CITY — For the third time in four nights, hundreds gathered in downtown Salt Lake City on Tuesday to protest police brutality and the death of George Floyd at the hands of Minneapolis police last week.
Like Monday's event, the protest remained peaceful throughout and took place largely at Washington Square Park at the Salt Lake City-County Building, with marchers circling the block again and again as passing cars honked in solidarity.
But unlike Monday, when a socialist party led the proceedings, Tuesday's protesters struggled to rally behind a common message.
Some speakers who grabbed the megaphone were conciliatory, and one even went so far as to shake hands with police and National Guardsmen at the scene. Other protesters said they weren't interested in such gestures, and many called repeatedly for the officers to kneel with them.
All Victoria Crosby, an activist who has marched with Black Lives Matter, wanted from Tuesday night was a kneel-down or a hug or even a handshake. She told protesters that "we've been heard" as she announced the finalization of 100,000 signatures on a petition that will be sent to Washington, D.C.
So when the passionate Utah woman stepped off the curb, away from the crowd of nearly 500 individuals who had converged on Washington Square Park to protest racial inequality in the wake of the killing of George Floyd in Minneapolis, she knew she was taking a leap of faith.
But when officer Acosta from the Salt Lake City Police Department reached out his hand, Crosby immediately shook it. There was a bond formed, not between protester and police, or political adversaries.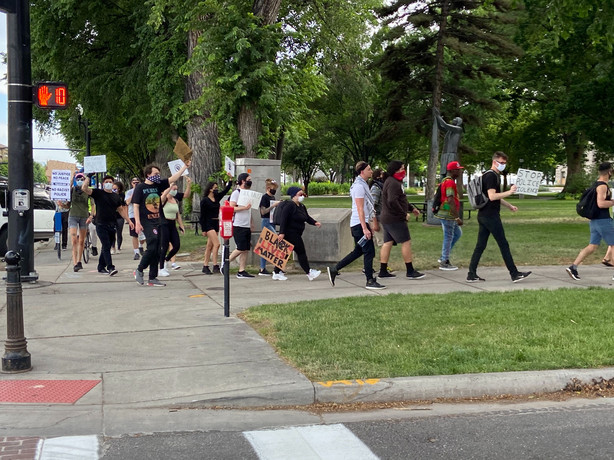 Just a human bond.
"Everything," Crosby said when asked what that moment meant to her. "It means that there is going to be change. It means that they want to change, and for none of us to get hurt anymore."
Tuesday evening marked the third day of protests in Salt Lake City, but the tone was markedly different from the first. Police officers at Washington Square Park allowed the seemingly never-ending throng of protesters that kept growing from the 150 who met there at 6 p.m. to express themselves in the wake of weeks, months and even years of pent-up emotions.
And when it came time to give back, some were happy to do their part to bring civil dialogue to a passionate debate that has raged across the nation.
Utah National Guard Soldiers and Salt Lake City police take a knee in solidarity with Utah chapter of @Blklivesmatter at the SLC Public Safety Building, June 2, 2020. (U.S. Army photo by SFC John Etheridge) pic.twitter.com/0aLGzuukiW

— Utah National Guard (@UTNationalGuard) June 3, 2020
Before arriving at the main rally, Crosby said she stopped at the Salt Lake Public Safety Building, where she met a handful of Utah National Guardsmen standing watch over the edifice. A dozen protesters were there, as well, and they invited the camo-clad soldiers to join them in kneeling to honor the life of George Floyd.
And then something unique happened; for what many believe to be the first time in three days of protests in Salt Lake City, members of the National Guard joined them.
"Every National Guardsman at the Salt Lake Police Department, the moment I showed up, they took a knee for me," Crosby said. "The fact that it happened that fast means everything to me."
The Utah National Guard's official Twitter account posted a photo of the occasion, confirming the moment, if not the historicity. And the Salt Lake City Police Department added "In solidarity" from its own handle in retweeting the photo.
In solidarity. https://t.co/z0Z3sloh45

— SLC Police Dept. (@slcpd) June 3, 2020
Hasson Davis arrived at the protest shouting, "I am George Floyd!" He later took a megaphone to lead the crowd in chants, and spoke to them as they stopped at the corner of 400 South and 200 East.
"Learn how to deal with us," he said to the officers assembled nearby, "and you won't see none of this. We have no reason to protest if we are treated fairly."
Davis repeatedly exhorted the crowd to remain peaceful. I'm angry, he told the crowd at one point, "but I am not mad enough to tear down my city."
Protesters confronted the officers stationed at the 400 and 500 South ends of 200 East, chanting for them to kneel. By the time curfew fell at 8 p.m., some demonstrators urged the crowd to disperse while others called for a march to the state Capitol.
Smaller groups of likeminded protesters visited other cities in Utah throughout the day. From Logan to Ogden to Orem, cars honked and protesters chanted slogans like "I can't breathe" in solidarity with the national movement.
In Utah County, the protest started small but eventually grew to fill most of the intersection at University Parkway and State Street, near the University Mall. But police reported no major incidents.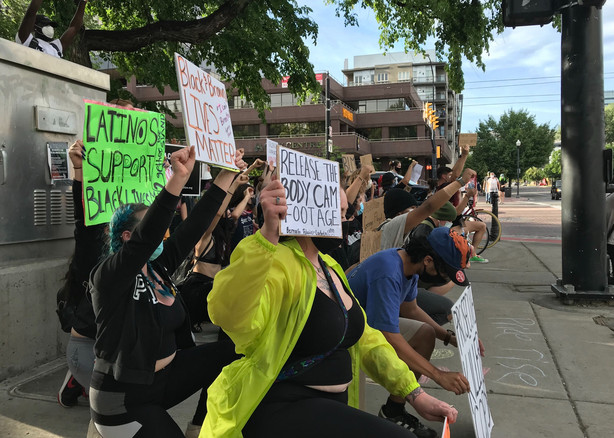 "Thank you to those who engaged in peaceful protests around Salt Lake City, Provo, Orem and Logan today," Utah Department of Public Safety Commissioner Jess Anderson said on Twitter. "These issues require a dialogue and all of us working together."
At the Capitol, a large presence of troopers and guardsmen stood watch, as they had Monday evening. At 8 p.m., they warned any protesters they would be taken into custody in 15 minutes; at least one man was detained at 8:15 as he stood across the street from the Capitol.
The man initially went to Capitol Hill with two other individuals, but both left the scene shortly after the official 15-minute warning, according to KSL TV.
Though a handful of protesters continued to march up and down downtown streets, the protest was largely over by 8:30 p.m. Even while a few patrons visited local bars in the downtown area, large gatherings of protesters tended to avoid the streets as police raced to enforce curfew. Overall, the night met the aims of Salt Lake's mayor.
"I'm grateful for another day of passionate, mostly safe protests and am anticipating more of the same tonight," Salt Lake City Mayor Erin Mendenhall said early Tuesday evening on Twitter.
×
Related Stories