This archived news story is available only for your personal, non-commercial use. Information in the story may be outdated or superseded by additional information. Reading or replaying the story in its archived form does not constitute a republication of the story.
SALT LAKE CITY — As Utah's number of positive COVID-19 cases began to plateau, and the state slowly reopens for business, one of the first recreational activities that became available was golf.
That was important for Lone Peak's Berlin Long, who was the No. 1 golfer on last year's Class 6A state championship squad, as she teed up at the Utah Junior Golf Association season opener at TalonsCove.
No meets were being sanctioned by the Utah High School Activities Association as a result of the global pandemic and Gov. Gary Herbert's soft closure of Utah schools through the end of the school year. That meant no meets, no tournaments, and no chance to play with this year's team for Long.
Until now.
Under the direction of the Utah Section PGA, high school girls golfers will have one final state meet to determine individual medalist honors and a statewide all-state team beginning May 27.
"I think it's really important," Long told KSL.com. "There was only one senior on our team this year, but it sucks to see that season taken away from her. She's worked really hard.
"I think it's important for seniors — and I would love to be able to play in a state championship meet with the team I have this year."
The event, which is not sanctioned by the UHSAA but conducted by the Utah Section PGA, will send up to six players to the course for an 18-hole competition Wednesday, May 27, at Meadowbrook Golf Course in 5A and 6A competition. Though team scores will not be counted, high school coaches may sign up their teams as a group at utahpga.com.
Individual state meets for Class 1A boys and 2A, 3A and 4A girls will happen on Wednesday, June 3. Those tournaments will also be played at Meadowbrook.
No coaches or caddies will be permitted on the course, similar to restrictions in past state tournaments, which allow for limited coaching and no on-course interaction between players and staff or teammates. Galleries will also be limited, and CDC guidelines for hygiene and social distancing will be promoted.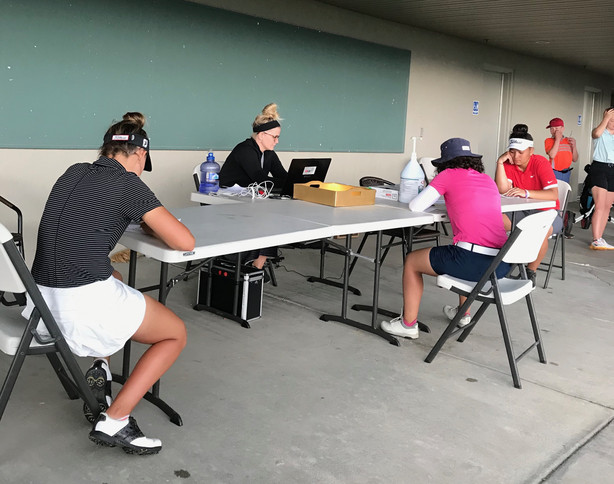 A one-time $40 entry fee will pay for all fees associated with the tournament, and individuals can sign up through their respective high school coaches by sending an email to agoodman@pgahq.com before May 15.
"We're sensitive to all the seniors who didn't get to play and feel bad they had to miss out on this season," said Utah Section PGA executive director Devin Dehlin, whose team hosts the state meet every year. "We look forward to being able to give the kids something to look forward to."
In accordance with CDC guidelines for all golf courses, all flag sticks will remain in the pins, no rakes will be left in bunkers, and players will not congregate in a designated scoring area. Individual scorecards will be dropped in a secure scorecard box to allow section members and volunteers to tally the individual leaderboard.
The admittance of spectators, including parents, on the course is currently undetermined. But it is likely that no galleries will be permitted on the day of the tournament, Dehlin said.
Following the meet, the Utah Section PGA will select 10 players from each classification to the all-state first team.
While it's not UHSAA-sanctioned or conducted in a fashion that would crown a team champion, Dehlin and his team at the Utah Section PGA hope it helps provide some relief for the high school golfers — especially from the senior class of 2020 — who had their seasons abruptly ended by the global pandemic.
It will also give individual champs from last year an opportunity to defend their title.
"For me, I just want a chance to improve my game," said Lehi's Lila Galeai, the reigning 4A medalist. "It's important, even if being the next state champion isn't the top priority.
"I want to be the best golfer in Utah. But this is just a way to help me be the best golfer I can be."
×
Related Stories