This archived news story is available only for your personal, non-commercial use. Information in the story may be outdated or superseded by additional information. Reading or replaying the story in its archived form does not constitute a republication of the story.
SARATOGA SPRINGS — Everything felt so, for lack of a better word, normal.
From the "whack" of a driver to the "swoosh" of an iron to the "click" of a putter, every swing, every stroke and every tap-in birdie felt right for Lehi golfer Lila Galeai and Lone Peak's Berlin Long.
Even the final pairing felt right, after several weeks without organized, competitive play.
Thursday's golf meet at TalonsCove Golf Course wasn't a high school region meet or a state qualifier. But it was the start to the Utah Junior Golf Association summer season.
And it just felt good to be back on the course.
Galeai came from behind, overturning a 1-stroke deficit on Long with four birdies on the back nine en route to a 4-under 68 and a two-day total of 136 to hold off Long and Park City's Arden Louchheim in 36 holes at the Fairways Magazine UJGA Preview at TalonsCove.
"It was super fun," said Galeai, the reigning Class 4A state medalist. "All of the girls who play in this division push me to become better. It's super fun to play with them — especially when we're all playing so good.
"You kind of forget that you're competing, and just have fun."
Long finished second with a two-day total of 145, followed by Louchheim (145), St. George's Annabelle Millard (147) and Provo's Sunbin Seo (153) in the 15-18 girls division.
Skyline junior Tyson Shelley shot 64 for a two-day 136 to rally past Farmington's Braxton Wyatt (139) and the rest of the 15-18 boys division.
"I just hit it straight down the tee, and my irons were working really well for me," said Shelley, who has committed to play at BYU. "I was sticking pins, and making 10-12 footers for birdie. Everything was working well."
Alpine's Kihei Akina held off Ogden's Parker Bunn, 139-140 for the 13-14 boys division title. Park City's Rawson Hardy took the 11-12 boys title, and Aadyn Long won the 13-14 girls division.
All had a stellar day before thunderstorms on the west side of Utah Lake poured rain down on the course. But Galeai's day was a little extra special — no matter how it began.
"It started pretty rough," said Galeai, who opened the day with a double-bogey before rallying for five birdies on the next 17 holes, including three of the final four holes. "I think I just had to remember to keep my cool.
"I knew I had a lot of holes left, so I had to be patient and stick with my plan."
Long, the local junior golf standout who shot 5-under 67 to take the 18-hole lead, admitted it was good to be back on the course, in a competitive environment. And to have the competition of a long-time rival like Galeai made it even better as she prepares for a summer golf circuit during a spring season when high school competition has been canceled by the Utah High School Activities Association.
"We haven't been able to play at all, so it was good to be able to come out and play competitively again," said Long, a sophomore at Lone Peak who was expected to compete for a state title in Class 6A. "It gives us a good start on all the (summer) tournaments.
"I always love playing with Lila, too."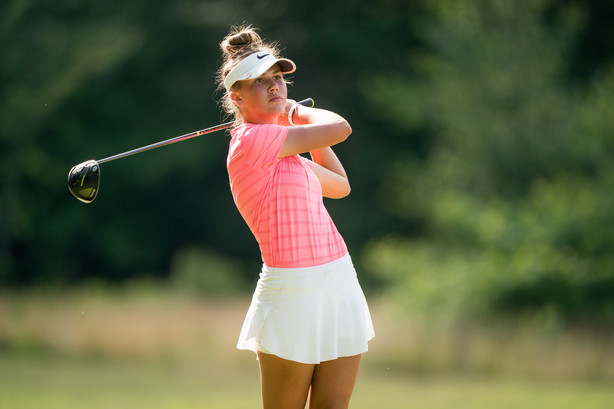 If the pandemic has taught these golfers anything, it's to be grateful — that they can play, that they can compete, and that golf is one of those rare first-world luxuries that hasn't been taken away from them, a social distance-compatible sport with courses already opening back up as Gov. Gary Herbert moves the state to the "orange" phase of COVID-19 containment.
"It's a blessing that golf is the way it is," Galeai said. "It's probably one of the only sports that contain social distancing.
"I was kind of bummed when everything shut down. Today was super fun."
Fairways Magazine UJGA Preview
TalonsCove Golf Course
Boys 15-18
Tyson Shelley 136, Braxton Watts 139, Wyatt Petersen 144, Caden Dunn 144, Sean Lam 144, Boston Bracken 144, Tanner Telford 144, KJ Ofahengaue 145, Simon Kwon 145, Bode Salas 146, Cooper Jones 146.
Girls 15-18
Lila Galeai 136, Berlin Long 139, Arden Louchheim 145, Annabelle Millard 147, Sunbin Seo 153, Millie Terrion 154, Whitney Banz 156, Rachel Lillywhite 161, Aubree Johnson 180, Cheyenne Hansen 188.
Boys 13-14
Kihei Akina 139, Parker Bunn 140, Preston Cheney 145, Elliot Bond 153, Bowen Mauss 156, Jackson Shelley 156, Maddox Nielsen 158, Max Landon 159, Toatele Ofahengaue 160, Sean Lampropoulos 161.
Girls 13-14
Aadyn Long 155, Kaylie Mumford 164, Ashley Lam 165, Emma LIllywhite 168.
Boys 11-12
Rawson Hardy 137, Will Pedersen 143, Jaxon Erickson 150, Austin Shelley 155, Tyse Boman 156, Dylan Winona 157, Ryder Howe 158, Austin Jones 162, Will Anderson 167, Henry Hardy 168.
×
Photos