Estimated read time: 7-8 minutes
This archived news story is available only for your personal, non-commercial use. Information in the story may be outdated or superseded by additional information. Reading or replaying the story in its archived form does not constitute a republication of the story.
SALT LAKE CITY — Beets are one of those vegetables that people typically love or hate. If you dislike them or haven't tried them, now is a great opportunity to try a beet recipe that may change your mind.
Why give them a try? First, they're in season from spring to fall and they're easy to store. They also last weeks in the fridge, they're delicious, and they are a good source of fiber and vitamin C.
What kinds of beets can you buy?
Beets come in lots of forms. You can buy whole beets with the greens still attached or beets without the greens. You can also buy precooked beets in the refrigerator section, uncooked peeled and chopped beets, beets in a can, and pickled beets.
Raw beets are great shaved thinly and steamed or roasted. Precooked beets or canned beets will save you about an hour of cooking time and are ready to add to a salad or be sautéed for a quick crunchy beet. Pickled beets are tangier and easy to eat plain.
How do you cook beets?
Beets are really hard vegetables. As mentioned above, if you're not going to shave them thinly, you'll want to cook them before eating. If you do plan on peeling your beets (though you don't have to), I recommend peeling with a vegetable peeler before cooking them. You can peel them after, but it's easier to peel cooled beets so you don't burn your fingers.
Beets can be cooked whole or chopped into equal-sized pieces. The smaller the beet slices, the quicker they'll cook. Cook them in a double boiler with an inch of water at the bottom. They should take about 30 minutes.
One of the easiest and tastiest ways to cook beets is by roasting them. Roasting them makes them sweet and crispy. Here's a general recipe to roast vegetables, just use beets instead of the other vegetables in the recipe. Pierce a beet with a fork to test doneness. If the fork inserts and is removed smoothly and without effort, it's done.
I've been steaming my beets in an Instant Pot lately. It's the easiest way to cook them and doesn't heat up my house as much as the other methods do — which is great as it's starting to get hotter outside.
My favorite way to eat beets is with goat cheese. So, I created this Beet and Arugula Salad with steamed or roasted beets, goat cheese, arugula, and a balsamic glaze. It's easy, quick and a great recipe to get started with.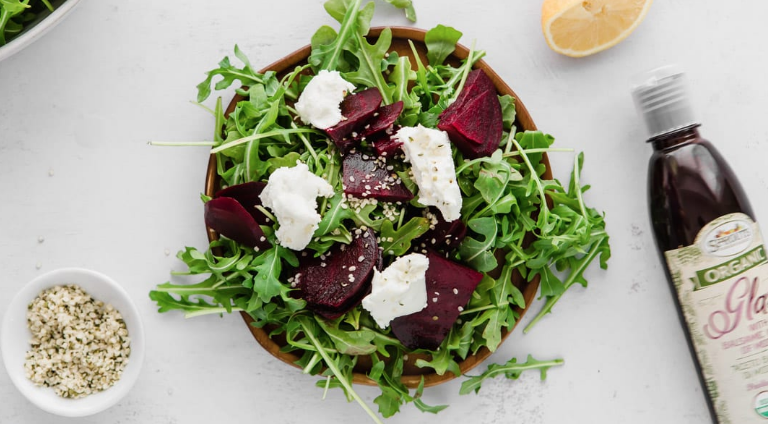 Great Beet Recipes
1. Beet Salad via Shahzadi Devje RD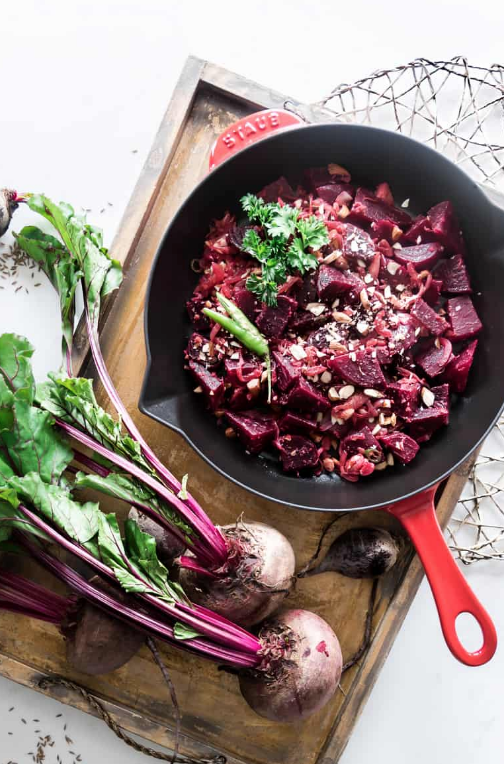 "This healthy Beetroot Salad Recipe, aka Poriyal, in South Indian cuisine, may look fancy – but it's simple to pull off," Devje writes. "Done in 35 minutes, and perfectly balanced with cumin, onion, fresh ginger and lemon. Garnished with crunchy sliced almonds to create a stunning presentation, that tastes as good as it looks."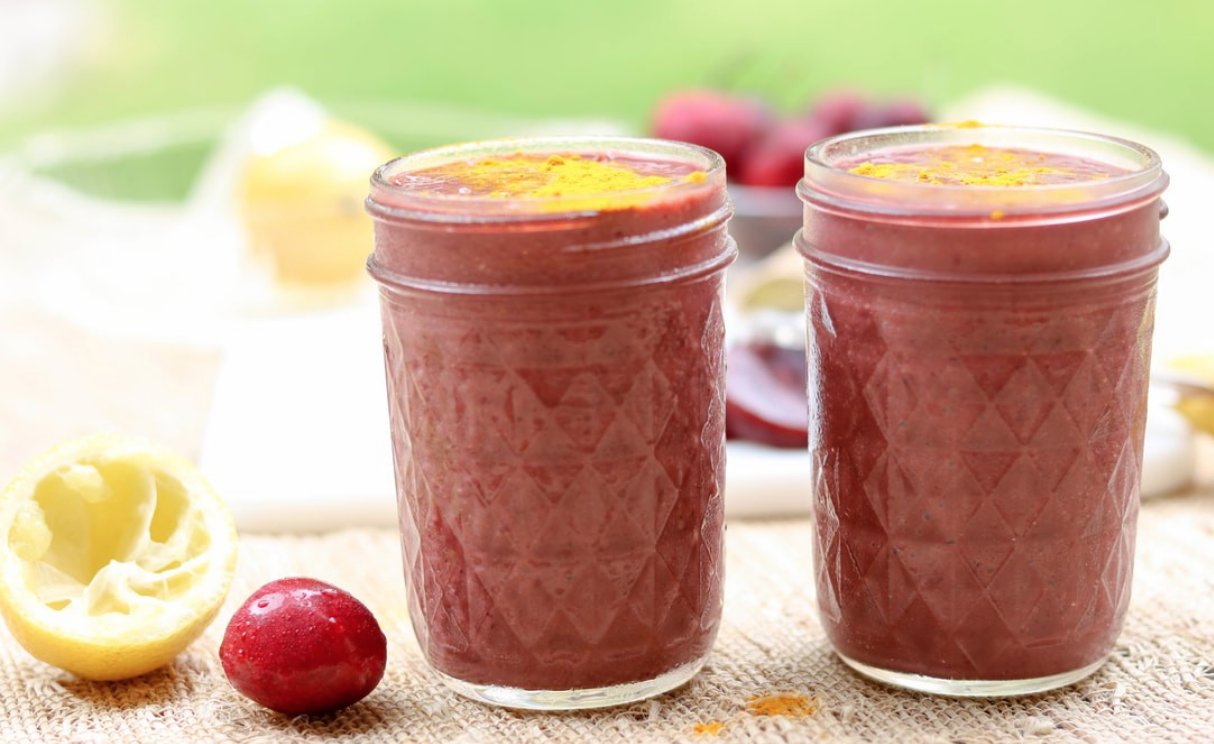 This refreshing smoothie has an incredibly unique flavor from beets, cherries and fun spices, like turmeric and ginger. It's ideal for those hot summer days and is an easy and discreet way to up your beet intake.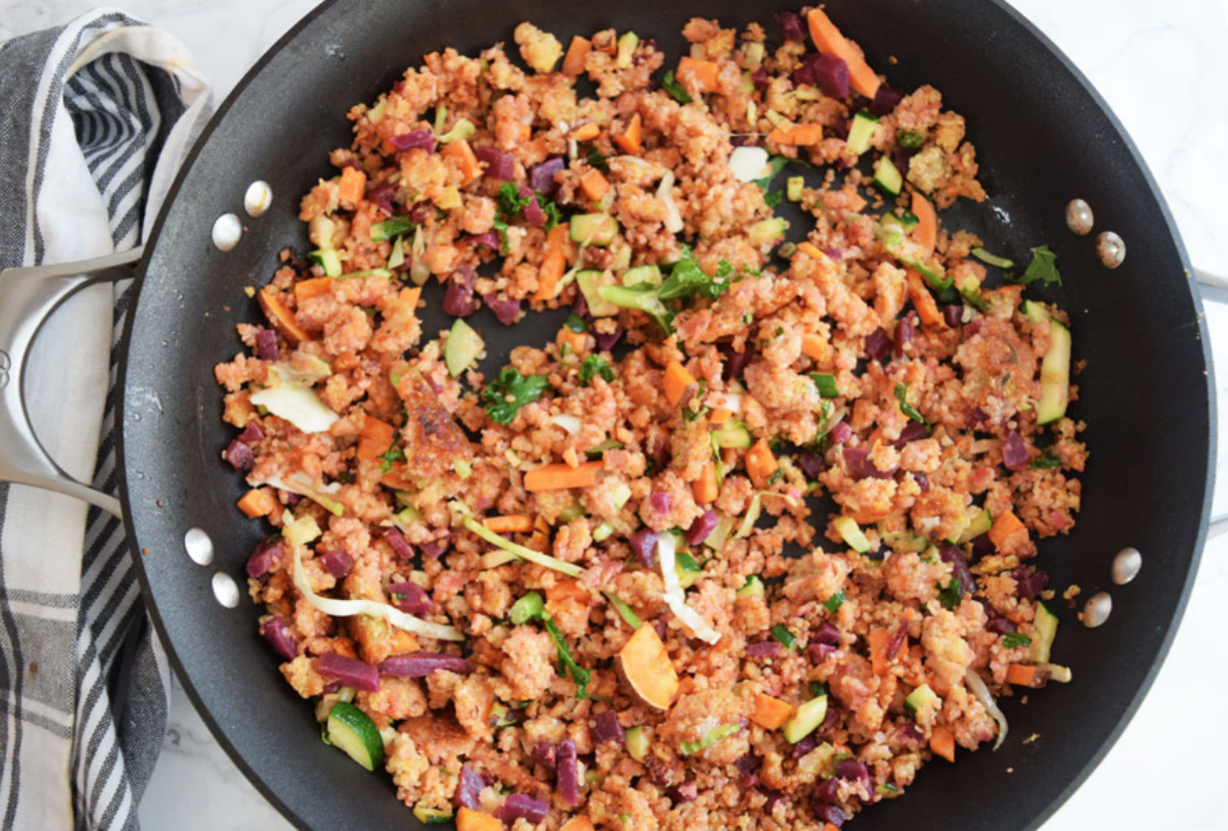 Schlichter writes, "This Sweet Potato, Beet and Quinoa Scramble is a perfect quick and savory breakfast option. It's ready in 20 minutes, can be made in bulk, and is great for those busy mornings!"
This Easy Roasted Beet & Garlic Hummus is so tasty which makes it the perfect addition to any party or snack menu!" Mathis writes.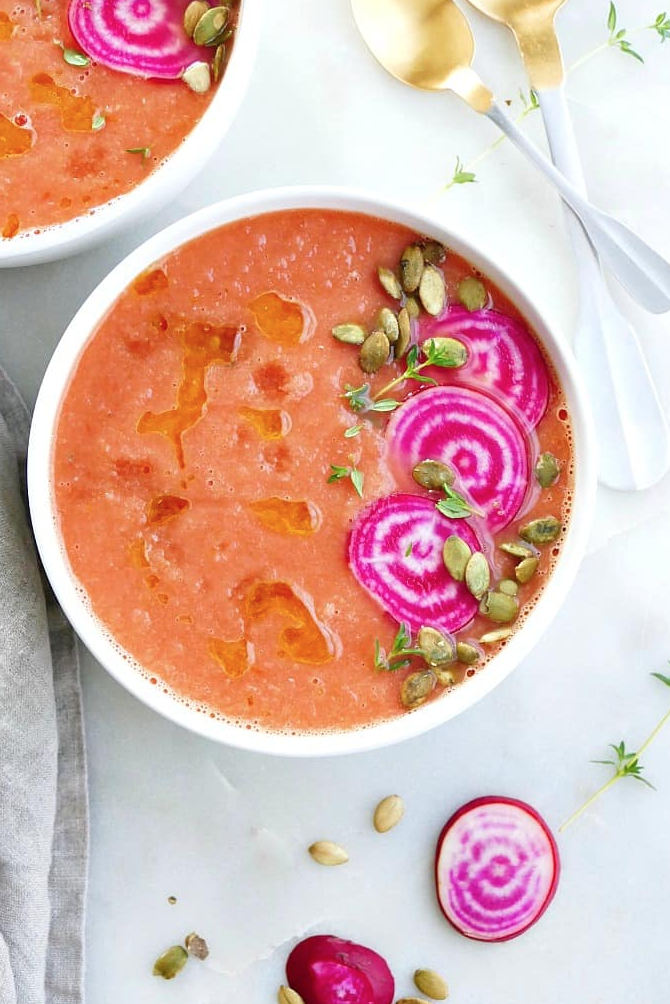 Beets are in season in both the summer and fall and taste delicious in this cold gazpacho recipe. Made with fresh summer produce and red wine vinegar, it's simple and refreshing.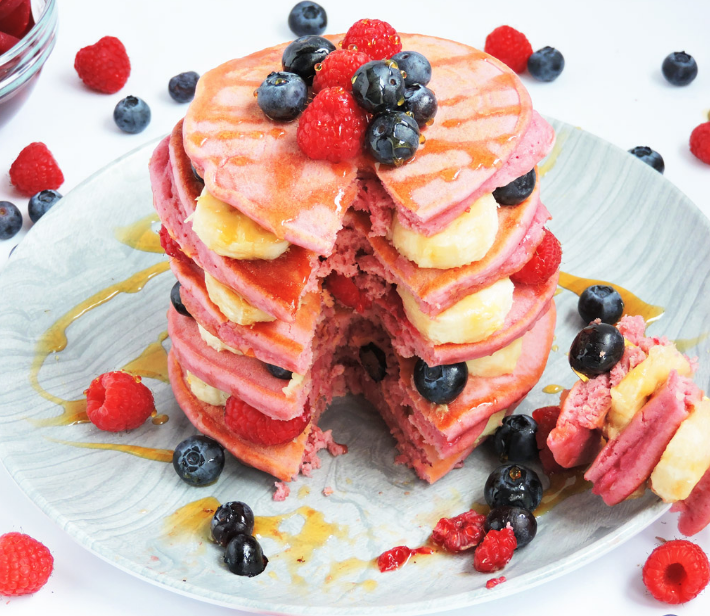 Calling all beet lovers!! These Pretty in Pink Beet Pancakes are nutritious, delicious, and will quickly become a family favorite!" Mathis writes.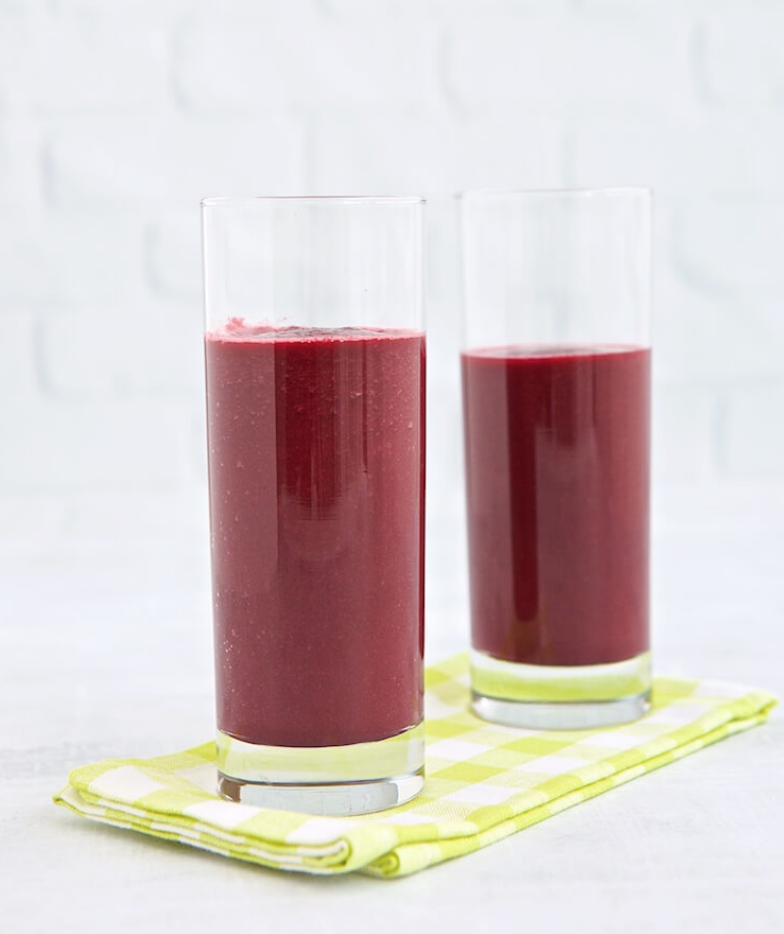 "Start your day with this delicious and healthy mango beet breakfast smoothie," Braddock writes. "If you don't think beets (like me) this smoothie just might change your mind."
8. Quinoa Beet Kale Salad via Lisa Cicciarello Andrews of Sound Bites Nutrition
This simple, gluten-free salad combines three powerhouses: quinoa, kale and beets.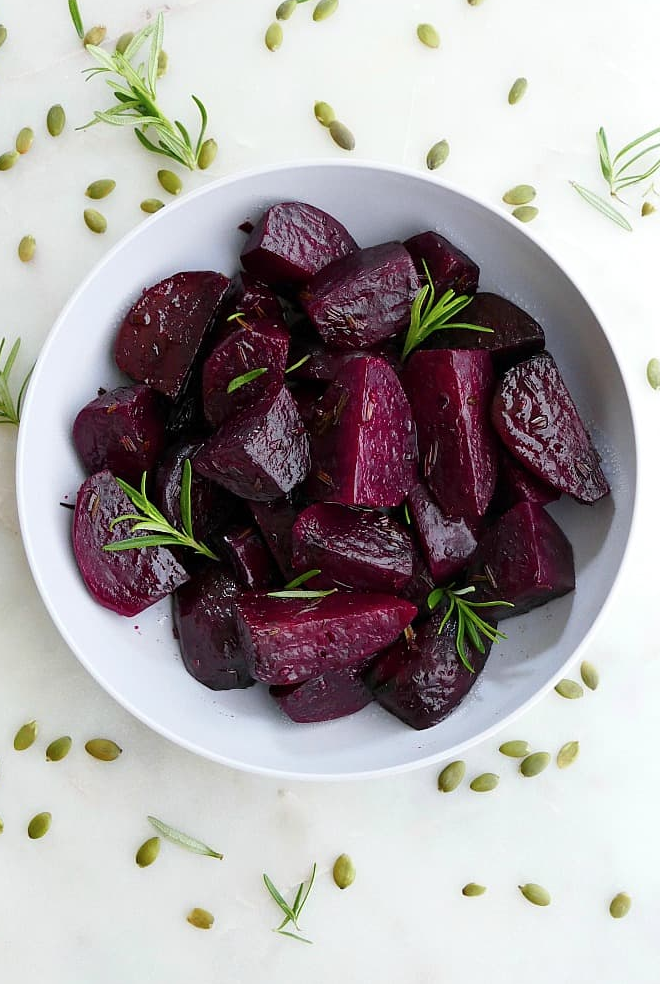 "'Roasting' beets in the crockpot is one of the absolute best ways to prepare them!" Streit writes. "These Rosemary Honey Slow Cooker Beets are perfectly tender and incredibly flavorful, and a great addition to weekend meal prep or even a holiday meal."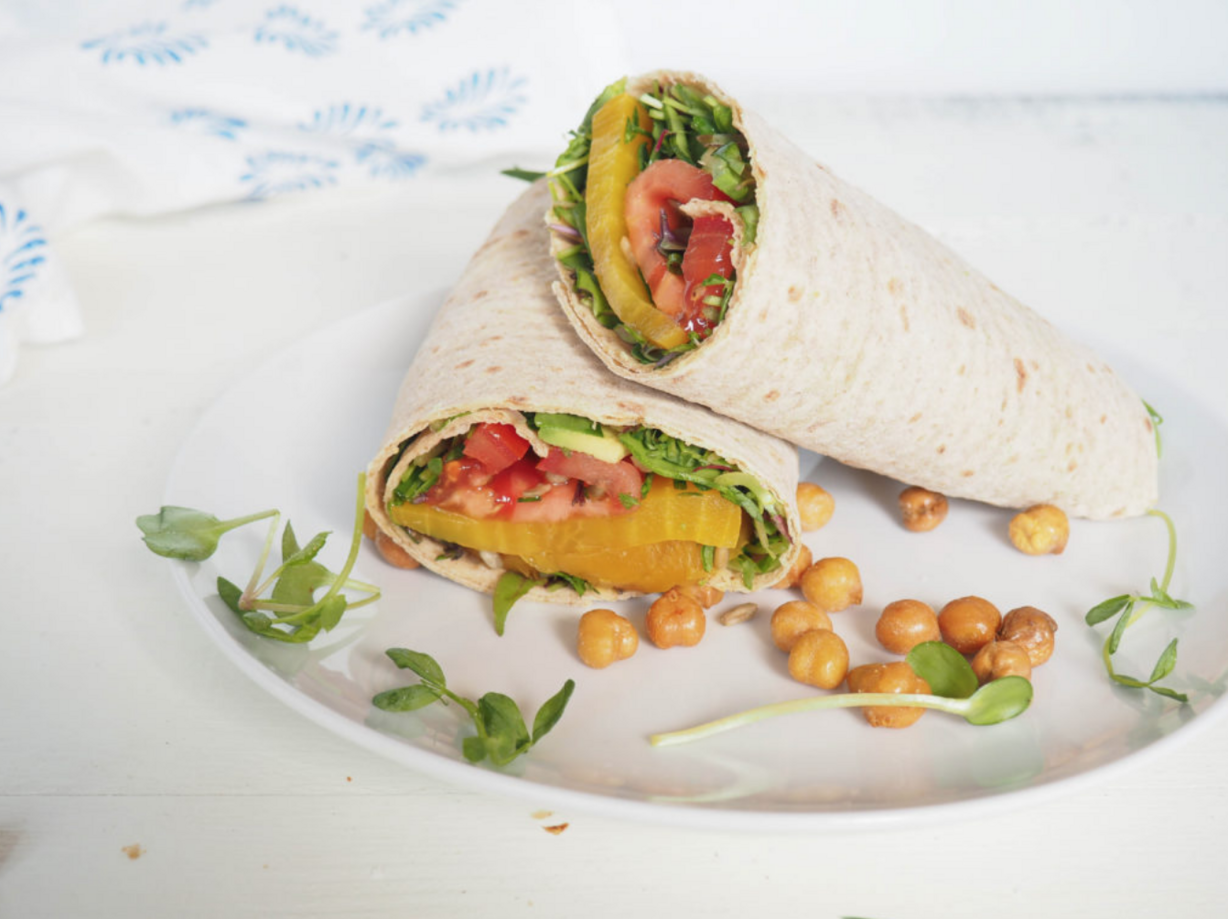 Get creative with your lunch sandwich by adding beets. They not only pack in extra nutrition but they'll provide a vibrant color and distinct flavor. So next time you roast beets, save some for your lunch sandwich. Note: golden beets will be less messy if you're eating your sandwich by hand.
Why not add beets to breakfast tacos? You get all the health benefits, plus a unique flavor combination.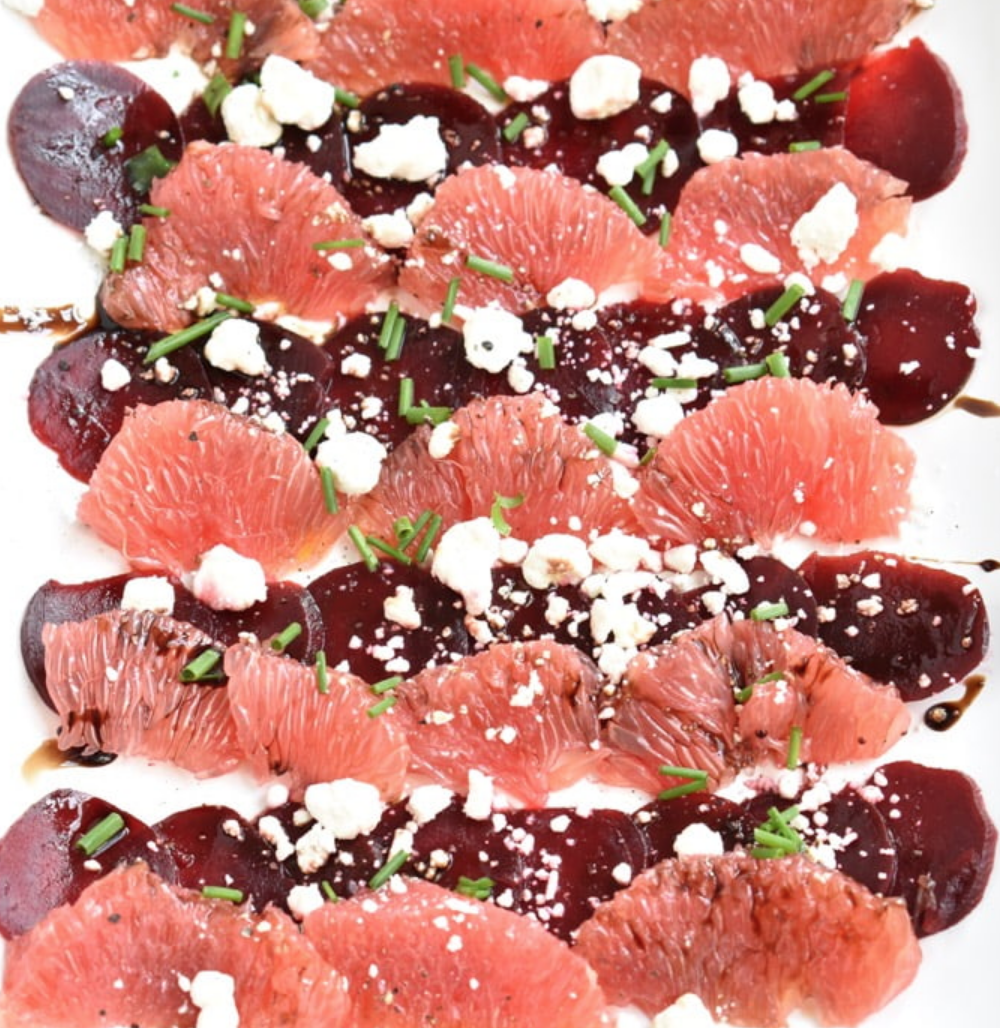 This refreshing beet and grapefruit carpaccio is so simple to make and bursting with flavor. It's fancy enough to serve guests but easy enough to make for your own lunch.
13. Feta Beet Salad via Jessica Penner of Smart Nutrition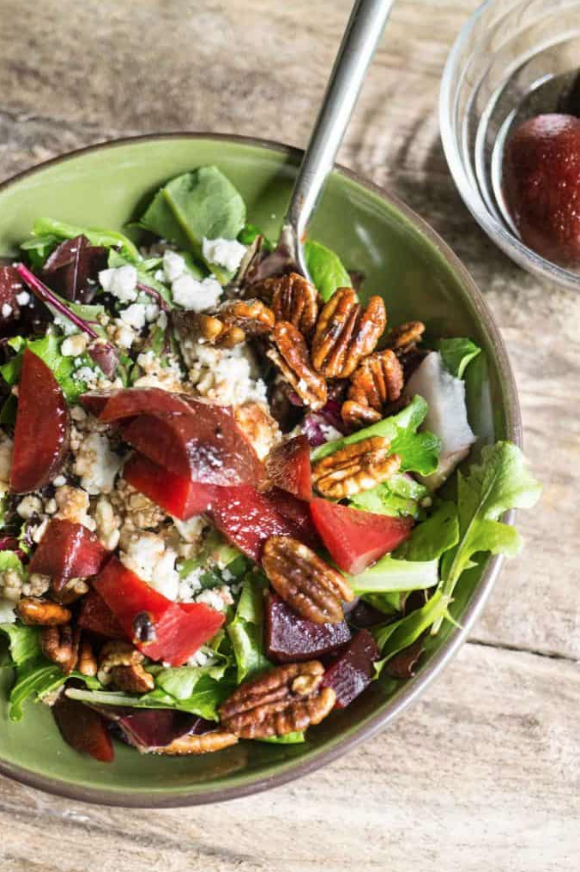 Penner calls this a "filling and earthy salad with a sweet side: Candied nuts, salty feta, roasted beets, quinoa, and salad greens all get drizzled with the most scrumptious sweet balsamic dressing!"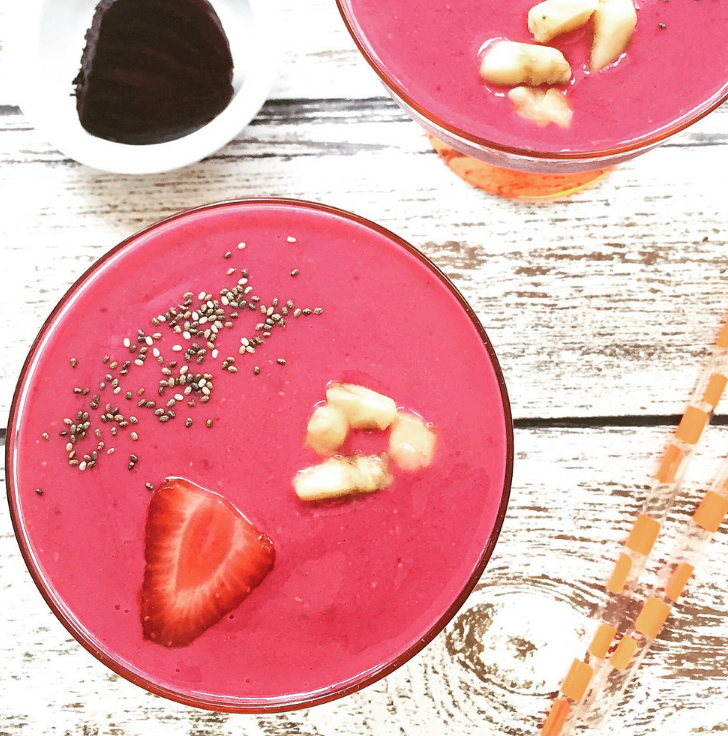 "Quench your family's thirst with this nutrient-rich fruit and vegetable Strawberry Beet Smoothie. It's made with berry juice, strawberries, banana, chia seeds, and roasted beets," Weiss writes.
15. Baked Spring Rolls via Stephanie McKercher of Grateful Grazer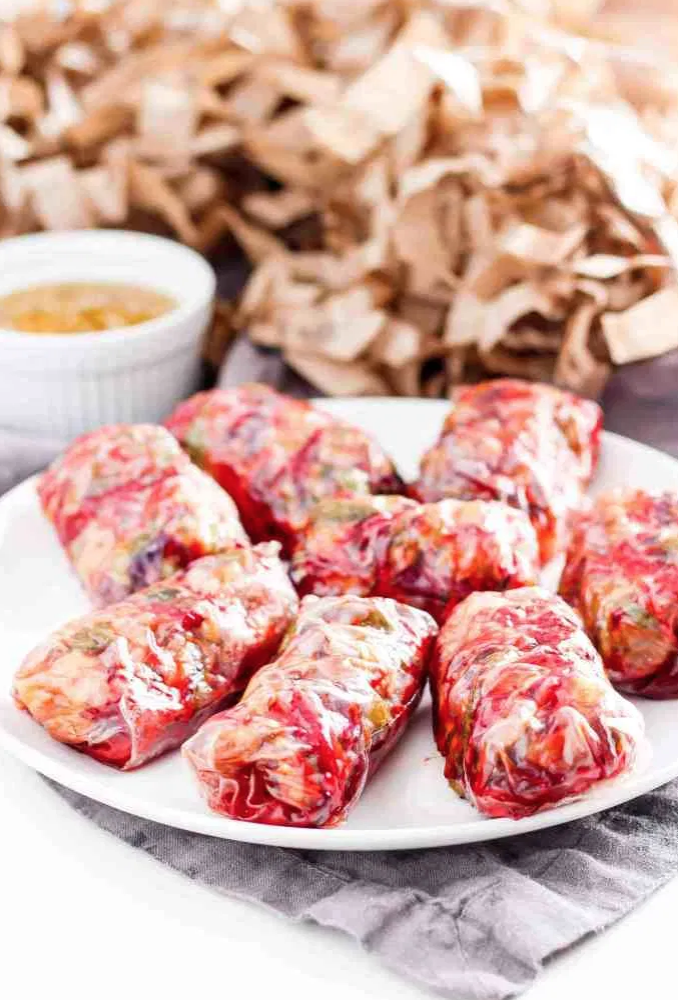 "Try colorful baked spring rolls stuffed with edamame and beets and served with sweet and spicy sesame ginger dipping sauce!" McKercher writes.
Now that you've got a list of delicious beet recipes, go ahead and pick some up at the store next time you go. And don't be alarmed if you see fuchsia in your toilet bowl for a couple days after eating beets. That's normal and you're OK.
---
---
Editor's Note: Anything in this article is for informational purposes only. The content is not intended, nor should it be interpreted, to be a substitute for professional medical advice, diagnosis, or treatment. Always seek the advice of your physician or other qualified health provider with any questions you may have regarding a medical condition; Any opinions, statements, services, offers, or other information or content expressed or made available are those of the respective author(s) or distributor(s) and not of KSL. KSL does not endorse nor is it responsible for the accuracy or reliability of any opinion, information, or statement made in this article. KSL expressly disclaims all liability in respect to actions taken or not taken based on the content of this article.
×
Photos
Related stories
Most recent Lifestyle stories