Estimated read time: 6-7 minutes
This archived news story is available only for your personal, non-commercial use. Information in the story may be outdated or superseded by additional information. Reading or replaying the story in its archived form does not constitute a republication of the story.
SALT LAKE CITY — You may find yourself cooking more during this coronavirus pandemic. I certainly am.
While I expected to have the desire to finally make lots of delicious recipes from my favorite cookbooks, magazines and websites, that just isn't the case most nights. Instead, I'm enjoying spending more time baking and getting creative in the kitchen — and that means having to get creative with my pantry items.
There's no right way to cook while we're staying at home; but in order to have options for delicious and nourishing meals, it's helpful to be strategic. Many stores are out of ingredients, grocery delivery is taking a longer time, and it's better for all of us to go to the store less frequently. This means it's time to strategically stock our pantries, freezers and fridges, and then get creative in the kitchen.
Keep in mind that strategically stocking up means buying what you think you'll need for a week or two, but not buying too much. Stocking up too much means other families can't get their basics, especially families using food assistance programs who can only purchase certain items.
Now's the time to buy comfort foods, shelf stable foods, and get ingredients that add lots of flavor to simple dishes. The latter will be helpful in being able to eat tasty food even when you don't have the time or the desire to get creative.
Try one of these 15 dietitian-recommended additions to boost the flavor in any simple pantry dinner.
Spices
South Asian spices
Registered dietitian Shahzadi Devje said adding spices is a great way to boost the flavor in many dishes.
"Being a South Asian dietitian, my pantry always has a stash of traditional Desi spices," said Devje of Desi~licious RD.
"For a recent fusion recipe, Vegan Indian Shepherd's Pie, I used dried fenugreek and chilli powder in the lentil filling and added black pepper to the velvety mash potato topping. It was bursting with flavor!" she said.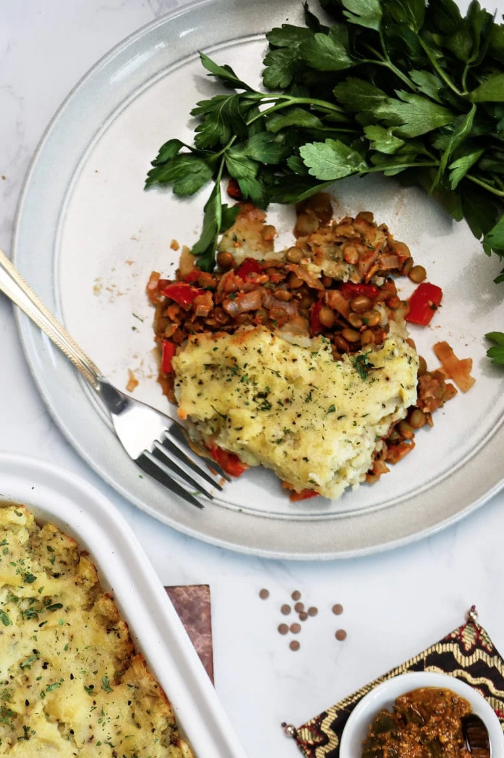 Everything but the bagel spice
Registered dietitian nutritionist Amy Gorin loves the burst of flavor from Everything But the Bagel seasoning. She said she uses it in various foods, from egg dishes to salads to hummus toast.
"I haven't been able to go to Trader Joe's since the start of the quarantine, so my fiancé and I have been making our own seasoning mix for now," Gorin said. "We bought all the ingredients — sesame seeds, dried onion and garlic, poppy seeds, and sea salt."
She recommends trying it with this hummus toast recipe.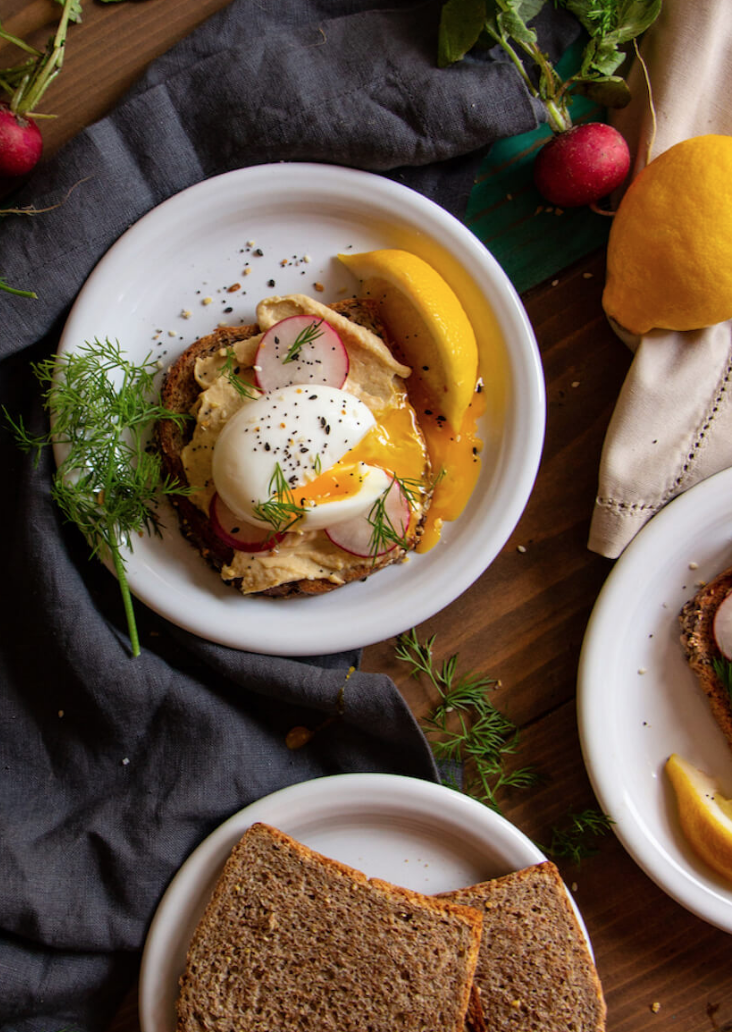 Cardamom
Registered dietitian nutritionist Maria Adams adds cardamom to everything from waffles to oatmeal to homemade lattes, and even muesli and granola. "It makes the everyday a bit more festive and reminds me to slow down and savor," she said.
Adams recommends these cardamom banana blender pancakes as a great recipe to get started with.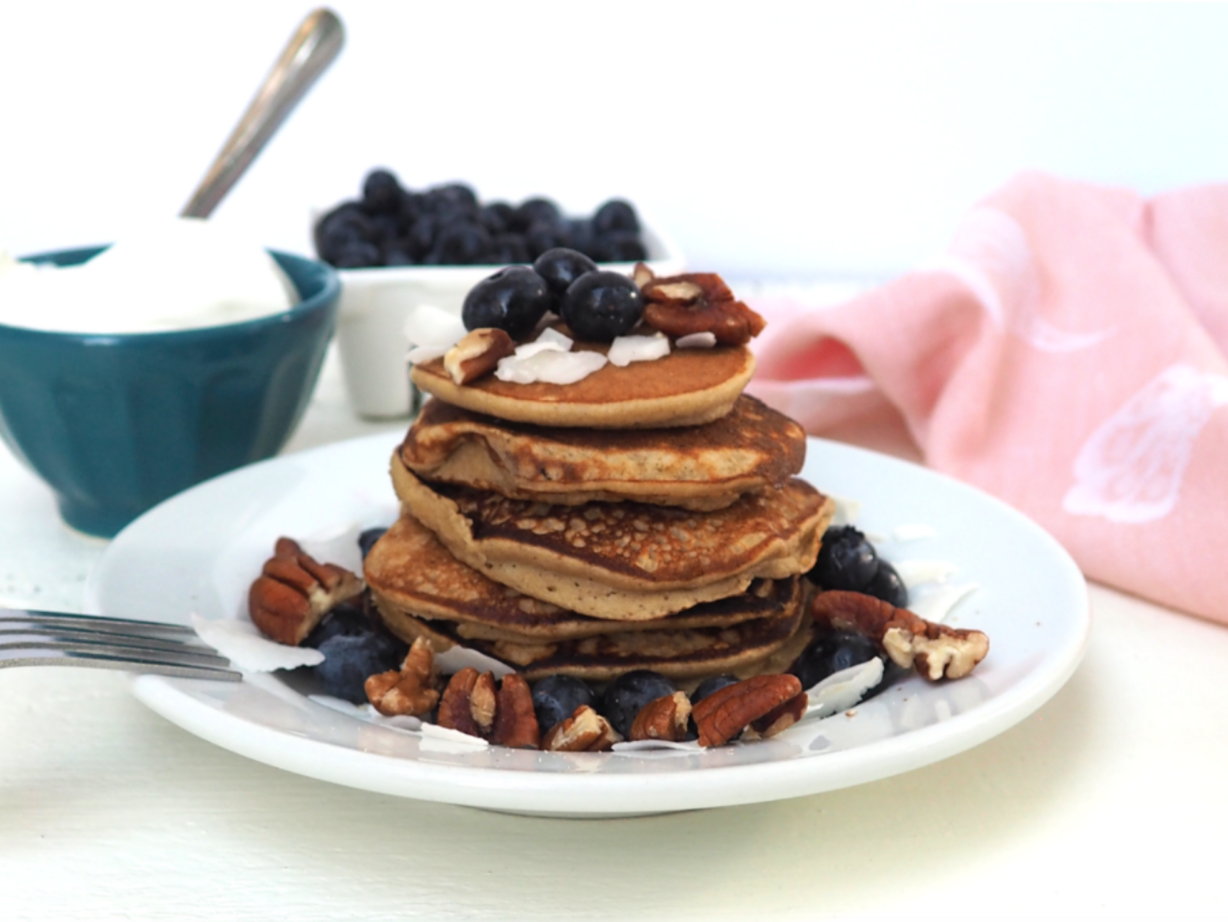 Cinnamon
Cinnamon is a great spice to use as a rub or marinade, according to registered dietitian nutritionist Jeanette Kimszal. She recommends using cinnamon on these sweet and spice pork chops.
Herbes de Provence
Herbes de Provence (also known as Herbs de Provence) is a spice blend of rosemary, thyme, tarragon and lavender, native to the Provence region of southeastern France, explained registered dietitian nutritionist Erin Hendrickson.
"It's a staple in my household because it's tasty on grilled foods, in soups and stews, or in baked goods," Hendrickson said. "I also mix it with quality olive oil for a simple bread dip."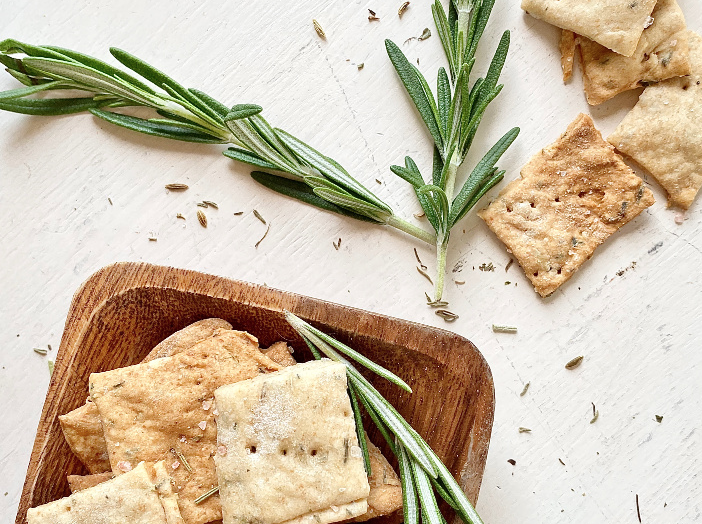 She recommends using it in these sourdough crackers.
Flavor Boosting Ingredients
Cheese
Registered dietitian nutritionist Sarah Schlichter adds shredded cheese or goat cheese to pretty much everything.
"Whether you're making a bean dish, stir fry, tacos or tortillas, a sandwich or soup, shredded cheese adds a savory satisfaction factor. Plus, it also adds some extra protein and calcium," she said.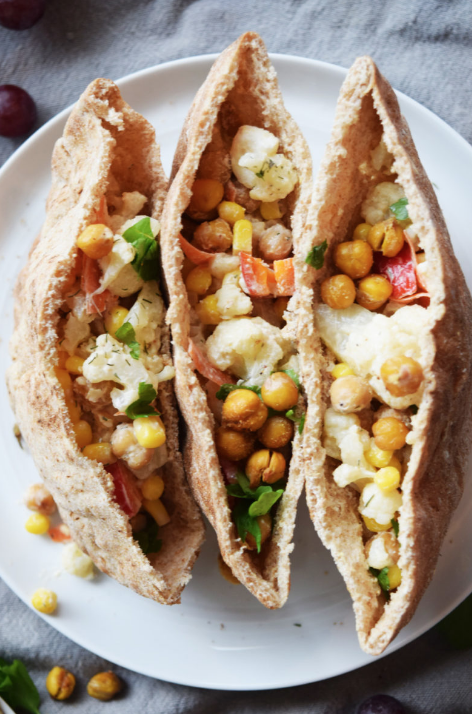 She recommends trying this roasted chickpea cauliflower sandwiches recipe that includes goat cheese.
Jarred roasted peppers
For registered dietitian nutritionist Lindsey Pine, jarred roasted peppers are an all-time favorite go-to pantry staple. "Not only can I chop them and add to salads, burrito bowls, and sandwiches, but I also love to puree them and add to dips, spreads, pasta sauces, and soups," Pine said.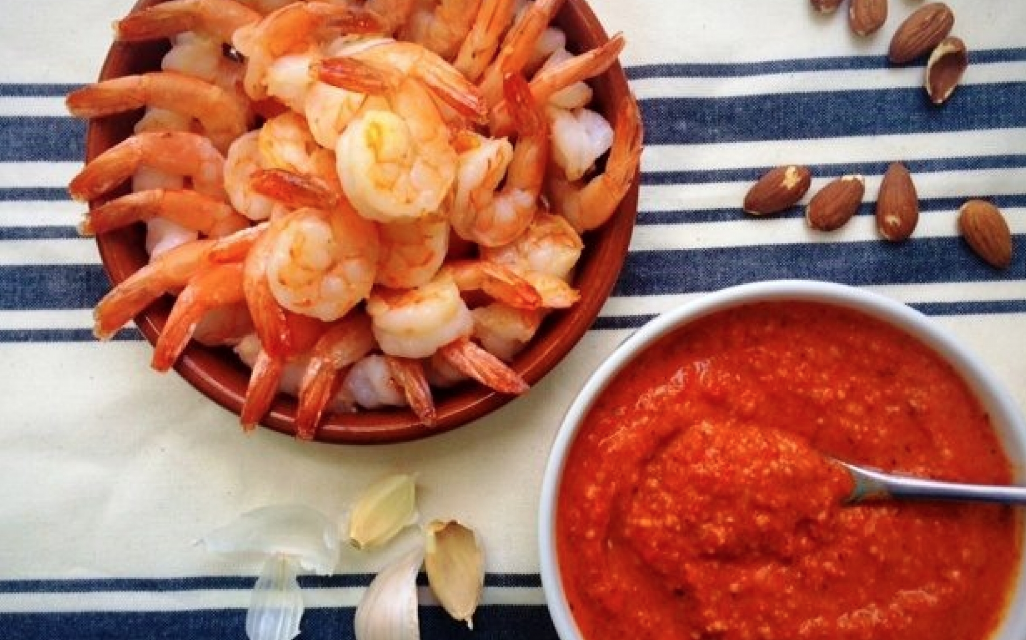 She recommends trying them in this shrimp cocktail with romesco sauce.
Sesame oil
Sesame oil is packed with flavor. Registered dietitian nutritionist Melissa Altman-Traub recommends trying a small amount in salads, marinades, noodles, rice, tofu and tempeh. You can use it in simple recipes like Thai peanut tempeh with rice.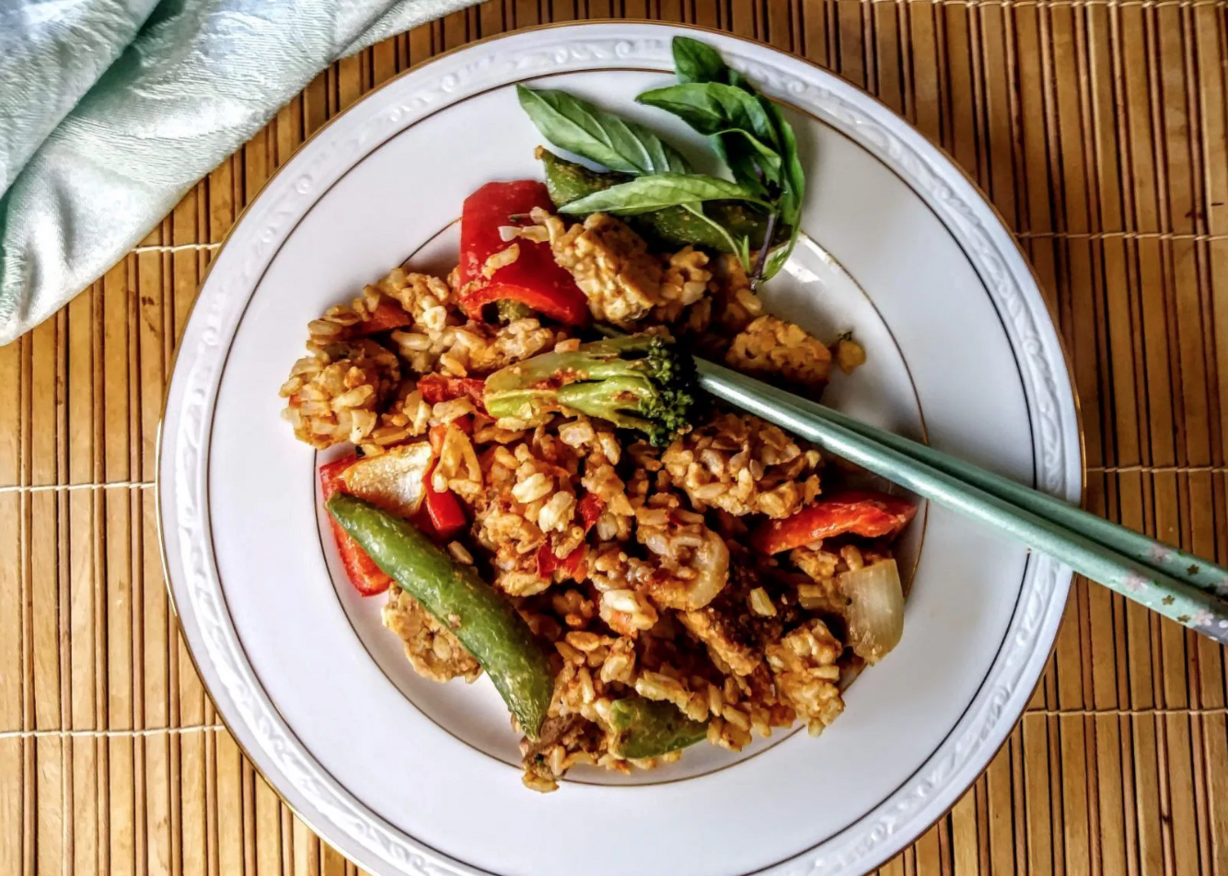 Dijon mustard
Registered dietitian Judy Barbe said you can coat fish, chicken or pork chops with dijon mustard mixed with honey and soy sauce. You can add a spoonful to egg salad or spread it on crackers with sardines.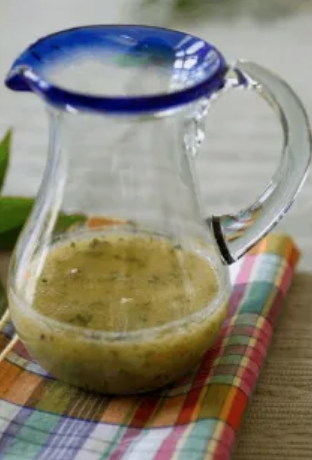 "It's easy, flavorful and economical," she said. "I make this dijon vinaigrette regularly. Though it's a salad dressing, I brush it on baked fish and drizzle it over roasted vegetables."
Fermented vegetables
"I love adding fermented vegetables, especially sauerkraut or kimchi, to foods or meals for a pop of flavor and a nice dose of probiotics, or healthy bacteria, for the digestive tract," said registered dietitian nutritionist Michelle Loy.
Some of Loy's favorite ways to incorporate fermented vegetables into a meal include mixing them into eggs or brown or black rice, served on top of fish or chicken, and tossed into a salad.
Balsamic vinegar
Registered dietitian Kristen Smith said using balsamic vinegar is an excellent way to add a tangy flavor with an underlying sweetness to a variety of recipes. She uses it in salad dressings, marinades for poultry, sauces for meats and to flavor cooked vegetables.
"One of my favorite recipes is roasted Brussel sprouts with balsamic vinegar," Smith said. "Because balsamic vinegar has such a bold flavor, all you will need is a dash or two for your recipes, which means one bottle typically goes a long way."
Salsa
Registered dietitian nutritionist Karman Meyer likes mixing salsa into scrambled eggs with vegetables or into grain bowls. "It's an easy way to add flavor without any extra work," she said.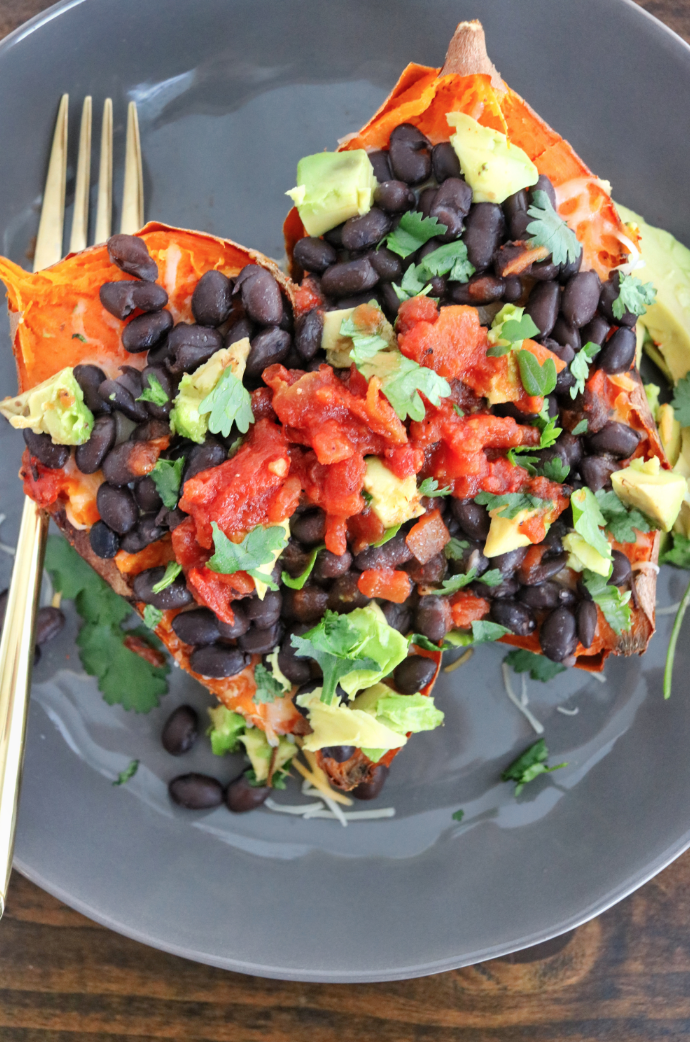 She added that salsa works as a great topping, like on these Loaded Southwest Sweet Potatoes.
Tahini
Registered dietitian Sharon Palmer loves adding tahini to recipes or using it in a flavorful sauce to accompany veggie burgers or veggie balls.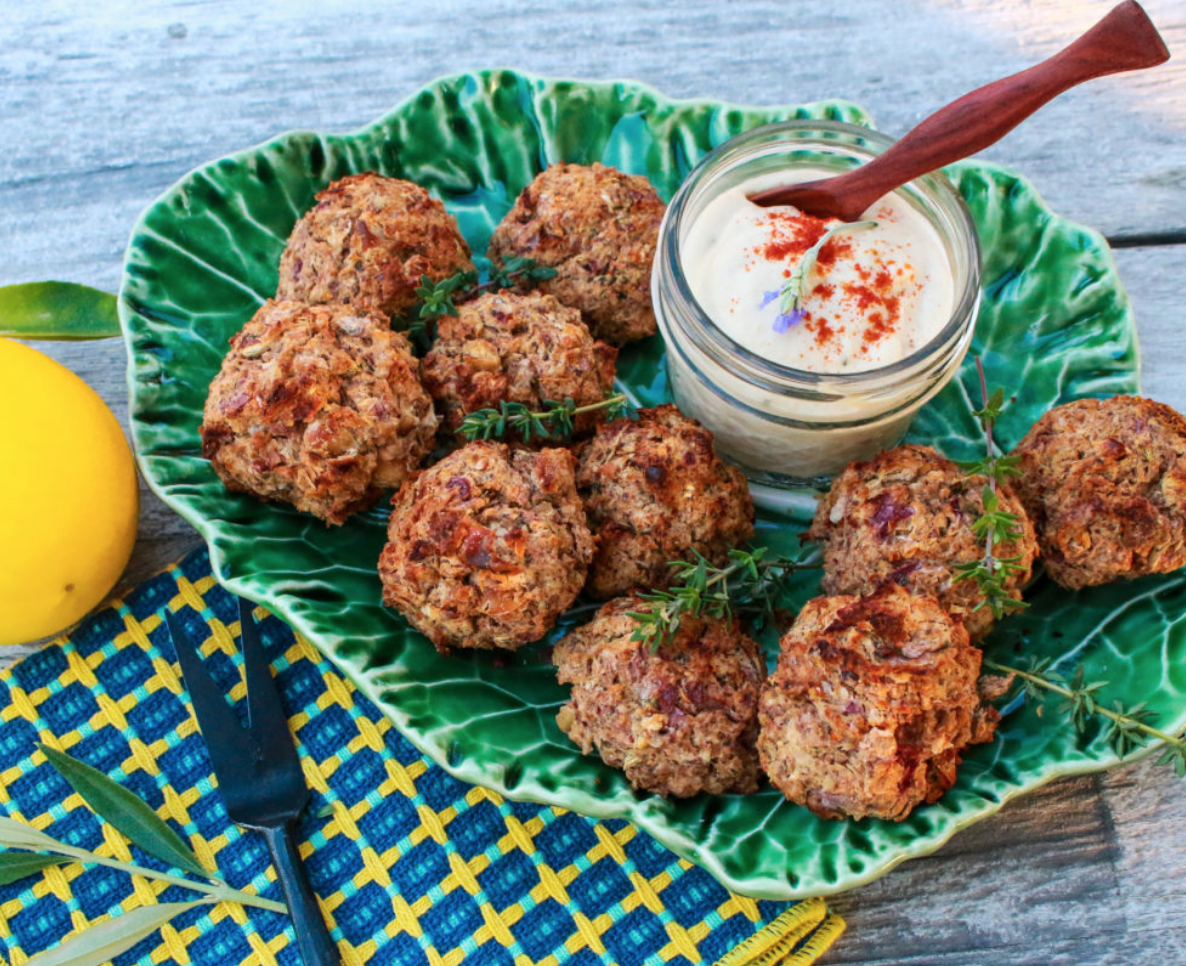 Sriracha
"I'm obsessed with sriracha and add it to everything from eggs to potatoes to sauces and even soup!" said Bri Bell. The registered dietitian loves that it has a great balance of flavor and heat.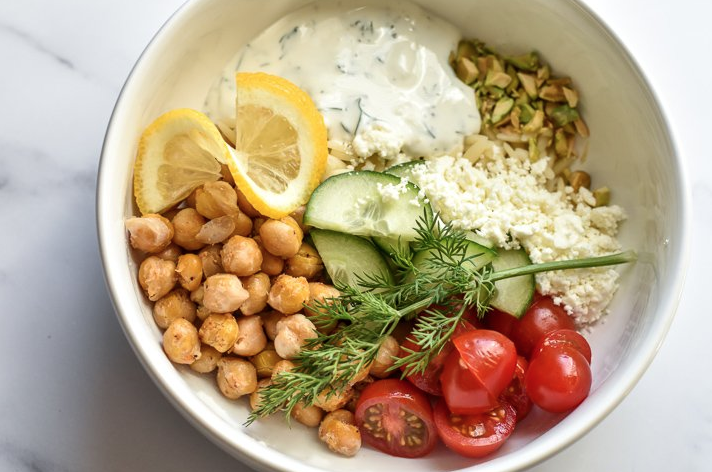 "If I taste my dish and it seems to be missing something, sriracha almost always does the trick to give it that 'something something' it was missing," Bell said.
Easy DIY sauces
Tzatziki sauce
Tzatziki sauce is simple to make and holds up well for several days, according to registered dietitian nutritionist Leanne Ray.
"You can use it to top everything from falafel pitas to salmon kabobs to my favorite chickpea power bowls," Ray said.
You can now add some of these items to your grocery list and enjoy super easy meals that don't lack flavor.
---
---
Editor's Note: Anything in this article is for informational purposes only. The content is not intended, nor should it be interpreted, to be a substitute for professional medical advice, diagnosis, or treatment. Always seek the advice of your physician or other qualified health provider with any questions you may have regarding a medical condition; Any opinions, statements, services, offers, or other information or content expressed or made available are those of the respective author(s) or distributor(s) and not of KSL. KSL does not endorse nor is it responsible for the accuracy or reliability of any opinion, information, or statement made in this article. KSL expressly disclaims all liability in respect to actions taken or not taken based on the content of this article.
×
Photos
Related stories
Most recent Lifestyle stories