SALT LAKE CITY — There were several search and rescue callouts to help injured or stranded hikers across Utah over the Memorial Day weekend. The incidents happened as many people went outside to enjoy the pleasant weather, and as the state has lowered COVID-19 risks in most parts of the state.
KSL.com was informed of at least 16 responses that happened during the three-day weekend. Some were because of medical incidents, while others were falls or stranded hikers. The responses included:
A 52-year-old man was stranded from a cliff face in northeastern Utah. The Uintah County Search and Rescue team and the Utah Department of Public Safety rescued him after campers in the area heard him calling for help. The group included a Wasatch County Search and Rescue team member who tried to find the man before they called for assistance. It took five hours to complete the rescue operation.
Seven calls in Washington County between Sunday and Monday. Washington County Search and Rescue responded to five of those on Sunday alone, including a mountain biker who died at Clavicle Hill just outside St. George, according to the St. George News. The team has responded to 70 calls since the year began; 24 of those calls were between May 1 and Monday, according to the Washington County Sheriff Search and Rescue Facebook page.
Three falls at the same waterfall in Provo Canyon within a 30-minute stretch Monday, according to the Utah County Sheriff's Office. A 9-year-old boy and a 19-year-old woman were listed in "serious-to-critical" condition after falling from the waterfall. The Utah County Search and Rescue team also received a call Monday night from an 18-year-old Washington man who reported he was stranded off the path at Mount Timpanogos. A helicopter located the man at about 9,000 feet elevation and dropped him supplies before he could be rescued Tuesday.
A 63-year-old woman slipped on a wet rock at Bells Canyon and hit her head and injured her shoulder in a fall on Monday. Salt Lake County Search and Rescue officials said the woman was able to walk down the canyon with some assistance. The team also responded to a report of a 45-year-old man suffering from a medical condition in Millcreek Canyon Sunday evening.
A lost hiker in Wayne County was located with the help of a Department of Public Safety helicopter Monday.
A 36-year-old New Mexico man got lost at Desert Peak Loop. The Tooele County Search and Rescue team responded to a call Monday night. A Utah National Guard team located him Tuesday morning after a helicopter failed to find him overnight. Officials said the man didn't have any equipment and had some symptoms of hypothermia but is doing well.
Washington County Sheriff's Sgt. Darrell Cashin, who serves as the liaison for the county's search and rescue team, told KSL.com Tuesday that the county team is about 20 responses ahead of where they were at this time last year. The 70 responses in nearly five months is already more than half of the 127 responses in 2019, as well.
He urges anyone heading outside to follow the basics:
Check the weather forecast for the area they are headed to. Be prepared for the conditions in that forecast.
Tell people where you are going and when you expect to be back. Cashin said some of the most challenging calls they get are from people who don't know where they started from and give a general area of where they might be.
Take extra water with you.
Make sure your cellphone is fully charged and don't waste your battery while outdoors. You may need it for communication or light after dark.
Bring a light jacket with you. You may not need it during the daytime, but it will keep you warm if you're stranded at night.
If you're jumping from a cliff into water, make sure you can see the bottom and are jumping into an area where you won't hit rocks.
People should also think to "dial back" their recreation a bit while outdoors, Cashin added. He said there are always calls from people who are hiking in an area above their experience level, or renting UTVs for the first time and going full speed in dunes. Both of those scenarios increase the likelihood of getting injured and needing to be rescued.
"Don't do anything really extreme — stuff you haven't tried before — at this time. We've had a couple of incidents where that's happened lately," he said, noting that responding to those types of incidents can be taxing on search and rescue teams. "Make sure what you're doing is safe before you do it," he said.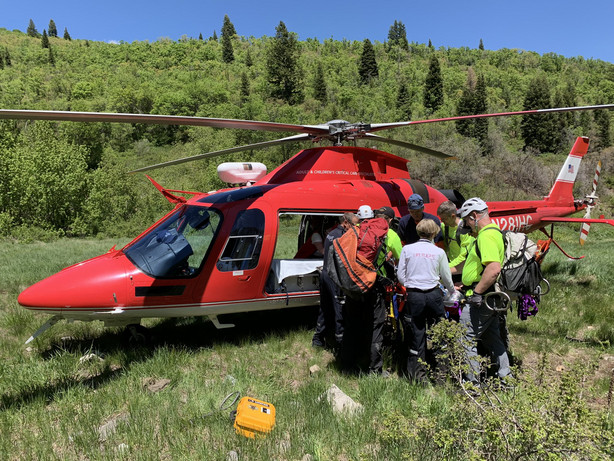 Utah County Sheriff's Sgt. Spencer Cannon said Monday that those who are recreating at cliff faces and waterfalls should take extreme caution as well. Those are areas where a hiker can do everything right, but moisture or loose rocks could give way and lead to the ground beneath to collapse.
"It's just critically important that when you're around an area like that … to exercise extreme caution," he said. "If you have children with you, make sure you keep them away. If you're an adult by yourself, or with another group, be extremely careful when you're around those edges. Don't risk the danger of falling by getting too close to the edge."
The COVID-19 pandemic has added an extra element to rescues this year. When someone calls because they need to be rescued, a dispatch operator will ask if that person has experienced coronavirus symptoms lately and other questions related to COVID-19, Cannon explained. Rescuers have personal protective equipment, but wearing a mask while conducting a lengthy rescue can also be different.
---
If you are in trouble, I don't want people to think they can't call. I want them to call, and then we'll address each individual incident and get you help and get you out.
–Washington County Sheriff's Sgt. Darrell Cashin
---
The surge in rescue calls come as there has been a noticeable uptick in Utah recreation in recent weeks. That's especially true in southern Utah, where large crowds in state and federal parks have led to some temporary closures. Gunlock State Park officials even shut off waterfalls just to thwart people congregating too close to each other and possibly spreading COVID-19 that way.
Cashin said he can't recall seeing as many people heading out into the Washington County desert as he has this year, and a large number of people recreating outdoors appear to be not just people from other parts of Utah, but also from neighboring states. That means officials have no clue what the COVID-19 risk is for each possible patient. That's why he thinks the coronavirus risk should influence people to make smarter decisions outdoors because they might also jeopardize getting search and rescue team members sick if they need to be rescued.
"It's concerning. There are people everywhere in the desert now," he said.
While that risk is there, officials still want people who need help to know that they should call as soon as they need to be rescued.
"I don't want people to think they shouldn't call," Cashin added. "A lot of times when someone gets hurt, or they get lost or they're dehydrated, they think 'well, just another 20 minutes, another 30 minutes.' And it complicates the rescue, and it makes it longer. If you are in trouble, I don't want people to think they can't call. I want them to call, and then we'll address each individual incident and get you help and get you out."
×