PROVO — Stepping into a doctor's office during the coronavirus pandemic might seem unnerving for some, but health care providers across the state are reassuring parents that now is no time to let up on preventative care.
Jordan Coburn is the mother of three growing little girls. At first, she was apprehensive about COVID-19. "I remember specifically asking my doctor, 'Do we need to worry about this?" she recalled.
But the pandemic hasn't stopped Coburn from taking her girls to her pediatrician for important wellness checks. Between all of her girls, she's had five visits to the doctor since COVID-19 developed in Utah.
"I asked, 'Should we get the shots right now?' And she's like, 'Absolutely!" Coburn said.
She learned it was especially important for her newborn, Penny, who went in for her 2-month and 4-month visits and got shots both times.
"COVID-19 is bad, but there's also a lot of bad things that we already have vaccinations for it, and I want my kids to be protected," Coburn explained.
Intermountain Healthcare's Dr. Neal Davis, a pediatrician at Hillcrest Pediatrics in Murray, said there's been a concerning drop in childhood and teen vaccinations in Utah since the pandemic started, mirroring trends across the country. He said the Centers for Disease Control and Prevention released a report suggesting fewer people are getting vaccines.
"We are about 30-40% down on ordering of vaccines compared to typical years," he explained.
Davis said it's important to stay on top of your child's immunization schedule to get the optimal levels of protection. He advises against skipping appointments.
"That helps us stay at that herd immunity level," Davis explained. "If we start dipping down below certain thresholds or levels, then we enter into territory where some of these diseases that we have almost forgotten about, like the measles, can come back."
Coburn said her doctor's office took many precautions to keep her family safe. Her clinic already has a separate "healthy" and "sick" office to keep contagious kids away from those who are well.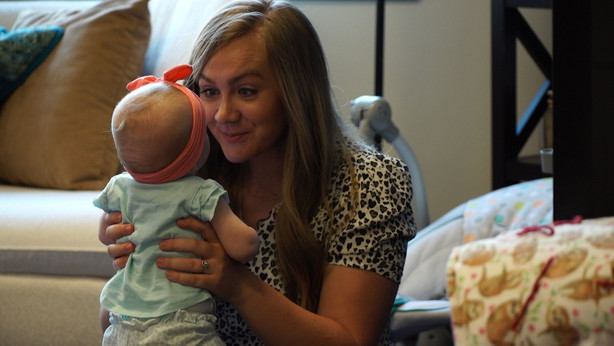 Before the Coburns arrived, the clinic called Jordan Coburn to check her in over the phone, allowing her to bypass the waiting room. When she arrived, "I was issued straight to my room, which I was told was disinfected before and would be disinfected after," she explained.
The nurse took their temperatures and asked if they had traveled outside of the state. She said everyone was wearing a mask.
Coburn said usually the nurse will weigh and measure her kids in the common hall, but this time the nurse had already brought the equipment into their room. She said she was grateful for the extra measure of protection.
Davis said other clinics have patients wait in their car and call to check-in. When the doctor is ready to see the patient, a nurse will come and escort the family into the clinic.
Coburn also brought her oldest daughter, who had a strep infection into the "sick" office a few weeks ago. She said the procedures were very similar to the healthy office, but they didn't sit down or touch anything at all, which gave Coburn peace of mind.
Davis says many offices are trying to provide distance in terms of both space and time to create a low-risk environment. "Most clinics I'm aware of are doing all of the well preventive type care in the mornings and creating a buffer of space and time between the afternoons when they will see kids that may come in for other reasons," he described.
Davis says preventative care goes beyond just vaccines. "But we're also screening children for growth, for development. We're doing vision screenings for kids," he said.
More Your Life Your Health:
He said it's important to catch a vision problem early, among many other issues. He said there is great value in tracking your child's milestones, especially for newborns who are at critical stages for brain development.
"We don't want to get too behind on those services for children because it really matters to a lifetime," Davis said.
Coburn said her oldest daughter was a little bit behind on her speech development, but had been monitoring it through each of her wellness visits. "She's actually caught up and now she's where she needs to be," Coburn said.
Davis wants parents to know they're not a burden on the health care system and is encouraging them to bring their kids into the clinic. "That's what we're here for," he said.
In the end, Coburn said she felt comfortable and safe taking her family into her pediatrician. "I would be more worried if I didn't go and get her vaccinations than I would be to go to the doctor's office and get her vaccination," she said. "I trust that that's what's gonna keep my babies the safest."
Coburn says as a mom, she is grateful to have the resources she needs to take care of her family. "When you lay down in bed at night, what more can you want than for happy and healthy and thriving kids?" she said. "It's the best job in the world."
Davis encourages parents to call their child's medical office to figure out what services are needed and to ask about the precautions they're taking. He said mental health screenings, especially during this pandemic, are another important element in a regular wellness check.
"We're really looking for things related to symptoms of depression or anxiety, potentially feelings related to traumatic experiences or even thoughts about suicide," he said, especially with increased isolation during COVID-19. "Teens will respond, generally, differently than other ages of children when they're struggling. They're not always going to come out and tell you."
×
Photos
Related Stories