Estimated read time: 5-6 minutes
This archived news story is available only for your personal, non-commercial use. Information in the story may be outdated or superseded by additional information. Reading or replaying the story in its archived form does not constitute a republication of the story.
SALT LAKE CITY — Since Utah Gov. Gary Herbert and state superintendent Sydnee Dickson announced plans to close public and charter schools through the end of the school year in response to the COVID-19 pandemic, districts and high schools have been preparing ways to conduct graduation ceremonies and commencement exercises virtually.
Many of those plans started to roll out this weekend.
Here's a look at two districts, in Weber County and Washington County, who published their plans recently, as well as another with plans to move forward in Alpine. Additional school districts will be reported as they finish their preparations.
Weber School District
Graduation ceremonies for each of the district's six high schools will be conducted online, the district announced Monday. Those proceedings will be streamed online and recorded for future use, with links emailed to each student as the May 29 ceremony approaches.
"We sincerely acknowledge the sense of loss many of you may be feeling as a result," says a letter signed by executive director of secondary schools Gina Butters and each principal. "It's OK to be a little sad and disappointed. We applaud, however, the valiant efforts you are taking to remain optimistic and complete graduation requirements via remote learning."
Here's the schedule of the five high school graduations planned for May 29:
Weber Innovation, 10 a.m.
Two Rivers, 11 a.m.
Weber, 12 p.m.
Fremont, 2 p.m.
Roy, 4 p.m.
Bonneville, 6 p.m.
As the state restrictions are eased in response to the pandemic, schools are invited to hold a "celebration" for the Class of 2020, preferably outdoors, sometime in the late summer or early fall.
"It is very important to us that our district's seniors know that we are deeply saddened that we must modify the traditional graduation ceremony experience," Butters wrote. However, we all acknowledge that the health and safety of each member of our community is the top priority. We will work very hard to creatively provide two separate and meaningful events to honor the accomplishments and sacrifices of our seniors.
"We strongly believe that there will never be a graduating class like the Class of 2020."
Washington County School District
Because the Utah Department of Health does not anticipate lifting restrictions on large gatherings before June 30, St. George-area schools have proceeded with plans to virtually honor seniors at the district's nine high schools in May.
However, if restrictions are lifted early, each of the district's schools will immediately forgo virtual graduation and plan a traditional ceremony on each high school's football field, according to a letter from superintendent Larry Bergeson.
"Please understand the need we have now to establish plans, in order to make your end-of-year experience as positive and rewarding as current conditions will allow," Bergeson wrote. "We are sorry current conditions will not allow for more, but we hope you will understand and recognize the importance of this time in your life."
Each school will designate a time and place to record senior graduation traditions, such as the annual walk through each school's respective letters wearing the cap and gown, and receiving their diploma.
Students will be expected to maintain traditional formal attire under their robes during filming, according to a letter from Snow Canyon High School; shorts and flip flops will not be permitted. Parents or legal guardians will be allowed to view each recording, though siblings, other family and friends should remain at home.
Those pre-recorded segments will be edited together, in addition to talks and comments from student leadership, valedictorians, each principal and a school board member, and a performance by the school's band, orchestra and/or choir. The final product will be live streamed online, as well as on CEC-TV, the over-the-air local-access programming produced by Dixie State University, according to district spokesman Steven Dunham.
"Feel free to use as many air horns as you'd like while watching," Bergeson's letter reads in an obviously cheeky tone.
Each student will also receive a digital copy of their school's graduation program.
Each school's graduation ceremony is scheduled to run on CEC-TV during their previously scheduled traditional ceremonies, Dunham said. For example, that means Snow Canyon will be broadcast Thursday, May 21 at 7 p.m. MT, barring any last-minute changes, according to a copy of the school's plans sent to students, parents and faculty members.
"This year will certainly be one we will never forget," Snow Canyon principal Warren Brooks wrote to parents and seniors in his school. "The students of the Class of 2020 will be remembered for their accomplishments, resiliency and the way they overcome obstacles during this historic time."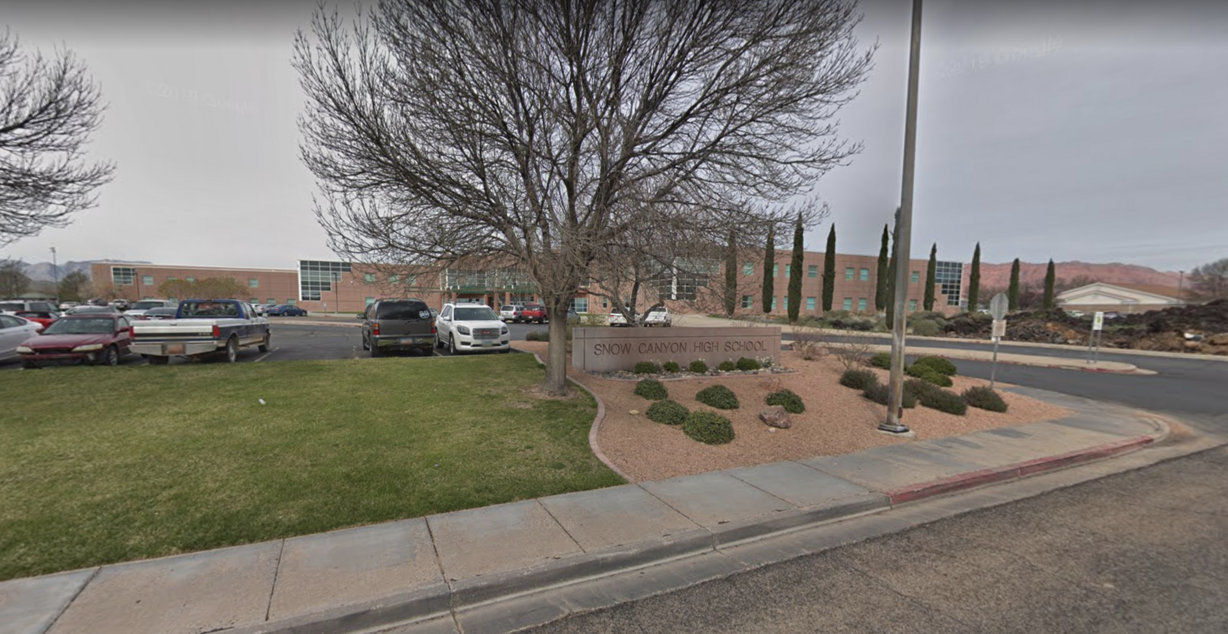 Alpine School District
Alpine officials received feedback from more than 6,000 individuals via a survey to local seniors, parents and teachers, and many of them noted the need to conduct commencement ceremonies at the end of May.
"To note, seniors expressed the desire to continue with many of the traditional elements associated with graduation," the district wrote in a letter posted to its website April 22. "They also want to celebrate together as a class. Having a postponed ceremony later in the fall will cause many students to miss out on the opportunity to participate."
With that in mind, Alpine School District has begun preparations for a virtual ceremony by the end of May that will provide seniors:
The opportunity to "walk" in caps and gowns, have their name announced, receive a diploma from the principal, and have a photo taken by the school's block letter(s)
Individual recognition via a printed program
Honor cords and collars for those that qualify
Yard signs and other "unifying moments" for seniors
Virtual programs with speeches, music, recognition of individual achievements and a highlight video
District-wide fireworks on the same night at all area schools.
In addition, each high school will host a "senior celebration" once restrictions are lifted, allowing graduated seniors to return to campus, if they haven't left for college, military, employment or religious service before then.
×
Related links
Related stories
Most recent Education stories