PROVO — Construction could begin as early as next year on a nearly 3-mile pathway that would connect the popular Provo River Parkway Trail from Utah Lake to Deer Creek Reservoir and Wasatch County trails systems.
The project, which is being developed by the Mountainland Association of Governments and the Utah Department of Transportation, is still in its planning stages but will be among projects up for possible funding later this year. Should the final funding come this year, a "best-case scenario" would be that construction begins in 2021, said UDOT spokesperson Geoff Dupaix.
"It seems to be an important project for several of our stakeholders — whether it's Utah County, Wasatch County, the Mountainland Association of Governments — it's really because of the potential it has to connect or bring two networks together," Dupaix said. "There's a feeling that by building this, it really would benefit all the residents in Wasatch County, Utah County and the Wasatch Front by building this one segment.
"We've heard over the years how important this is in various settings, whether you're meeting with mayors, planners or trail groups — or just users who are currently on the trail and enjoy riding Provo Canyon," he added. "It's a very popular area to recreate because it's very accessible and it's also really beautiful up there."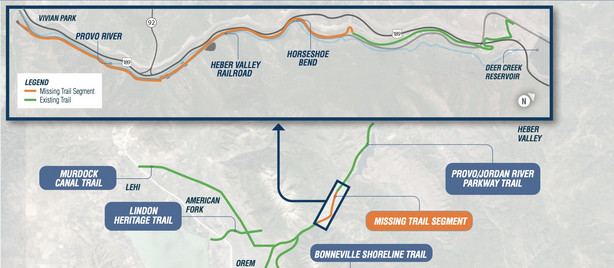 The current Provo River Parkway Trail runs along the river from Utah Lake State Park to Vivian Park, inside Provo Canyon. It's about 15.2 miles from start to finish, and it's a popular path for runners, bikers and anyone out for a walk because it goes through Provo and cuts past scenic areas like Bridal Veil Falls.
There's also a growing set of trails in Wasatch County that ends at Horseshoe Bend southeast of Deer Creek Reservoir on the other end of the canyon; however, there's a noticeable 3-mile gap between the two trails that, if connected, would link more 100 miles of trail systems between the two counties.
In a short overview, the two agencies stated that adding the connecting segment would improve recreation opportunities for trail users and provide cyclists in Provo Canyon an alternate route to using U.S. Highway 189, which also runs adjacent to the river in the canyon. That, they argue, would enhance safety in the area.
Dupaix explained there have been discussions of linking the trails since at least the early 2000s, but the topography between the two trails is one reason it hasn't happened. The project calls for not only a trail, but also retaining wall concepts to keep it separated from the Heber Valley Railroad and the river.
"It's been a challenge to put this 10-foot (wide) trail in while minimizing impacts to the river and to the Heber Valley Railroad. So, because of the steepness of the hillsides where this would have to go, it poses a little more significant challenge for a trail than what you may normally see," he said. "By connecting the segment, now you're connecting the existing network and future network in Wasatch County to the great network that we have in Utah County and along the Wasatch Front."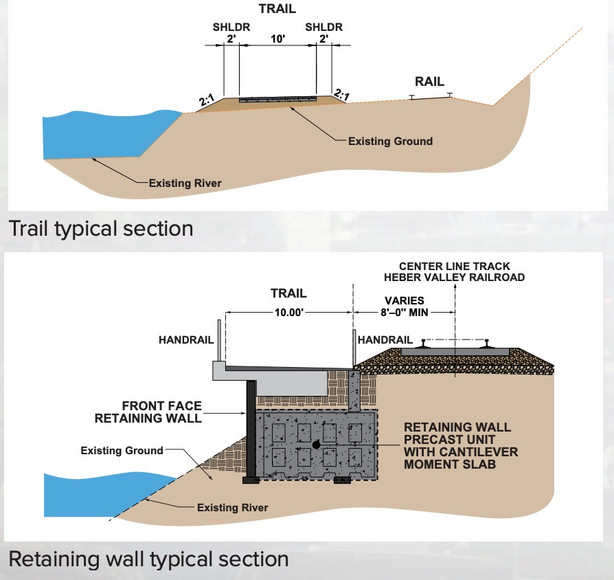 About $4.4 million has already been raised for the project. That includes money awarded from the U.S. Department of Transportation in 2016, according to the Provo Daily Herald. Dupaix said about another $10.3 million is needed to fund it completely, from design through construction.
It's among many projects that could be added to Utah's 5-year Statewide Transportation Improvement Program, which is a regularly-updated list for the Utah Transportation Commission to consider and potentially fund. It would have to compete with other potential projects across the state to wind up on the list.
"The commission looks at that and takes that into consideration as they try to go through the difficult task of prioritizing and allocating funds to these future projects we've identified," Dupaix said. "With that schedule, that's really something that the commission has to decide: Is that a high-enough priority for 2020-2021, or does it need to be bumped back and looked at in a different year?"
A public comment period regarding what's recommended to be on the five-year list is typically held around July, he added. That said, people can still voice their opinion on that list outside of the public comment window by emailing transportationcommission@utah.gov.
×