PROVO — Jasen Ah You wasn't just born and raised as a BYU football fan.
Sure, that came with the territory, as he was reminded every Saturday when his father would wake him up to take him to the California church meetinghouse to watch football. But Ah You was literally born into the BYU football program.
"I was born in Provo. My dad was playing football, and the team doctor delivered me," said Ah You, whose father, Charles, played running back at BYU from 1971-75.
Who better, then, to lead the Cougars' recruiting efforts?
BYU made the position change official Monday, naming Ah You as the executive coordinator of recruiting and player personnel — a move teased nearly two months ago by head coach Kalani Sitake. In his new role, Ah You will be joined by Jack Damuni, the Cougars' alumni director who will slide into the role of executive coordinator of on-campus recruiting and community/player relations.
"Recruiting is a critical part of everything we do, and I am excited to have both Jasen and Jack putting their vision and energies in our daily recruiting efforts," Sitake said in a statement from the university. "They have both done an excellent job on our staff the past four years, and I am confident in what they will be able to help us accomplish in their new responsibilities."
It's a long set of titles to say that Ah You is, essentially, in charge of recruiting, the lifeblood of any college football program — but in particular, BYU, which often works differently as the flagship educational institution of The Church of Jesus Christ of Latter-day Saints.
"If we're going to play a (Power Five) schedule, we're going to need P5 kids," Ah You said. "Not just on the field, but they've got to be competitive in the classroom. I don't need perfect kids, but I need guys who are willing to strive to be better than where they are already at."
Because recruiting at BYU isn't just about finding the best passer, best tackler or top 40-yard dash time. It isn't just about finding the four-star and five-star athletes, and finding ways to make them fit into the current setup.
Ah You will chase plenty of those top prospects, especially when it comes to local Utah talent and prospects who are also members of the school's sponsoring faith. The Cougars will leave no stone unturned, diving into the NCAA transfer portal when necessary, and will re-recruit previous targets whose first destination doesn't work out.
He won't just recruit high school prospects, but graduate transfers and junior college transfers. Anyone who can fit in at BYU — in football, academics and lifestyle.
"Other universities try to imitate it," Ah You said. "But you can't replicate the BYU experience."
Ah You's previous experience working as player personnel director has aided his ability to move to recruiting. But it's also given him experience with recruiting to BYU, beyond the football offices.
He's worked intimately with BYU President Kevin Worthen's office in the administration building, and with the Honor Code Office under new director Kevin Utt.
"I'm able to see a perspective of the mission of BYU from the administrative side, and make sure the athletes we bring in aren't just a great fit on the field, but what BYU and the church stands for," Ah You said. "It helps me to see a bigger picture, not just the recruiting aspect, but the whole spectrum of what BYU has to offer."
New #BYU recruiting director @Jasen_AhYou describes today's recruiting "checklist."

"It's my job to show that you can achieve all your goals here." pic.twitter.com/1AxVVrnBIf

— KSL.com Sports (@KSLcomSports) May 11, 2020
That even includes what some outside the university see as the "ugly" side of the school, such as the Honor Code Office in a time of serious change and upheaval. Ah You's seen that, too; he's currently serving in a bishopric of a young single adult ward for The Church of Jesus Christ of Latter-day Saints in Provo.
In Ah You's mind, the honor code and BYU's strict academic standards shouldn't be barriers to the athletic department's recruiting efforts.
"For me personally, I love the honor code," he said. "I love how it's run, and I think they've made some great changes under Kevin Utt.
"That's what makes us different. No one else has it like us. We can't be afraid of it. I think we need to be on the forefront of it; where else can you go with 85 returned missionaries on your team? I think that gravitates to moms and dads, and they should see us as an extension of them. They should feel safe coming here."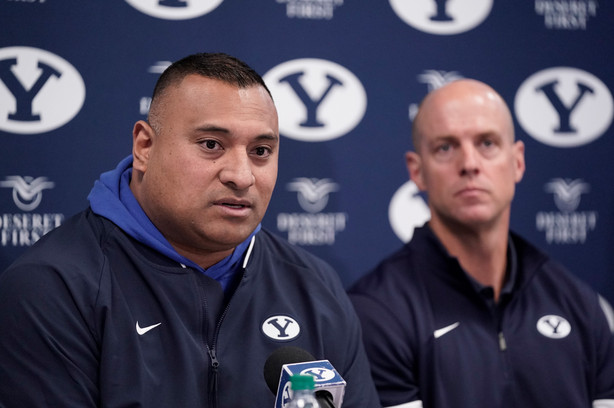 Ah You has a long family history with BYU. Beyond his father, his son Chaz is a linebacker on the current squad, and his brothers Matt (2003-05, 2008) and C.J. (2001-03) both played for the Cougars, with C.J. also playing at Oklahoma prior to a six-year NFL career.
In addition, cousins Kingsley (1992-93) and Harland (1995-97) also played at BYU.
The Ah Yous are as much a part of the BYU football history and tradition as almost any other family. But that was never a part of Jasen Ah You's private "pitch" to sign his son. Chaz Ah You had to make the decision on his own — his father didn't work at BYU for much of his own recruitment. But did Jasen Ah You see the benefits of playing for the Cougars? Of course he did.
"I wanted my son to make a decision that was for his life," Ah You said. "Being able to go to all these universities and see what their pitch was, what they had to offer, and then to compare that to what BYU had to offer — I can say right now, there is no place like BYU.
"It's my job and my responsibility to show recruits that they can find everything they are looking for here, and so much more."
Jasen Ah You has made his own name in football, too.
Ah You worked as a defensive assistant at Utah from 2008-10, when he helped develop an NFL core that included Paul Kruger, Derrick Shelby, Stephen Paea, Sealver Siliga and Koa Misi, among others. He was the defensive line coach at Snow College from 2004-07 and spent the 2011-2015 seasons as defensive coordinator at Westlake High School, including coaching Chaz Ah You prior to his move to BYU (and Chaz's transfer to Timpview).
"Everything that I thought of as a kid of BYU football is still very relevant now," Ah You said. "It's my job to show the new generation that you can achieve all your goals here at BYU."
×
Related Stories