SALT LAKE CITY — From the moment he committed to the University of Utah, Jaylon Johnson was dead set on his goal of getting to the NFL. Even his commitment to Utah was a calculated decision to go to a school that could get him to the top football league in the world.
His singular mindset was set well before he enrolled at Utah, but that is where his plan became a reality. The 6-foot standout cornerback excelled for the back-to-back Pac-12 South Division champs and earned a starting role on the team his freshman season. In the three years with the program, his NFL stock rose amid Utah's growing success.
But Utah was not the end goal.
"I didn't train to finish my career in college, I trained to play in the NFL and to play at the highest level," Johnson told KSL.com ahead of the draft. "Everything that I've worked for is to put me in this position, and now that I'm here, I just thank God for getting me here and allowing me to take what he gave me and take it to the next level."
That dream had to wait a little longer than expected, though, as Johnson failed to hear his name called on the opening day of 2020 NFL draft, even though many projections had him as a possible late first-round pick.
On Friday, Johnson finally heard his name called by Commissioner Roger Goodell, who announced each pick from his basement.
"The Chicago Bears select Jaylon Johnson, Utah."
Johnson was selected No. 50 overall in the second round of a draft that was forced to go all virtual due to the ongoing coronavirus pandemic. The draft was originally scheduled to take place in Las Vegas. Regardless of the logistics, though, Johnson's name was called as the second player selected by the Bears.
"I'm most looking forward to getting my name called honestly," Johnson said ahead of the draft. "Hearing my name get called and having that one team tell me that they believe in me, and that they're going to go ahead and pick me, and that they want me to do big things for their organization, and then having that surreal moment seeing that my life is going to change not only financially but other things as well, I'm just looking forward to the emotions of it all really."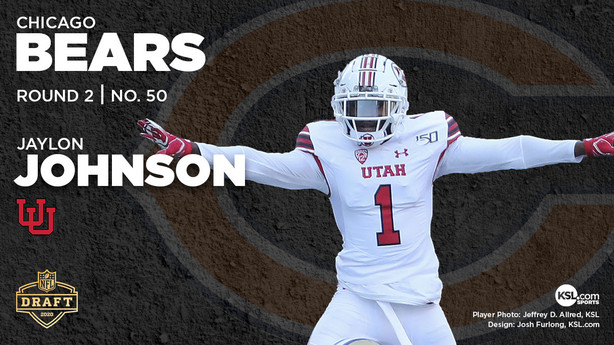 The Fresno, California, native was the first University of Utah athlete selected in the 2020 draft, and the seventh corner selected overall in the country. He joins tight end Cole Kmet of Notre Dame, who was selected No. 43 in the second round, with the Bears.
At Utah, Johnson highlighted a defense that featured several NFL-caliber athletes, many of which are expected to hear their names called this weekend, too. Johnson was named a 2019 All-American and is a two-time All-Pac-12 First Team cornerback after starting in 29 games with the Utes.
Johnson was known as a lock-down defender as he limited receivers' ability to bring down the ball for much of his time with Utah. He finished his three-year career with the Utes with seven interceptions, 28 passes defended and 21 pass breakups.
"With Jaylon, there wasn't — to be honest with you — there wasn't a lot of development that had to take place, he was pretty darn good when we got him. He was a guy that was the whole package at corner," Whittingham said of the former four-star recruit.
"Now we had to fine tune some things, and I don't want to diminish what coach (Sharrieff) Shah, his work with Jaylon through the years, because he definitely improved and became a terrific player," he added. "But he had all the tools, and it's just another illustration of a guy coming in: if you do what the process requires and what's asked of you and do things right, then good things happen on the back end."
Ahead of Utah's Alamo Bowl matchup against Texas, Johnson declared for the NFL and decided to skip the postseason game to focus on the draft. Following an invitation to the NFL Combine, where Johnson ran a 4.50 40-yard dash, he underwent surgery to repair a torn labrum he played through since September.
The newest Monster of the Midway is DB Jaylon Johnson!

Welcome to Chicago, @NBAxJay1. 🐻⬇️@MillerLite | #BearsDraftpic.twitter.com/trWDRAaHoP

— Chicago Bears (@ChicagoBears) April 25, 2020
Johnson's agent, Doug Hendrickson of Wasserman, told NFL.com: "He wanted to play for his team last season and not let them down. The guy's tough as nails for fighting through that the whole year, and he wanted to compete at the combine at the highest level."
Johnson is projected to sign a $6.5 million total value contract, which includes an approximate $2.3 million signing bonus, according to draft pick numbers by spotrac.com.
"It's definitely a blessing," Johnson said. "This is something that I've trained for and prepared for my whole life. Having a God-given talent and ability is something that he gave me, and for him to put me in this position definitely is humbling. This is something that I've trained for my whole life."
×