SALT LAKE CITY — On the Friday night before the University of Utah football players reported for fall camp, Jaylon Johnson watched film in the program's football facility.
It was 9 p.m. and Jaylon could have been doing a myriad of other things, particularly on the final weekend before the grind of fall camp was looming. Instead, the junior cornerback wanted to be better, wanted to perfect his game ahead of camp.
"That tells you the kind of dedication and attention to detail that he's had all summer long," Utah head coach Kyle Whittingham said about his high-profile star of the defense. It was a moment that stood out to Whittingham, who knows all about how to get the most out of his athletes, even a four-star recruit with natural talent.
But on that Friday night, Jaylon didn't watch film because a coach had asked him to. No, it's the drive within him and a lifelong vision to perfect his game that makes him arguably one of the best returning cornerbacks in the country. That one night is not unfamiliar to the 6-foot, 195-pound native of Fresno, California. If anything, it's a microcosm of his work ethic and never-give-up mentality.
"This is a really important year for him and he's worked his tail off," Whittingham said.
Jaylon entered the season as a proven lockdown corner and has shown he can go toe-to-toe with high-profile receivers. Few balls are thrown in his direction because there's a more-than-likely chance it's never going to make it into the receiver's hands, as evidenced by his numerous interceptions, including a 100-yard pick-six against Stanford last season.
He thrives under pressure and doesn't flinch now that the spotlight is on him for his junior season, even as he's being talked about as a potential first-round pick in the 2020 NFL draft.
"There's no pressure for me," he said. "It's just: keep on playing football and just keep staying true to myself. I mean, I always tell myself I want to be the best whether other people agree or not. Now, it's just certain people are starting to recognize what I told myself I was.
"There's no pressure to stay true to myself, and (I'm) just trying to stay confident and play the game the best way I can."
But Jaylon wasn't always the star or the one that people pointed to as an up-and-coming talent. Truthfully, he was one of the smaller kids wherever he went and lived in the shadow of his older brother Johnny, a former four-star cornerback that played at UCLA from 2013-16.
He was always known as "Johnny's little brother," his mother Carmella Johnson said. Jaylon would tag along with his brother for pickup basketball games or games on the neighborhood gridiron. But the older kids would often cast him aside, as is the right of the older kids simply because they're older and bigger.
It's the unspoken rule as a child: Younger kids have no business interrupting the obviously superior talent of the older, bigger kids.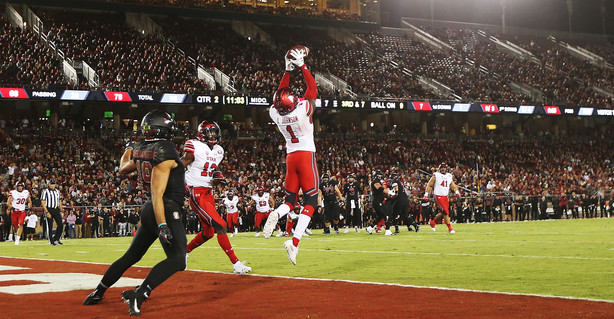 But Jaylon was never satisfied with that. He wanted to compete on the same field, with the same athletes as his brother. And for Johnny's part, he was always the one pushing his brother to be better, the one testing him. If he wanted to play, Jaylon better show up.
"John would always say, 'Come on, play with the big boys. You want to roll, play with the big boys,'" Carmella Johnson said.
Johnny wasn't there to protect his younger brother, even as Jaylon's mentor. No, it was tough love, all to get Jaylon to prove his value. Even as Jaylon started to get noticed by Division I programs while a student at Central East High in Fresno, Johnny was there to push his younger brother, and Jaylon always lived up to the pressure.
"He's always been that type that was tenacious, regardless," Carmella Johnson said. "And challenges brought up the best in him. The higher the competition, then the higher he raised."
That was most evident at a football camp in Los Angeles in Jaylon's junior year of high school. In a scrimmage portion of the camp, Jaylon's team was up against five-star recruit Darnay Holmes' (UCLA) team, among other athletes that were recruited to Blue Blood programs around the country.
Jaylon had only a few offers at the time, and his brother wanted to see what his younger sibling could do against the best competition.
"I went up and I told the receiver on the other team, 'Hey, I need you to play your best game, man. I need everything you got,'" Johnny recalled. "This dude has no idea who the hell I am. He knows I'm on the other team, but I'm talking to him like I need your best game. I need everything you got. I'm trying to pump up the other guy."
Johnny came back to his brother and said, "Hey, it's on."
"I'm not playing," he recalled telling Jaylon. "I'm like, this isn't a joke. I need to see who is in here (pointing to his heart). I said I already told him, I need your A-game. … I said there ain't no time to back down. I want you on him all game, no matter if he goes inside, he's in the backfield, he goes over there, I don't care. I'm not worried about team versus team. I'm worried about you and him all game. Don't run. Don't say I'm tired. Don't go do no offense. You're on him."
So for the duration of the game, Jaylon locked down the receiver and didn't allow him a single catch in the game.
"We got the other side fired up and got people talking," Johnny recalled. He said fans were screaming at him about it not being about "him and him, it's about the team."
"I'm like, I'm worried about these two. I'm not worried about no damn team. I'm here to see what he's able to do. So I was making a big scene to see exactly how he handled the pressure."
Pushing Jaylon has always been Johnny's forte. He doesn't hold back — "You can't hold me, you're weak, you're too little." After Johnny's career in football ended due to injury, he focused on his brother. Now, Johnny trains his brother in the offseason to make sure he can get even better. Their workouts were featured this summer in Instagram videos of Jaylon working on his footwork and the minute details of playing corner at a high level.
And though Johnny is helping Jaylon improve, it's Jaylon that's trying to pay his brother back for the years of pushing him to be better.
"It was his dream of playing in the NFL. I mean, it was our dream but he was the one ahead of me. And his (dream) kind of got cut short and I feel like now I can live through — he can live through me," Jaylon said. "And now because he works me out. He does all my workouts and all my games, just being able to play the game at a high level and know that I can play for him and know that his name is still living through me."
So when there's talk of pressure, or living up to the spotlight that's on him, it's not something Jaylon is worried about because he's got a strong foundation — family support that's been putting him through pressure situations his whole life.
"I've put the pressure on him, honestly," Johnny said. "I'm not even concerned about outside pressure at all."
"He's dealt with pressure situations before, having to perform and compete," Carmella Johnson added. "Now being at this level of it, it's kind of like his biggest competition is himself — outdoing Jaylon, not so much outdoing what a fan may say, or what this rating over here may say, or what this Pac-12 announcer may say, or what's on ESPN.
"It's not really about that because on any given day the media will love you, the fans love you. But on any given day, you miss a pass or you don't do something right, they're gonna down you. So it's not even a matter of really paying attention to that. But it's a matter of every time you go out there and everything you do, you compete with yourself to be better than you were the day before, the game before, or the play before."
Now three years into his career at Utah, Jaylon is no longer "Johnny's little brother." He's a proven, household commodity that exudes confidence on the field and is one of the team's most genuine leaders. He's turned his brother's mentorship and life's pursuit into that of mentoring others on the field.
And though he has strong desires and a high probability of playing in the NFL someday, Jaylon has never wavered in his team-first focus. The individual accolades may come, but it's all about doing his part to make the team better.
"Honestly, I just want to win the Pac-12, win the Rose Bowl if we go, or just win some type of major bowl game — whether it's the playoffs, the Rose Bowl, just make a name for ourselves nationally, and not just in the Pac-12."
×