SALT LAKE CITY — Laudy Kaouk doesn't consider herself a good secret keeper, but she managed to keep a pretty big one.
The first time most people found out the 18-year-old from Provo was speaking during the April 2020 general conference of The Church of Jesus Christ of Latter-day Saints was when her name was announced during the Saturday evening session.
"I was asked not to tell lots of people," Kaouk said. "My phone afterward blew up. I had tons of messages."
It was a historic moment. There not only hadn't been a youth speaker at a conference since 1983, but Kaouk represented the first young woman to ever speak at a general session, according to the church history department. In 1997, three young women spoke at the general Young Women meeting of the conference.
The significance of the moment wasn't lost on Kaouk.
"Putting myself in other people's shoes, it's just awesome to be able to see a young woman or a woman speak about the priesthood," Kaouk said. "And I feel it meant a lot to the young women and to the women in our gospel."
Last year, Kaouk received a visit from Sister Bonnie H. Cordon, Young Women general president. The two talked about each other's lives and got to know each other. It was a friendly chat. But when Kaouk received a letter from the church in December, she suddenly had a hunch as to what it might be about.
And her hunch was confirmed: She had been invited to speak at general conference.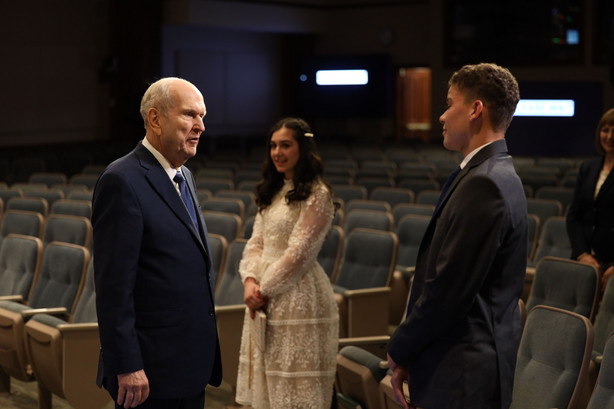 "She didn't say anything to me about it," Kaouk said of Sister Cordon's visit. "But it made sense after I got the letter."
So she wasn't too shocked by the invitation, but that didn't stop her from feeling overwhelmed by it all. Yes, she had spoken in front of crowds before — and was even comfortable doing so — but never to millions.
"I had lots of faith that Heavenly Father was going to help me," Kaouk said. "And I knew that if I did my part, I was going to receive the things I needed to say. I obviously had to do my part, so I prepared myself and had lots of thoughts in preparation. I was able to stay calm. Lots of leaders and different experiences in that time helped me know what to say."
Kaouk initially expected to be standing in front of around 20,000 people. Instead, she stood in front of an empty auditorium as her message of how the priesthood blesses the youth was broadcast to millions across the world. That fact, alone, made it a more special opportunity.
"We didn't have any physical interactions because of the coronavirus, but I was able to interact and say some words," Kaouk said of meeting the general authorities in attendance for the session. "And it definitely was a special, special moment to be able to receive that. I mean, not everyone has the opportunity. So I'm grateful that I was able to even have the opportunity. You can't really speak while the program is going, but we were kind of making like signs and acknowledging that we're there."
Kaouk spoke just ahead of 15-year-old Enzo Serge Petelo, who was the first male youth speaker to speak in a general conference outside of a priesthood session. With the conference commemorating Joseph Smith's First Vision (Joseph Smith was just 14 when he said the event occurred), it felt even more appropriate to have the youth play a key part.
Related:
"This has really never happened in the history of our gospel," Kaouk said of having two youth speakers at a general session. "And I think that they did it for a reason."
After the experience and the feedback she has gotten, Kaouk said that she would like to see more youth get the chance to speak at general conference in the future.
"I'm just glad that I had the opportunity to be an instrument in God's hands and being able to share about my Savior and how I feel about him," Kaouk said. "I definitely think it would be an awesome opportunity. I loved having the opportunity, and I would love that someone else would have the opportunity to do that as well."
×