Estimated read time: 4-5 minutes
This archived news story is available only for your personal, non-commercial use. Information in the story may be outdated or superseded by additional information. Reading or replaying the story in its archived form does not constitute a republication of the story.
SALT LAKE CITY — President Russell M. Nelson, President Dallin H. Oaks, first counselor in the church's First Presidency, and President Henry B. Eyring, second counselor, sat in chairs, feet apart, looking out into empty seats in an auditorium.
That was the opening shot of The Church of Jesus Christ of Latter-day Saints' April 2020 general conference. It spoke volumes.
President Nelson, the church's 17th president, had promised the April conference would be unique — it just was in a way neither he nor anyone else expected.
"As you know, attendance at this general conference has been strictly limited as part of our efforts to be good global citizens and do all we can to limit the spread of COVID-19," President Nelson said in his opening remarks. "This virus has had a major impact throughout the world. It has also altered our church meetings, missionary service, and temple work for a while."
The conference was used to commemorate the bicentennial of the First Vision of Joseph Smith, but the novel coronavirus pandemic happening around it was impossible to ignore.
"Even as we speak, we are waging an 'all hands on deck' war with COVID-19, a solemn reminder that a virus 1,000 times smaller than a grain of sand can bring entire populations and global economies to their knees," said Elder Jeffrey R. Holland, one of the church's twelve apostles, during his Sunday morning address.
The wide-spreading effect of the pandemic is why President Nelson, during the Saturday evening session, called for a worldwide fast for those of all faiths and beliefs to occur this coming Friday to ask for relief from the growing crisis.
"For all whose health may permit, let us fast, pray, and unite our faith once again," President Nelson said. "Let us prayerfully plead for relief from this global pandemic. I invite all, including those not of our faith, to fast and pray on Good Friday, April 10th, that the present pandemic may be controlled, caregivers protected, the economy strengthened, and life normalized."
It marked the second time since the outbreak the church president had asked the world to join together in a fast. President Nelson previously called for a fast to occur on Sunday, March 29. Since then, Utah COVID-19 cases have risen by nearly 1,000.
"We still need help from heaven," he said.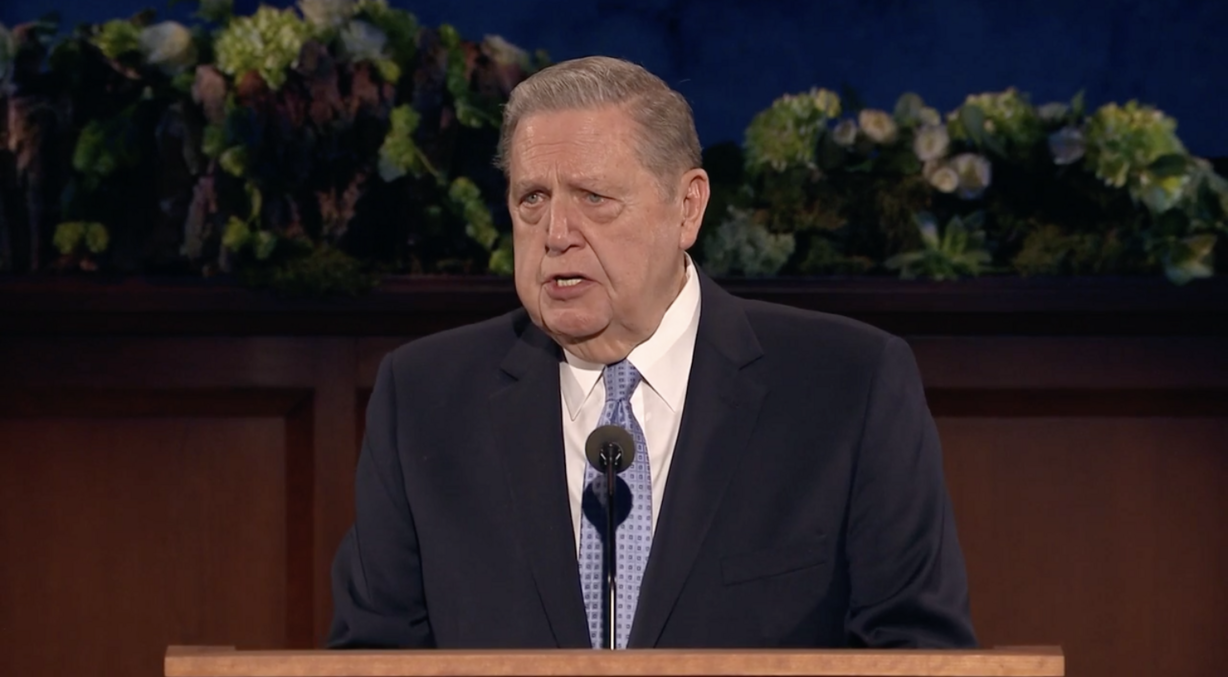 The church, like all organizations and people, has felt the toll of the pandemic. Church services have been suspended, temples have been closed and some missionaries from all over the world have returned home as the world tries to combat the spread of the virus.
President Nelson taught how biblical heroes such as Moses, David, and Isaiah fasted to help "undo heavy burdens," and expressed his confidence that a united fast can have a similar impact today.
"As a physician and surgeon, I have tremendous respect for the medical professionals, scientists, and others who are working around the clock to curb the spread of COVID-19," President Nelson said, quoting a previous statement. "Now, as president of The Church of Jesus Christ of Latter-day Saints and an apostle of Jesus Christ, I know that God 'has all power, all wisdom, and all understanding.'"
He continued: "So, during times of deep distress, as when illness reaches pandemic proportions, the most natural thing for us to do is to call upon our Heavenly Father and his Son — the Master Healer — to show forth their marvelous power to bless the people of the earth."
Elder Holland also expressed his hope in a bright future during his remarks.
"We pray for those who have lost loved ones to this modern plague, as well as for those currently infected," Elder Holland said. "When we have conquered it — and we will — may we be equally committed to freeing the world from the virus of hunger and freeing neighborhoods and nations from the virus of poverty. May we hope for schools where students are taught — not terrified they will be shot — and for the gift of personal dignity for every child of God, unmarred by any form of racial, ethnic, or religious prejudice."
Elder Holland expressed his optimism for such a world, testifying that "the future is going to be as miracle-filled and bountifully blessed as the past has been."
President Nelson said that a 24-hour fast is customary, but asked individuals to decide on their own personal sacrifice if need be.
"Let us unite in pleading for healing throughout the world," President Nelson said. "Good Friday would be the perfect day to have our Heavenly Father and his Son hear us."
×
Related stories
Most recent Religion stories