SALT LAKE CITY – Governor Gary Herbert and the Utah Coronavirus Task Force announced numbers showing Utah's capacity to fight COVID-19. With some of Friday's good news came drastic needs to protect healthcare workers.
Enough ICU beds & ventilators
General Jefferson Burton, newly in charge at the Utah Department of Health, spoke of hard numbers and what will be needed at the peak of COVID-19 cases.
Utah has just under 1,000 ventilators statewide and 28% are currently in use, mostly by non-coronavirus patients. That leaves 72% currently unused and ready for COVID-19 patients.
"Based on the studies and graphs, we believe we will have sufficient ventilators as well in Utah," said Burton.
Burton said Utah has 600 ICU beds total, statewide. He estimated, along with University of Washington data, that at the peak of the virus around April 21, COVID-19 patients will need 284 ICU beds. Of those 600 beds, about half (297) are in use, mostly by non-coronavirus patients.
The Utah Department of Health indicated that if numbers continue on the current path, Utah will have enough ICU beds to handle the peak of virus patients.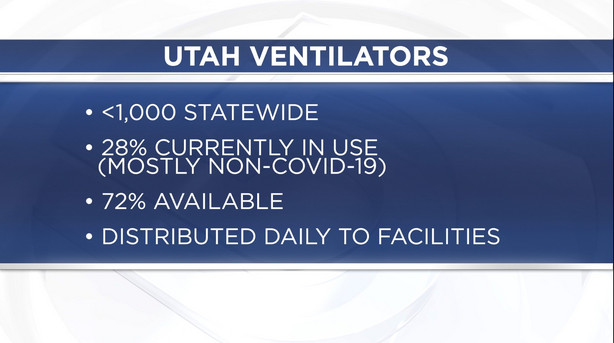 Lots more PPE needed
While Utah was given bolstering news about hospital capacity, there remain critical issues in treating COVID-19.
"The area we're struggling with, and that's changing daily, is PPE, personal protective equipment," said Burton.
PPE like N95 masks. Utah will need 3.6 million of them, but currently only has 165,000. So far 57,000 have been distributed and three million have been ordered. Shipments arrive daily with these masks.
During the pandemic, 4.7 million hospital gowns will be needed. Utah only has 61,000 on hand and 18,000 have been distributed. Burton said in Friday's press conference that most healthcare facilities had their own stockpiles of this PPE.
As for face shields, Utah medical workers will need 2.2 million of these. So far Utah has received 76,000, with 13,000 distributed. Burton said these are additional PPE items that are distributed daily to hospitals handling COVID-19 patients.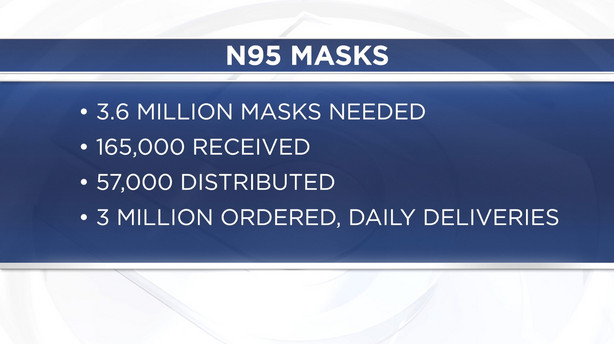 Alternate care centers
Another announcement Friday came from Jess Anderson with the Utah Department of Public Safety. They have set up and supplied an alternate care site with 250 beds for overflow hospital patients, but it won't be COVID-19 patients that are housed in this facility.
"It is important to note alternate care sites are not for COVID-19 patients," said Anderson. "The COVID-19 patients would remain in the main hospitals."
Coronavirus (COVID-19) Resources
Prevention:
To help mitigate infectious transmission of COVID-19, health care officials advise anyone who thinks they might have the virus to first call their doctor before going to a hospital
Wash hands thoroughly and often
Stay home if you're feeling sick
Don't touch your face
Cough or sneeze in your elbow or a tissue
Symptoms and Resources:
Patients with COVID-19 typically have a fever, cough and shortness of breath, though asymptomatic transmission is possible. If you believe you may have the virus, speak with a healthcare provider.
Utah's COVID-19 website is https://coronavirus.utah.gov/.
Intermountain Healthcare has created a COVID-19 symptom tracker for individuals worried they may have the virus.
Utah's COVID-19 information hotline is 1-800-456-7707.
People are asked to first call the University of Utah Health coronavirus hotline at 801-587-0712 to determine if testing is absolutely necessary.
×
Photos