SALT LAKE CITY — One local artist had expected to have a big day in downtown Salt Lake City before General Conference. He was scheduled to show off his incredible "tiny" artwork at the Joseph Smith Memorial Building.
That work includes hundreds of very detailed portraits, all in stamp size or a one-inch setting. In one piece of work depicting the teachings of Jesus Christ, artist Chris Creek managed to put 50 people in a crowd as they surrounded the Savior while he was teaching.
"I started painting these minis as a challenge," Creek said. "My goal was to do one a day for a year. I have one inch. I would try and fill that inch before I go to bed."
Creek created hundreds of tiny pieces of art, most illustrating his faith as a member of The Church of Jesus Christ of Latter-day Saints.
"I've got all 17 of the latter-day prophets and they've really been a delight to do," said Creek.
He didn't stop there. He began bringing Oreo cookies into the mix.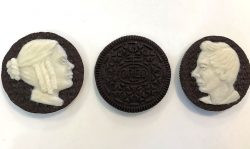 Creek is taking the delicious cream filling and turning it into a piece of art with the cookie as a background. The detail makes it look like porcelain on a black background.
"I've got Emma Smith here on an Oreo with what they call cream filling," said Creek as he worked.
Emma can now go right next to her husband, Joseph Smith, who he already finished.
"It's been a lot of fun I enjoy this tight little challenge," he said.
Creek has also become quite skilled at making some pretty amazing pancakes by turning them into works of art.
"I like the challenge, and these little tiny brushes become my friend," he said. "The quarantine has never been much of a problem for me because I can sit down and draw and paint for hours."
To look at his work click here.
×