SALT LAKE CITY — After a roller coaster ride of emotions for all participants of this year's bracket challenge — I'm still questioning some of the early round decisions — only one winner could come out on top in the end.
Monopoly, arguably the most recognizable game in board game history, put up a strong fight throughout the bracket challenge, but was ultimately overthrown by Ticket to Ride, a game created in 2004, with 68% of the vote. The original game has several versions now, including Ticket to Ride: Europe and Ticket to Ride: Nordic Countries.
The game is simple to learn.
Players collect various train cards to claim railway routes; and the longer the route, the more points the player can score. The author of the game, Alan R. Moon, said "the tension comes from being forced to balance greed," so maybe it's not so different than Monopoly after all.
Whether you learn to play Ticket to Ride now, or you drag it out of your closet to play it again, board games give us some entertainment. If you can, find a new game to purchase and play while you have the time.
During this time of social distancing and staying home, board game sales have risen dramatically, and that includes sales for local board game designers like Grandpa Beck's Games, which makes games like Cover Your Assets and their highest-rated board game on BoardGameGeek, Skull King.
Jeff Beck, who oversees game development and marketing for Grandpa Beck's Games, told KSL.com sales for their games, specifically, have more than doubled on Amazon since the coronavirus pandemic. In fact, several board games included in this bracket challenge are no longer available on Amazon because they've sold out, but many are still available.
"We've been quite surprised over the last few weeks at the sudden surge in demand for our games on Amazon," Beck said. "We've more than doubled our typical sales during that time period as families are looking for ways to stay entertained while at home."
And if you really want to get into the board gaming world, if you haven't been already, check out SaltCON, Utah's largest board game convention. The spring convention just passed, but there are conventions scheduled for June and August at the Davis Convention Center in Layton.
Beck encouraged people to visit their local game store and buy a game or two, particularly as small businesses are in need of support throughout the pandemic.
"They rely on foot traffic and game nights to generate sales, and with the former way down and the latter out of the question, most could really use your business right now."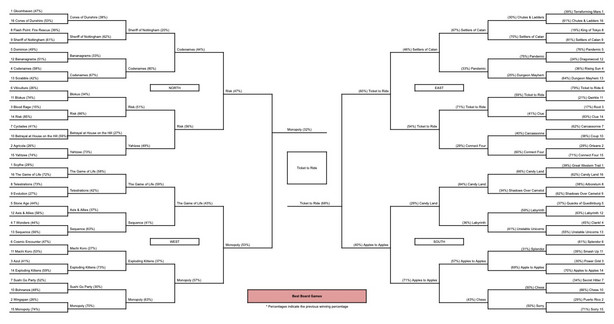 Would you like to see more articles on KSL.com about board games?
Board games
To learn more about each game, click on its title, which will direct you to its Board Game Geek page. Maybe you'll find a new game to play. Use promo code KSLSAVE10 to save 10% on any Grandpa Beck's Games on Amazon.
×