FARMINGTON — When gym owner Rob Eastman of Eastman Fitness learned that he would need to close his gym in the wake of health department and government restrictions due to the COVID-19 pandemic, he was heartbroken. Not only would his business suffer financially, but he worried about the athletes he coached.
Sure, Eastman could offer workouts online, but there was so much more help that his athletes would be needing now, more than ever.
As a recovering drug addict of more than 10 years, Eastman runs a gym that offers classes to struggling youth. The "Tattooed Life Coach," as he's known, gives a whole mind, body and spirit approach to his training.
"As a gym, in general, we've been hit really hard," Eastman said in a phone interview. "All the regulations put an ice pick in our backs. I've put workouts online, but for me it is so much more than that. You can run as many miles as you want, but it's not going to fix what's going inside your mind."
Eastman knows this firsthand. When he was beginning his own recovery from drug abuse, his father passed away. Being an athlete his whole life, Eastman turned to athletics and fitness as a way to heal.
"Right after my dad passed away, I ran a Ragnar race," Eastman said. "I was running at 2 a.m., and it was raining and dark. I was exhausted and feeling low. Out of nowhere, I felt my dad running with me. I wasn't a spiritual guy, but this experience changed me and I wanted to feel my dad again. I figured that the only way I was going to be able to feel the closeness of my dad was when I was in a physically exhausting state, so the next race I signed up for was 30 miles long. I was physically and mentally exhausted, but I never felt my dad."
---
Parents have been so used to grounding kids for not doing this or that, and this is the time to focus on each other and what needs to improve in the home.
–Rob Eastman, owner of Eastman Fitness
---
It was then that Eastman knew there was so much more to recovering from mental and emotional challenges than doing so by physical means, and he says that this is exactly what he has been trying to instill in the athletes he works with.
Eastman said that with social distancing and the stay-at-home measures put in place, it has brought a lot of things to the surface for kids that require so much more than posting workouts.
"A lot of kids go to school and the gym to get away from the challenges they face at home," Eastman said. "Because there is no escape for many of these kids, we as a gym have had to do a lot more concentrated focus on the mental and emotional side."
Along with putting workouts online for his athletes, Eastman has been having Zoom meetings with athletes and parents, and in group-type settings.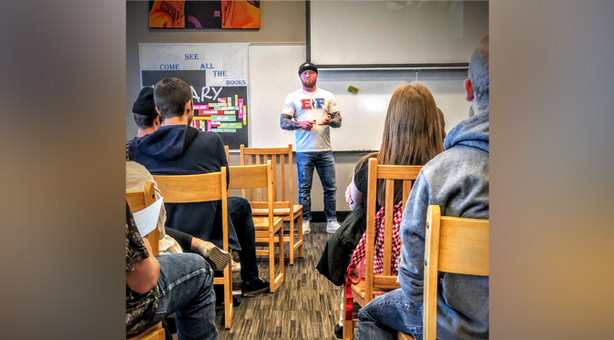 "Through these meetings, the youth I work with are finding that there are things in this life that are more pressing than math and English," Eastman said. "They are finding that there is a lot of work that needs to be done in the home. Parents have been so used to grounding kids for not doing this or that, and this is the time to focus on each other and what needs to improve in the home."
While Eastman's gym has been hit financially, without the ability to have many bodies physically in the building, he is confident that he and his students will weather this storm.
"Being a recovering drug addict, I can honestly say that I have gone through the depths of hell," Eastman said. "Things will get better, and if we stay focused through this trial, we will be better off in the long run. This is the perfect time to focus on your family, and hopefully in the long run it will strengthen communities."
×
Photos