HOLLADAY — They are letters written to no one in particular.
But under conditions imposed by the COVID-19 pandemic, the letters from middle and high schoolers to residents of Life Care Center of Salt Lake City have helped to lift their spirits at a time when their families are restricted from visiting them.
Like this letter:
"Dear Special Person,
I'm so sorry you can't see your family at this time. Hopefully it blows over. This could be a very tuff time for you but it's important to keep you healthy so that you can see your loved ones again soon. I hope you are having a good day and that you see your family soon.
Best,
Marissa, 8th grade
Or this one:
"Dear someone very special,
I hope all is going well! I understand not everything is amazing right now but everything will get better! It just takes a bit of believing and hoping.
It's not easy not seeing someone you love and care for, not seeing mothers and fathers, siblings and just family in general in a time like this. In every bad part of life, there is always going to be an upcoming. People who can get through struggles like this are very strong and you need to keep fighting and being strong! Something good is coming everyone's way, it just will take time. Time and patience are what we all are going to need.
"With the new day comes new strength and new thoughts" — Eleanor Roosevelt.
Keep all positive thoughts. Everything will get better. A reminder; you are loved, you are important, and the positive energy you are giving out is very much needed.
Sincerely,
Serenity, 8th grade
Kathy Howa, a health teacher at Jordan School District's West Jordan Middle School, asked her middle school students and Rowland Hall High School softball players she coaches to write letters to residents of the nursing home after reading the plaintive Facebook post of journalist Cathy Free. Howa and Free have known since they both were students at Hillcrest High School.
Free's post said: "I just received a call from my mom's care center. Until further notice, beginning immediately, no visitors are allowed whatsoever. I've been visiting my mom faithfully, three days a week for two and a half years. I brighten her day and she brightens mine. I understand why precautions have to be taken, but I still feel like crying. I'll call her twice a day, but it won't be the same. Let's hope this doesn't last long."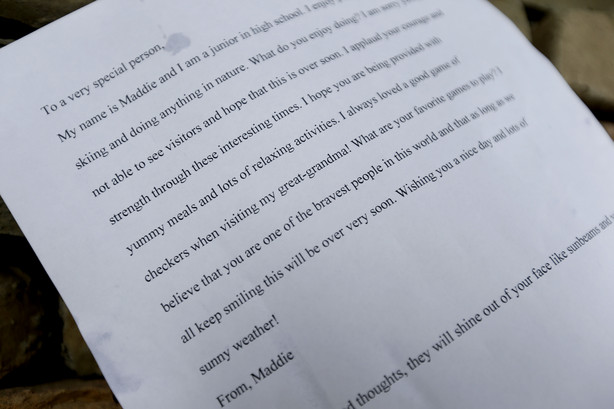 Howa enlisted the help of her middle school students to write the letters as a class assignment, although it wasn't graded and was voluntary. Her softball players volunteered to write letters to the residents, too, which Howa said has helped them stay connected as a team because they can no longer practice and play games together.
The first batches were written on paper and hand-delivered by Howa. She then decided to photograph the handwritten letters and email them to the care center so there would be no risk of transmitting disease.
Howa said she was deeply touched by what the students wrote. Their letters helped Howa learn more about her students on a personal level and appreciate that the West Jordan Middle School students have deeply embraced the importance of being kind, Howa said.
The school's administrators, principal Dixie Garrison and assistant principals Danielle Hanson and Aaron Hunter, actively seek out students' acts of kindness and lift them up as examples, Howa said.
"This was a huge way to see the kindness come out of their hearts. It kind of ties in with what our principal is trying to get everyone to see, there's so much kindness around and we just have to get it out, especially right now," she said.
Chloe Coleman-Houghton, one of the co-captains of Rowland Hall's softball team who wrote a letter and encouraged her teammates to do the same, said she mostly wanted the recipient to know that someone was thinking of them.
"I don't think anyone has ever been in a situation like this. For me, one of the things that has kept me going is to have family around. For them that don't have it, I wanted to make sure that they knew someone was still there, that someone was thinking about them," Coleman-Houghton said.
The COVID-19 pandemic, which has forced schools into "soft closure" and disrupted spring athletic seasons for high schoolers, has given people time to reflect on their lives, said Coleman-Houghton.
"I've done a lot of reflection on my family and how important they are to me considering those are the only people I'm surrounded by," she said.
"It's not fun, but there is some part of it that I think we'll learn from and we'll possibly change our lifestyle for the better or worse. I think both sides of it will come. I think it is important to reflect and take time in our own headspace without all of the distractions of the world," Coleman-Houghton said.
She said she has not yet received a response to her letter, but she hopes she will.
Free shared her mother's response in a first-person account published in the Washington Post.
"Getting through this is hard, but because of the letters, we know that nobody is being forgotten. It's so sweet that these kids care."
Nick Zullo, social services director of Life Care Center of Salt Lake City, said the letters were particularly welcome because not only are visitors not allowed, residents are not able to gather for regular activities such as bingo, musical performances, cognitive games and afternoon visits to the center's ice cream parlor due to social distancing recommendations.
That means residents must stay in their rooms, and some are simply bored.
Zullo said in an email that letters "are an exceptional experience for the residents. It creates interaction opportunities with staff who are delivering and reading the letters with, if not reading them to, the residents. Also, many residents have expressed awe that young people are thinking of them. It's wonderful to see them experience hope in a better world knowing that youth are thinking of others more than self."
The center's residents are receiving more mail in general from their families and friends but some get more than others.
"As I was delivering all this mail, a gentleman looked up at me from his wheelchair in hopeful anticipation, 'Did I get a letter?' For once, I was able to say, 'Yes, you did! Here it is. It is addressed to you. See ... it says 'To a Very Special Person.'
"We opened the letter together and it was such a treat. The young person wrote just the perfect compassionate, enthusiastic letter!" Zullo said.
Although Howa put the wheels in motion to send the letters, she is quick to defer credit to her students and softball players.
"This is all on my kids. They did it and they're just sweethearts."
Howa said she hopes that the opportunity to reach out to others will help her students cope with the uncertainty brought on the COVID-19 pandemic, being displaced from their schools and the additional responsibilities some have assumed as they take care of their younger siblings while their parents work.
"If someone can take this to someone's mom that they can't see, can't even have any visitors, and it brightens their day, then you're doing something that is positive," Howa said.
×