SALT LAKE CITY — Utah leaders on Tuesday revealed a comprehensive, call-to-action plan designed to help facilitate the state's health and economic recovery as the COVID-19 pandemic continues.
The plan, entitled "Utah Leads Together," outlines three phases: Urgent, Stabilization and Recovery. Its overall goal is to provide Utah residents and businesses with clarity about the state's plan for health and economic recovery from the pandemic.
"This is the most comprehensive plan of any state in America today," Gov. Gary Herbert said during a video conference Tuesday.
The full plan is available online at coronavirus.utah.gov/business.
Utah business and government leaders formed a task force March 2 to deal with economic issues that arise during the COVID-19 pandemic, and "Utah Leads Together" is a product of that group.
Though much of the plan is focused on businesses and the economy, Herbert and others stressed Tuesday that it is an action plan. It requires participation from all Utahns — including those in health, government, business and all other sectors of the economy — to be successful.
"We all have a role to play, we all have responsibility," Herbert said. "This plan will only work if everybody participates in a united effort."
The comprehensive plan is one that other states can follow, Herbert said.
There are three main goals the Utah public should follow, according to the plan: Rigorously adhere to public health guidelines, stay engaged with the economy, and help those in need.
The plan refers to the "transmission rate" or "pass-along rate" of COVID-19, which measures how likely it will be for one person infected with the disease to pass it along to multiple other people.
For example, a transmission rate of 3.0 means that one person would be likely to transmit it to three other people, and each of those three people would in turn pass it along to three others in a pyramid-like effect.
Utah is currently in the "urgent" phase of the plan, with a transmission rate of about 1.5, according to Kem C. Gardner Policy Institute director Natalie Gochnour, who is an author of the plan. Before the state can progress to the "stabilization" phase, that transmission rate must be measured consistently at 1.0 or lower, the plan states.
That means that protecting public health works in conjunction with the economic health aspects of the plan.
"While some may suggest that there is a trade-off between either focusing on health or focusing on the economy, we know in Utah that is a false choice," Salt Lake Chamber CEO Derek Miller said Tuesday.
Maintaining aggressive social distancing standards, protecting hospital capacity and resources, increasing testing, limiting risk for people entering Utah and maintaining a supply of medical items are all top priorities for the "urgent" phase of the plan.
Current estimates suggest that to get to a transmission rate of 1.0, Utah must only have 800-1,000 new cases of COVID-19 on or before April 30. It's expected that the "urgent" phase for Utah will continue for another 7-12 weeks from now, but it will be extended as long as the transmission rate is still above 1.0.
After the rate is found to be consistently 1.0 or lower, the state can progress to the "stabilization" phase, in which social distancing will continue, but in a "more targeted and careful way," the plan states.
Curbside dining regulations will be revisited during that second phase. Teleworking will mostly continue, but many workers will be able to return to offices, and businesses will be able to expand their operations with some precautions.
The second phase is expected to last 10-14 weeks while the COVID-19 transmission rate is 1.0 and declining.
The final "recovery" phase of the plan triggers when the disease transmission rate is nearing zero.
At that point, social distancing will transition to smarter overall public health practices, which are expected to result in improved public hygiene, according to the plan.
Businesses that have closed or reduced operations as a result of the pandemic are expected to return to their pre-crisis states, with workers returning to offices and entertainment and retail businesses reopening storefronts. This phase is expected to last 8-10 weeks.
At a virtual Economic Response Task Force town hall on Tuesday afternoon, Sen. Mitt Romney, R-Utah, spoke about the federal stimulus plan, expected to pass sometime this week.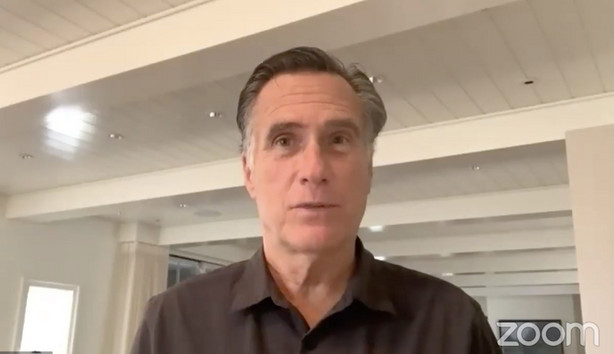 If passed, adults across the nation will receive $1,200 per adult in the home through the IRS. An additional $500 will be sent per child.
Romney said the idea is to put money in people's pockets so when the pandemic slows, people will be able to go and spend that money to boost the economy.
Unemployment insurance rate will also increase to the full amount of an individual's salary or wage, up to $65,000 yearly, he said. If passed, this will almost double unemployment insurance benefits. Additionally, the nearly 1,000-page plan would allow small businesses impacted by the COVID-19 pandemic to apply for a forgivable loan from a bank to pay employees, rent or other expenses detailed by the loan.
If spent on those qualified purposes, the loan would be forgiven.
States would also be given money. Herbert asked Romney at Tuesday's virtual meeting to emphasize that states should get the money through a grant, to give them flexibility on how to use it, since each state will know its unique needs.
"We appreciate your voice of experience and your voice of reason," Herbert told Romney.
Small Business Administration loans are also available and businesses can apply here.
Janna Wilkinson, with the Utah Department of Emergency Management, warned those applying that the website can be slow due to massive amounts of people from across the country applying for the disaster assistance.
Herbert and Miller also said that Utah's plan is a living document, and state leaders are looking to hear feedback on any aspects that could be improved.
They stressed that all Utahns must buy into the plan because the only way to progress through to recovery is by reducing the spread of the disease in the earlier phases, and everyone in the state must work together to achieve that goal.
"Remember, this plan is a call to action for all Utahns," Miller said. "And also remember that what we're talking about today is people. We often talk about plans, we talk about the economy and we even talk in terms of jobs. But what we're really talking about is people and people who need the help."
So long as Utah is able to adhere to its plan, Herbert is confident it will work.
"If we do it right, we will succeed as a state," he said. "I'm optimistic about the people of Utah."
×